It's the second week in a row now that I'm taking the risk of tackling a topic that couldn't be closer to the British public's heart. With Sunday lunch last week and my idea of a perfect picnic this Sunday, I'm aware that I'm stepping into dangerous territory.
For the Brits, these meals represent what the barbie is for us Aussies – a matter of pride and national identity. These recipes are very much my own and take little notice of tradition – so no pork pies, Scotch eggs or Pimm's, I'm afraid. Instead, there are nods to our recent family trip to Cape Cod in the lobster roll and the Australian love for meringues in the dessert; and the elderflower cordial and gin in the cocktail clearly show that my years living in London have left their mark.
At this point I should admit the chances are that I won't be eating this as a picnic myself. Although I love them, I've had to come to terms with the fact that picnics just aren't my wife's thing. Prickly grass and unstable surfaces interfere with a good meal in her view. So we'll probably make the most of the last Bank Holiday of the year and enjoy it next weekend on a comfortable garden table. I can live with that, I think.
Lobster roll with tomato-and-chilli relish and chips
I love the freshness of this filling – light and vibrant; special but without pretence.
Serves 6
500g potatoes
½ tsp crushed chillies
1 tbsp olive oil
2 cooked lobster tails, meat removed from shell
1 celery stick, sliced
Handful parsley leaves, chopped
Juice half lemon
Iceberg lettuce, to serve
Bought mayonnaise, to serve
6 hot-dog rolls, to serve
For the relish
1 tbsp olive oil
250g cherry tomatoes, halved
1 red chilli, seeded and chopped
1 tsp brown sugar
2 tsp sriracha sauce
Start by making the relish. Heat the oil in a frying pan over a high heat then add the tomatoes and chilli, season with salt and toss over the heat until softened and slightly caramelised. Stir in the sugar, cook for 1 minute. Remove from the heat and stir through the sriracha sauce. Leave to cool.
For the chips, preheat the oven to 200C/400F/Gas6. Cut the potatoes into large wedges. Place on a baking sheet and season with salt and crushed chillies. Drizzle with the oil. Roast for 40 to 45 minutes, till golden. Leave to cool.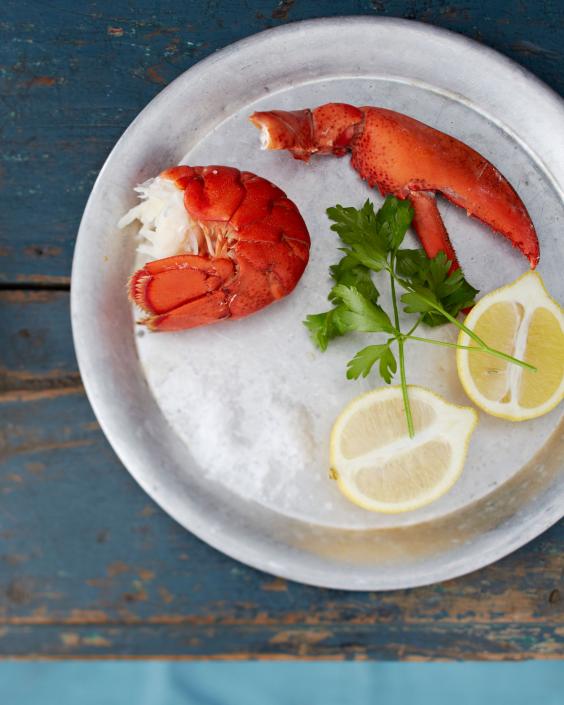 Slice the lobster meat and toss into a bowl with the celery, parsley and lemon juice. Season.
Pack the cooled chips, lobster mixture, relish and lettuce in separate, sealed containers. At the picnic, let people assemble their own hot-dog rolls, spreading them with mayo then filling with lettuce, the lobster and the relish. Enjoy with the oven chips.
Mango and coconut meringue sundae
If you're heading to the park for your picnic, you don't want to take ice cream from home as it'll just melt. So if there's one available, I'd suggest bribing a teenager to go and buy a tub from the closest shop or park café once you're ready for dessert…
Serves 6
2 mangoes
400ml vanilla ice cream
85g fresh coconut shavings
For the meringues
2 egg whites
115g golden caster sugar
½ tsp cornflour
½ tsp white-wine vinegar
35g grated fresh coconut
Start with the meringues. Preheat the oven to 120C/250F/Gas½. Line a baking sheet with baking paper. Whisk the egg whites in a dry bowl until stiff peaks form. Add the sugar a tablespoon at a time, whisking continuously till the meringue is glossy and thick. Whisk in the cornflour and vinegar; gently fold in the grated coconut. Spoon 6 meringues on to the baking tray and bake for 1 hour. Turn off the oven and leave inside, with the door ajar, until completely cooled. Keep in an airtight container.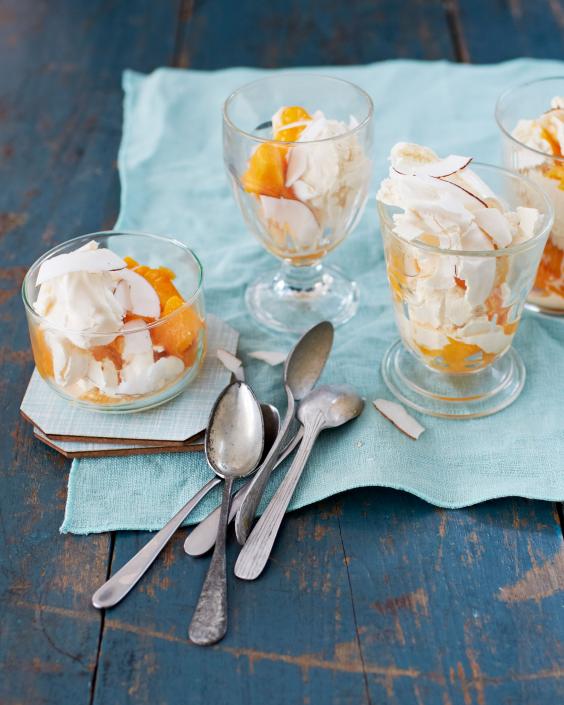 For the topping, blend the flesh of one mango into a purée and cut the second mango into chunks. Take everything to the picnic in separate, sealed containers and, just before serving, spoon the purée between 6 glasses.
Roughly crush half the meringues (keep the rest back to munch on later or for another day) and divide between the glasses with the ice cream and mango chunks. Top with the coconut shavings and serve.
Lime, elderflower and gin cocktail
I love Pimm's, but I'm not a fan of the way the fruit gets macerated after sitting around for a bit. This is much more up my street.
Serves 6
6 limes, 4 peeled and chopped, 2 sliced
100ml elderflower cordial
2 tbsp caster sugar
250ml gin
750ml soda water
Couple sprigs of mint, leaves only
Ice, to serve
Whizz the chopped limes, elderflower cordial and caster sugar in a blender or food processor until smooth. Pour into a large bottle with the gin and the soda water.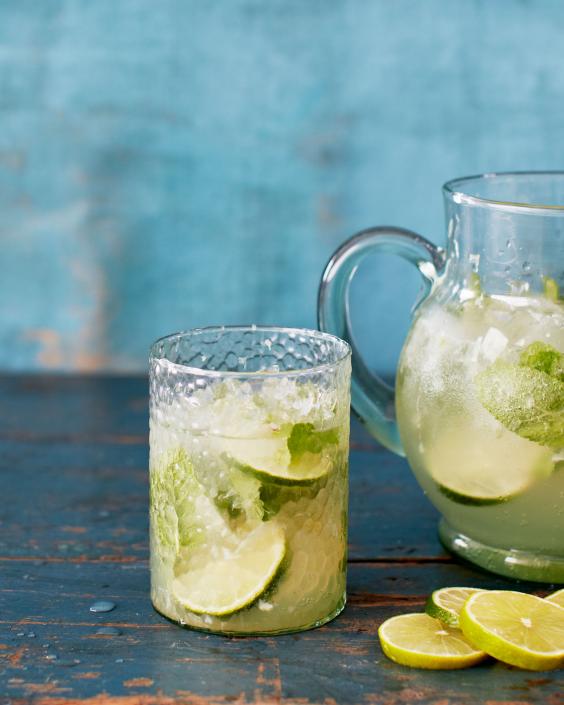 Close and keep chilled until just before leaving the house then place in a cool bag with a bag of ice and a container with the mint and sliced limes.
When it comes time to serve, put some ice and the lime slices in a large jug. Pour in the prepared cocktail and stir. Serve immediately.
Bill's restaurant, Granger & Co, is at 175 Westbourne Grove, London W11, tel: 020 7229 9111, and 50 Sekforde Street, London EC1, tel: 020 7251 9032, grangerandco.com. Follow Bill on Instagram at bill.granger
Food stylist: Marina Filippelli; Prop stylist: Rachel Jukes