After living in the culinary shadow of San Francisco for so long, Los Angeles finally seems to have come into its own. On a recent family trip there, we were spoilt for places to eat. One of my favourites was Gjusta, a deli-style restaurant in Venice Beach. An offshoot of Gjelina, a foodie hotspot, its casual industrial looks, with milk crates as outdoor seating and white brick interior, made it my kind of place.
The recipes below are inspired by the sunshine food of LA. They pretty much recreate a meal I prepared for us while we were out there. The salad is the result of an overenthusiastic trip to Santa Monica Farmers Market, where I bought enough produce to feed us for a month. I made the original version of the chicken sandwich with a roast chicken I bought at Gjusta. As for the finale, I couldn't wait for the cherry season to start in the UK so I could try my version of the goat's cheese and cherry ice cream I tasted at Jeni's in Los Feliz. And I'm happy with the results!
Bill's restaurant, Granger & Co, is at 175 Westbourne Grove, London W11, tel: 020 7229 9111, and 50 Sekforde Street, London EC1, tel: 020 7251 9032, grangerandco.com. Follow Bill on Instagram at bill.granger
Kale, beetroot and roasted chickpea salad
Sprouting chickpeas can be bought in most health-food shops these days. Alternatively, you can sprout them at home by soaking dried chickpeas in water for 48 hours. Once roasted, they make a great healthy snack.
Serves 4
Grated zest and juice 1 lemon
Grated zest and juice 1 large orange
1 tbsp honey
1 tbsp olive oil
200g curly kale, shredded
250g mix of ruby, golden and regular beetroot
For the sprouted chickpeas
200g sprouted chickpeas
½ tsp ground turmeric
½ tsp chilli powder
½ tsp sea salt
1 tbsp olive oil
Preheat the oven to 180C/ 350F/Gas4. Place the sprouted chickpeas in a bowl and toss through the turmeric, chilli, salt and olive oil. Tip on to a baking tray lined with parchment paper. Roast for 25 to 30 minutes, shaking every so often, until golden and crisp. Set aside to cool.
In a large bowl, whisk together the lemon and orange juice and zest. Add the honey, olive oil and a good pinch of salt. Toss through the kale and set aside for it to start softening in the dressing, while you prepare the beetroot.
Peel the beetroot, keeping the colours separate so they don't bleed into each other, and use a mandoline or sharp knife to slice into thin rounds. Toss the beetroot and chickpeas through the kale just before serving.
Barbecue-chicken sandwich
Yes, when the result is so delicious, it is worth lighting the barbecue just to make a sandwich.
Serves 4
1 chicken, spatchcocked (you can ask your butcher to do this for you)
4 tbsp rose harissa, plus extra to serve
400ml natural yoghurt
½ cucumber, peeled and finely diced
Handful mint leaves, chopped
½ lemon
8 slices sourdough
8 cherry tomatoes, quartered
Handful rocket leaves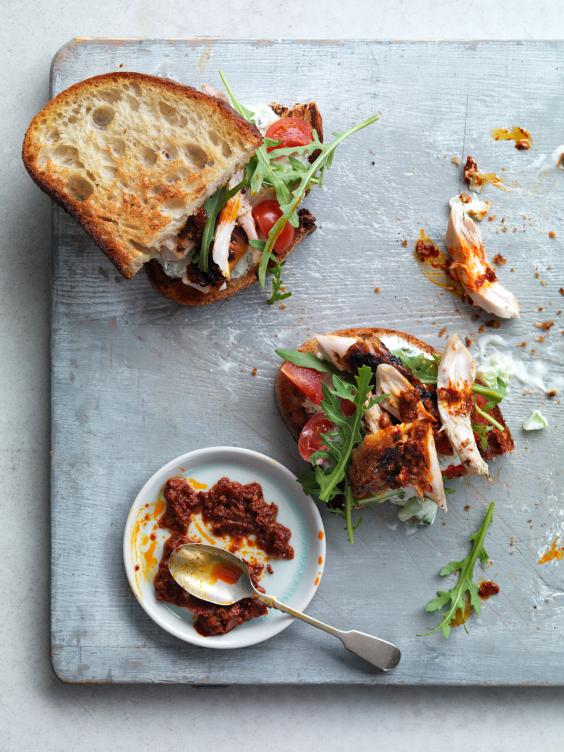 Combine the harissa and half the yoghurt. Rub all over the chicken and leave to marinate for 30 minutes.
Get your barbecue hot. Rub any excess marinade off the chicken and reserve for basting. Season the chicken with salt and pepper. Barbecue for 10 minutes on each side. Move the chicken to a cooler part of the barbecue and cook for a further 30 to 35 minutes, basting and turning regularly, until golden and the juices run clear. Leave to rest in a warm place for 15 minutes.
For the tzatziki, combine the cucumber, mint and remaining yoghurt. Season with salt and squeeze in lemon juice, to taste. Quarter the tomatoes, set aside.
Toast the sourdough on the barbecue so it gets a lovely, smoky flavour. Shred the chicken and, while it's still warm, build your sandwich with tzatziki, the chicken, rocket and the tomatoes. Add a little extra harissa, if you like it hot.
Goat's curd and cherry ice-cream
You can hardly detect the flavour of the goat's curd here. Instead, you are hit by sweet vanilla cherries and an intensely creamy ice cream that's hard to resist.
Serves 4-6
250g goat's curd
1 tbsp lemon juice
600ml double cream
160g caster sugar
For the cherries
3½ tbsp caster sugar
½ vanilla pod, seeds scraped, or ½tsp vanilla paste
500g cherries, pitted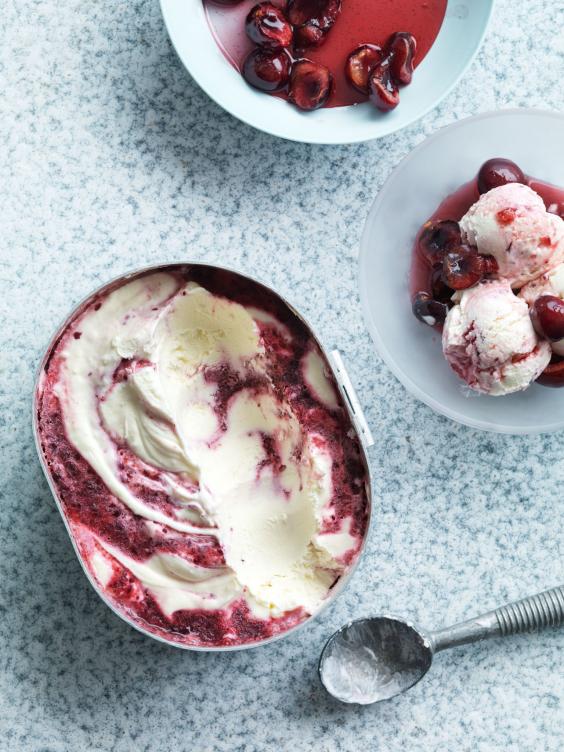 First get the vanilla cherries macerating. In a large bowl, mix the caster sugar with the vanilla until combined. Add the cherries and stir to coat in the vanilla sugar. Lightly crush with a fork to break up some of the fruit, cover and allow to stand for 30 minutes to become really juicy. Blend two-thirds of the macerated cherries and their juices. Set the remaining cherries aside to serve with the ice cream.
Place the goat's curd and lemon juice in a bowl and stir to combine. Stir in enough cream to soften the curd to the consistency of a thick yoghurt.
Pour the remaining cream into a large bowl. Add the sugar and whisk with electric beaters until soft peaks form (the mixture should not be too stiff, but just pourable). Stir in the softened goat's curd and spoon into a shallow tub. Top with the puréed cherries, using a fork to swirl the purée into the cream. Cover and freeze for at least 4 hours. Serve with the reserved cherries.
Food stylist: Marina Filippelli; Stylist: Rachel Jukes
Reuse content