Summer is the ideal time for seafood. By its nature, it needs a minimum of cooking, with just a clear, fresh punch of flavour to liven it up. A wedge of lemon is the classic accompaniment, but here are three alternatives heavily inspired by South-east Asia to give a wow factor to your seafood. These dishes could be served on their own, but work together as an extravagant seafood feast.
I like to serve them with brown rice – its nutty richness absorbs the spiced dressings and its texture contrasts well with the delicate seafood – and an enormous salad of anything green that screams summer. Combine crunchy iceberg, creamy ripe avocado, fine slivers of cucumber and broad beans and dress with olive oil, lime juice and a scant teaspoon of soy sauce to keep the Asian theme alive.
Shop-bought coconut ice cream or mango sorbet, with wedges of fresh pineapple and halved passion fruit, is an easy and refreshing pudding to follow.
And then get your friends to bring the rosé!
Bill's restaurant, Granger & Co, is at 175 Westbourne Grove, London W11, tel: 020 7229 9111; 50 Sekforde Street, London EC1, tel: 020 7251 9032; and Stanley Building, 7 Pancras Square, London N1, tel: 020 3058 2567, grangerandco.com. Follow Bill on Instagram at bill.granger
Oysters with chilli dressing
The easiest but most luxurious way to entertain is with a huge platter of oysters with a punchy dressing. The chilli in this gives the sort of hit you might get from tabasco.
Serves 6
18 oysters
1 garlic clove, finely chopped
2 red chillies, sliced
2 spring onions, finely chopped
2 tbsp fish sauce
2 tbsp lime juice
1½ tbsp caster sugar
First, shuck the oysters. Hold an oyster, wrapped in a cloth, with the flatter shell uppermost and the hinge pointing towards you. Insert an oyster knife into the gap in the hinge. Twist to snap the shell apart. Slide the knife along the inside of the top shell and lift it off. Clean away any pieces of broken shell from the lower shell. Run the knife along the oyster to loosen it from the shell, but leave inside. This can be done half-an-hour before serving. Repeat with the remaining oysters.
For the dressing, place the garlic, chillies, spring onions, fish sauce, lime juice and sugar in a bowl and mix well. Cover and set aside until needed.
Place the oysters on a serving plate and, just before serving, spoon over the dressing.
Barbecue prawn and tomato salad
When choosing the tomatoes, try to get a variety of colours and sizes. You want them to be sweet but still firm, so ask the greengrocer to guide you.
Serves 6
1 garlic clove, crushed
Juice 1 lime
3 tsp caster sugar
1 tbsp soy sauce
1 tbsp fish sauce
1 green chilli, seeded and chopped
600g mixed tomatoes, quartered
3 shallots, finely sliced
Handful mixed herbs (such as mint, basil or coriander)
For the prawns
18 raw prawns, skinned, tails left on
1 tbsp chopped coriander stalks
2cm fresh ginger, grated
2 tsp caster sugar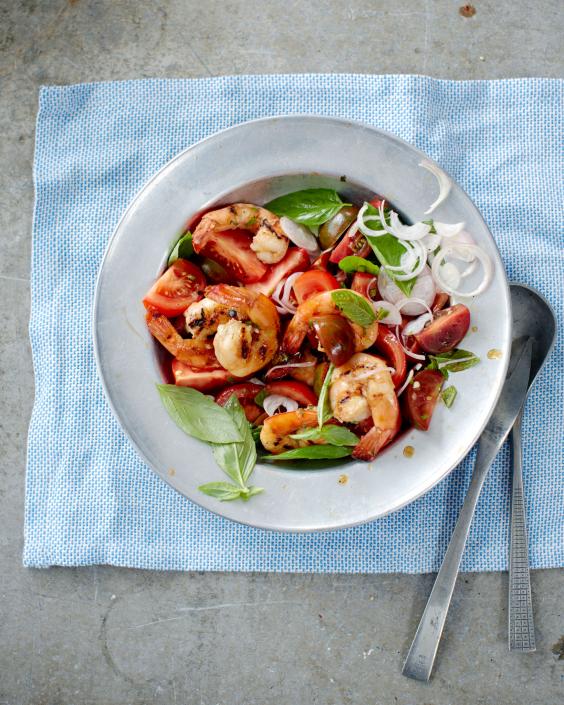 In a large bowl, combine the garlic, lime juice, sugar, soy, fish sauce and chilli. Fold through the tomatoes and shallots. Cover and keep in the fridge until needed.
Place the prawns in a separate bowl. Toss in the chopped coriander, grated ginger and sugar. Cover and marinate in the fridge for about 15 minutes. Heat the barbecue to hot and cook the prawns for 1 minute on each side, or until they turn pink. Toss through the tomato salad. Add the herbs and serve.
Snapper with spring onion, ginger and chilli
If cooking indoors, place the stuffed snappers in a roasting tin and cover tightly with foil. Bake at 220C/425F/Gas7 for 18 to 20 minutes.
Serves 6
3 whole snappers, gutted
3 thick slices fresh ginger
3 lemongrass stalks, bashed
2 spring onions, sliced on the diagonal
Handful coriander sprigs
Steamed brown rice, to serve
For the ginger and chilli dressing
1½ tbsp light-flavoured oil
3cm ginger, cut into thin strips
2 garlic cloves, sliced
1 red chilli, sliced on the diagonal
2 tsp caster sugar
3 tbsp light soy sauce
Juice 1 lime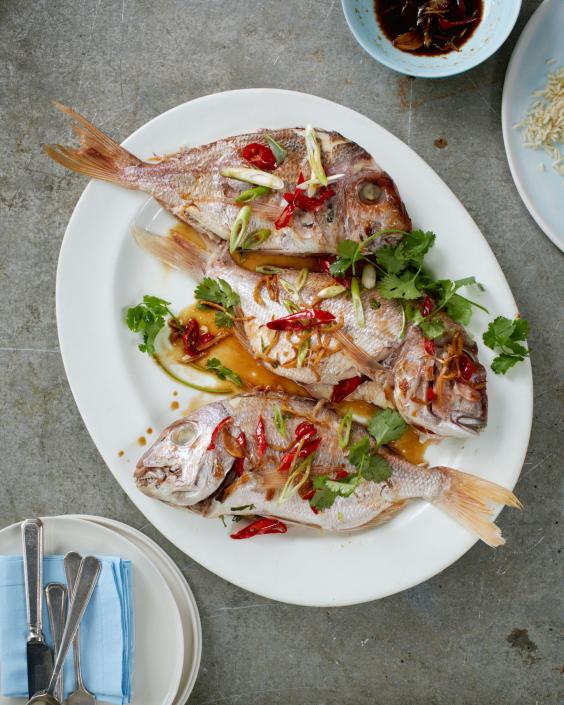 For the dressing, heat the oil in a small saucepan over a high heat. Add the ginger, garlic and chilli and fry until golden and crisp. Stir in the sugar, soy and lime juice and set aside.
Stuff the snappers with a slice of ginger, lemongrass stalk and a couple of coriander stalks each. Wrap each fish in a double layer of lightly oiled foil. Cook on a hot barbecue for 8 to 10 minutes on each side.
Unwrap the fish and, using a fish slice, carefully lift them on to a platter. Pour over the ginger-and-chilli dressing. Scatter with spring onions and coriander and serve with steamed brown rice.
Reuse content