We eat a lot of curries in my house and I'm constantly on a quest to make them lighter and kinder on the waistline. As with so many good things, curries often score quite high on the fat and calorie content, but there are ways to keep these in check without compromising on flavour.
Although restaurants might use copious amounts of coconut cream, coconut milk, ghee or oil, let me reassure you that you can avoid doing the same when making curries at home. When making a coconut soup, try upping the stock and switching to light coconut milk, as I've done here. The curried lemongrass stock will already be full of flavour, so all you need is a dash of coconut to enhance and balance it. Recently I also tried a coconut milk-free Thai green curry that tasted surprisingly authentic. Still rich and luxurious, just using soy milk instead.
But whatever you do, don't ease off on the spices and aromatics. You need them to retain the intense fragrance and kick that attract us to curries in the first place. So here you go: fresh, vibrant curries, without the guilt. 
Bill's restaurant, Granger & Co, is at 175 Westbourne Grove, London W11, tel: 020 7229 9111, and 50 Sekforde Street, London EC1, tel: 020 7251 9032, grangerandco.com. Follow Billon Instagram at bill.granger
Paneer and pea curry
This curry is naturally healthy and light, but no less satisfying for it.
Serves 4
1½ tbsp light-flavoured oil
200g paneer cheese, cut into cubes
1 onion, chopped
3 garlic cloves, crushed
3cm piece of ginger, peeled and grated
2 tsp ground coriander
½ tsp ground cumin
1 tsp chilli powder
300ml tinned chopped tomatoes
100g frozen peas, defrosted
Squeeze of lemon
Handful coriander leaves
Steamed white or brown rice, to serve
Heat 1 tbsp of oil in a large, non-stick frying pan over a medium heat. Fry the paneer until golden-brown on all sides. Remove from the pan with a slotted spoon and set aside.
Add the remaining oil to the pan and fry the onion for 5 minutes or until soft. Add the garlic, ginger and spices and fry for 2 minutes or until fragrant.
Tip in the tinned tomatoes, stir to coat in the spices then bubble for 5 minutes. Season with salt and black pepper. Stir in the peas and fried paneer and simmer for a further 3 to 4 minutes, adding a little water to the pan if it's getting too dry. Add a squeeze of lemon, top with coriander and serve with steamed rice.
White fish and squash curry soup
Delicious and nourishing, this is the soup to turn to when the first winter sniffles start to appear.
Serves 4
1 tbsp light-flavoured oil
3 garlic cloves, finely sliced
1 lemongrass stalk, cut in 3 sections
1 tbsp curry powder
750ml good-quality vegetable or chicken stock
300ml tin reduced-fat coconut milk
2 tbsp fish sauce
1 tbsp caster sugar
400g squash
450g firm white fish, cut into chunks
Few stalks tenderstem broccoli, cut into 4cm lengths
250g thin rice noodles (soaked in boiling water, drained and rinsed)
1 red chilli, sliced into rounds
1 small red onion, very thinly sliced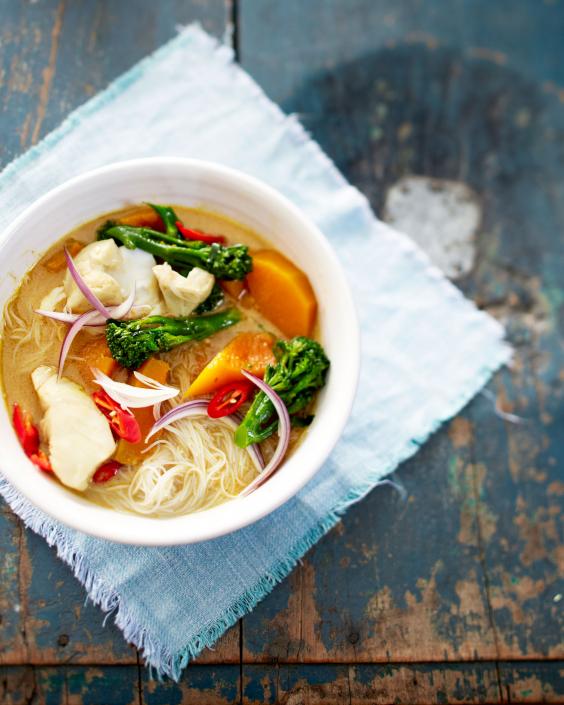 Heat the oil in a medium-sized saucepan over a medium heat. Add the garlic and lemongrass and cook, stirring, until golden.
Add the curry powder and continue stirring for 30 seconds. Add the stock, 500ml water, coconut milk, fish sauce and sugar. Bring to the boil.
Reduce the heat to a simmer. Peel the squash, cut into chunks, and add to the soup. Poach gently for about 10 to 12 minutes, until tender. Add the fish and broccoli and simmer for 2 more minutes.
Place the noodles into four noodle bowls, cover with the soup and dress with the red chilli and red onion.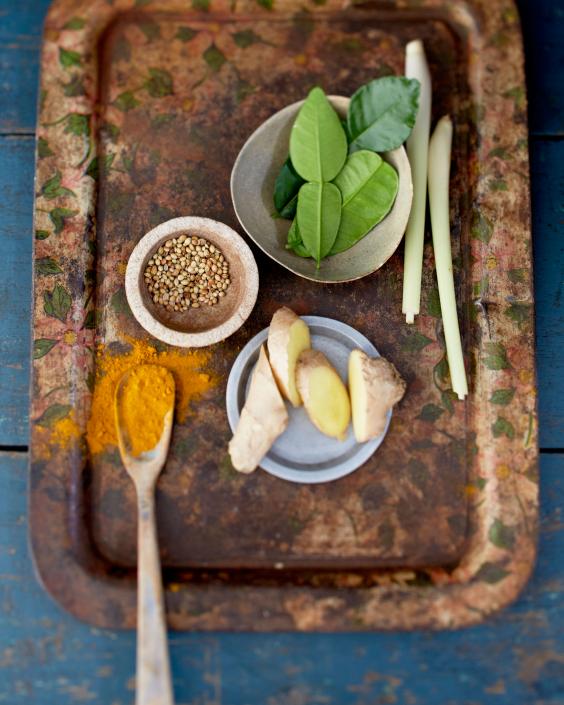 Soy Thai green chicken curry
Made without using any coconut milk, this Thai green curry tastes surprisingly traditional. Keep any leftover curry paste in an airtight container in the fridge, to use in curries, soups or as a marinade.
Serves 4
For the curry paste
1 tsp white peppercorns
1 tsp coriander seeds
½ tsp cumin seeds
1 tbsp light-flavoured oil
1 tsp salt
1 tsp ground turmeric
1 lemongrass stalk, chopped
6 garlic cloves, chopped
4 spring onions, chopped
3 tbsp chopped coriander stems
3cm piece ginger, peeled and chopped
4 green chillies, deseeded, chopped
For the chicken curry
1 tbsp light-flavoured oil
3 tbsp green-curry paste
1½ cups chicken stock
4 kaffir lime leaves, torn, or 3 strips lime peel
500g chicken-breast fillets, cut into chunks
400g Japanese or regular aubergine, cut into chunks
100g green beans, halved lengthways
250ml good-quality unsweetened soy milk
1 tbsp caster sugar
2 tbsp fish sauce
1 tbsp lime juice, plus lime wedges to serve
Handful basil and/ or coriander leaves
1 green chilli, sliced into rounds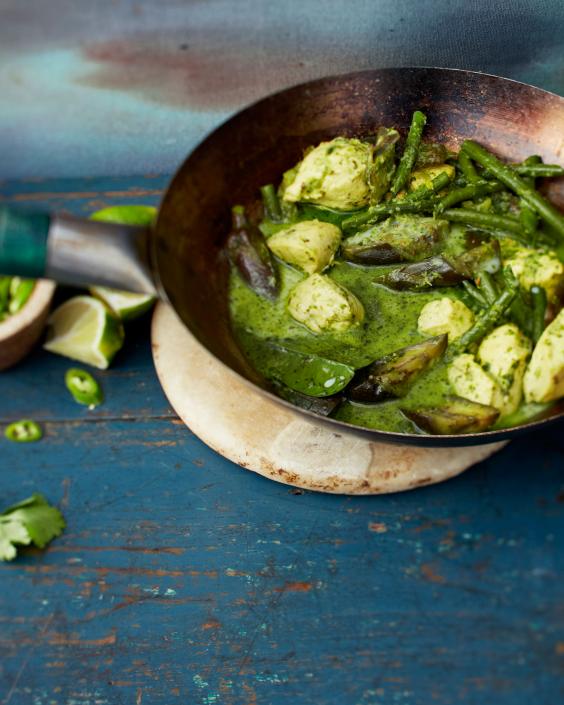 Start by making the curry paste. Heat a small pan over a medium heat. Add the peppercorns, coriander and cumin seeds and toast for 1 to 2 minutes or until fragrant.
Put the toasted spices and the remaining ingredients in a food processor and pulse to a paste. This will make more than you need, but the paste will sit happily in a jar in the fridge for a week or so.
Now to make the curry. Heat a large pan over a high heat. Add the oil and cook the curry paste for 2 minutes or until fragrant. Add the stock and lime leaves and simmer for 5 minutes.
Stir in the chicken and aubergine, cook for 5 minutes. Add the beans to the pan. After 3 minutes, stir in the soy milk, sugar, fish sauce and lime juice. Scatter with the basil and/or coriander leaves and chilli, and serve with steamed rice and extra lime wedges.
Food stylist: Marina Filippelli; Prop stylist: Rachel Jukes
Reuse content