Summer baking is about making the best of what's available – nothing screams summer like bowls of berries, abundant stone fruit and zinging everything up with citrus. Combining fruit with sugar and baking it gives it another dimension: it dehydrates the fruit and caramelises the sugars, moistening crumb and biscuit bases.
The Great British Bake Off inspires many of us to get back to the kitchen, but while I look in trepidation at what those competing have to make, my summer baking is of a much simpler kind. The fruit galettes here are a beautiful use of ripe stone fruit and have the added bonus of not requiring special tart tins. The friands overleaf are a staple in my house. They can be whipped together in five minutes and provide a good use for egg whites. And for the biscuit tin, the blueberry slice pleases everybody. Adding the sesame seeds to the base helps cut through the sweetness, making them taste surprisingly adult.
Bill's restaurant, Granger & Co, is at 175 Westbourne Grove, London W11, tel: 020 7229 9111; 50 Sekforde Street, London EC1, tel: 020 7251 9032; and Stanley Building, 7 Pancras Square, London N1, tel: 020 3058 2567, grangerandco.com. Follow Bill on Instagram at bill.granger
Nectarine and pecan open tarts
Mixing plain and spelt flours in the crust gives an earthy, textural foil to the juicy nectarines. Serve with good vanilla-bean ice cream or thick Greek yoghurt.
Makes 8
25g unsalted butter, softened
3 tbsp soft brown sugar
2cm fresh ginger, grated
Finely grated zest 1 lemon
60g pecan nuts, roughly chopped
1kg nectarines, cut into chunks
2 tbsp milk
3 tbsp demerara sugar
For the pastry
125g plain flour
150g spelt flour
150g cold butter, diced
3 tbsp golden caster sugar
3 egg yolks
For the pastry, whiz the flours, butter and sugar in a food processor until it resembles coarse breadcrumbs. Mix 1 tbsp of water into the yolks. Pour into the bowl of the food processor and pulse until the pastry comes together, adding a little more water if needed. Wrap in cling film and chill for 30 minutes.
Preheat the oven to 190C/ 375F/Gas5. Divide the pastry into 8 and roll out into ½cm-thick circles. Place on 2 baking sheets lined with parchment paper. Combine the butter, brown sugar, ginger and lemon zest. Spread over the pastry, leaving a wide border. Finely chop a quarter of the pecans and scatter over the pastry rounds. Top with the nectarines. Gather the pastry border over the fruit and top with the rest of the roughly chopped pecans. Brush the pastry border with milk and dust the tarts with demerara. Bake for 30 minutes until golden. Leave to cool.
Blueberry and coconut slice
My grandfather used to cook three things – Worcestershire sauce, prunes in port and, incongruously, a jammy coconut slice. This is my homage to him.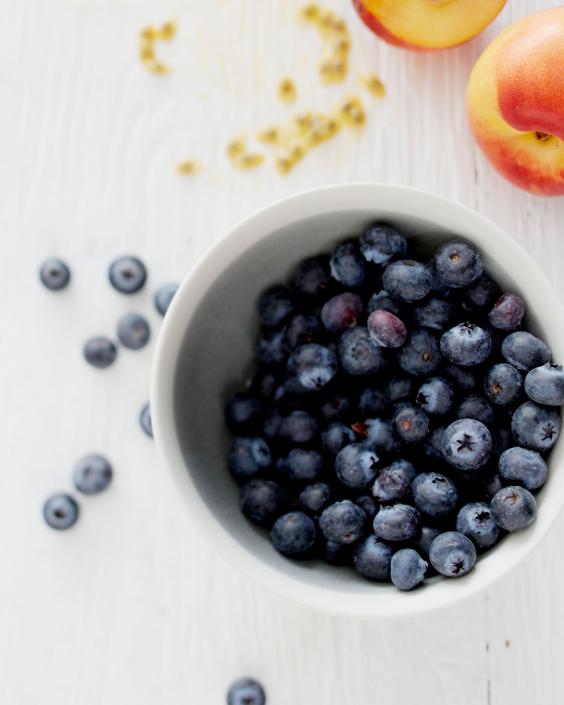 Makes 12 slices
125g unsalted butter
3 tbsp caster sugar
125g plain flour
2 tbsp sesame seeds
200g blueberries
2 tbsp icing sugar
Grated zest ½ lemon
100g unsweetened shredded coconut
3 tbsp condensed milk
Preheat the oven to 180C/350F/Gas4. Lightly grease and line a 20cm x 30cm oven tin with non-stick baking paper. Place the butter, sugar, flour and sesame seeds in a large bowl and rub together with the tips of your fingers, until the mixture starts to look like moist, rough breadcrumbs. Press the mixture firmly into the base of the prepared tin and bake for 15 minutes or until light golden. Set aside to cool.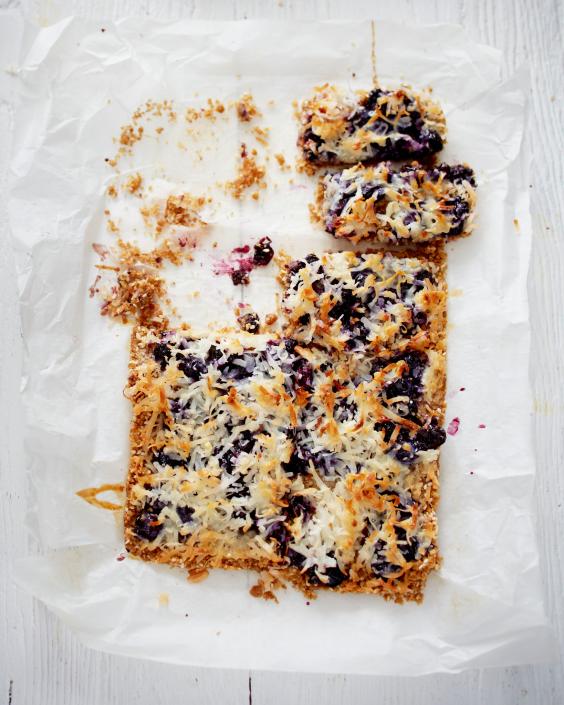 Put the blueberries in a pan with the sugar and lemon zest and 2 tsp of water and heat gently until the blueberries begin to burst. Remove from the heat and set aside to cool. Pour over the biscuit base. Top with a layer of shredded coconut then drizzle over the condensed milk. Bake for 12 to 15 minutes until the coconut is golden. Cool on a wire rack then cut into slices.
Passion-fruit friands with lime mascarpone icing
Freeze egg whites when you make custard, mayonnaise or ice cream and use them for friands. The icing is an optional sticky accompaniment.
Makes 12
75g plain flour, plus extra for dusting
185g ground almonds
200g icing sugar, sifted
5 egg whites, lightly beaten with a fork
2 passion fruits
200g unsalted butter, melted, plus extra for greasing
For the icing
2 tbsp icing sugar
100g mascarpone
100g natural yoghurt
Grated zest 2 limes
1 passion fruit, halved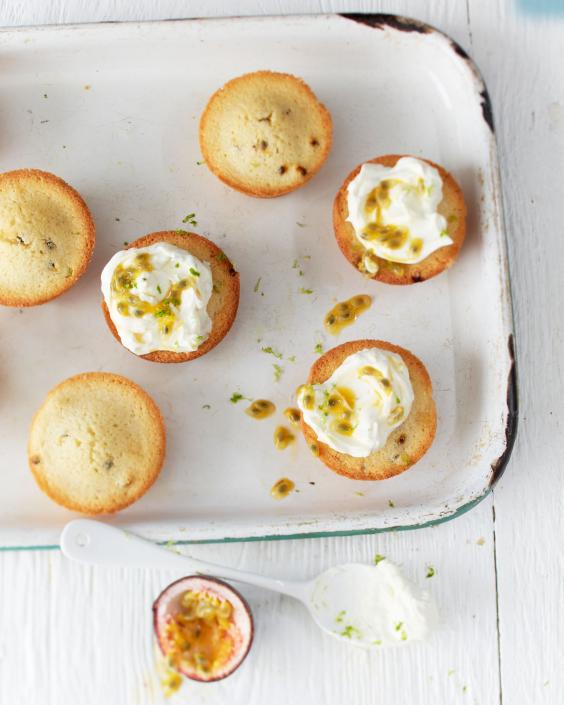 Preheat the oven to 180C/350F/Gas4. Grease and flour a non-stick 12-hole muffin tin with butter. Mix together the flour, ground almond and icing sugar in a large bowl. In a separate bowl, lightly beat the egg whites with a fork. Scoop in the passion-fruit pulp and beat lightly until combined. Add to the dry ingredients with the butter. Stir to combine.
Spoon the batter into the prepared tin and bake for 20 minutes or until golden. The friands should spring back when touched. Remove from the oven and leave in the tin for 5 minutes before turning out on to a wire rack to cool.
For the icing, beat the icing sugar in a bowl with the mascarpone, yoghurt and zest of 1 lime. Use to top the friands, finishing with an extra grating of lime zest and a drizzle of passion-fruit pulp.
Food stylist: Marina Filippelli; Prop stylist: Rachel Jukes