I wasn't always a big fish eater. It's not all that surprising, really, when you think that I come from a family of butchers.
When I was growing up, fish was something that came in fingers and was served with chips. Or sometimes Dad would do a swap with the seafood van outside his shop: he would give them a steak and we would get a bag of prawns.
Nowadays, though, I can't do without my regular sushi, salt-and-pepper squid and steamed white fish. They are my go-to omega-3 fixes. Yet there are so many people who still feel nervous about cooking fish. My advice to them is to find a fishmonger and get talking to them. A good one will be more than happy to dish out some cooking tips.
And stop thinking of fish as a special-occasion meal. OK, it's not always cheap, but it's so healthy, satisfying and quick to cook, making it the perfect light meal at the end of a hot summer's day.
Use the recipes here as inspiration, then make them your own by using your favourite fish, or whatever looks freshest at the fishmonger.
Bill's restaurant, Granger & Co, is at 175 Westbourne Grove, London W11, tel: 020 7229 9111, and 50 Sekforde Street, London EC1, tel: 020 7251 9032, grangerandco.com. Follow Bill on Instagram at bill.granger
Pan-fried scallops with an avocado, grapefruit and green-apple salad
I love the sweetness and delicate texture of scallops. Sometimes, when they are very fresh, I slice them and toss them raw into the dressing to make a scallop crudo.
Serves 4
Juice 1 lime
1 tsp caster sugar
1 tbsp fish sauce
1 tbsp light-flavoured oil
1 red chilli, chopped
1 Granny Smith apple, cut into matchsticks
1 ripe avocado, peeled, stoned and sliced
1 small red onion, thinly sliced
1 pink grapefruit, peeled and segmented
Generous handful coriander leaves
12 scallops
1 tbsp light-flavoured oil
2 tbsp toasted peanuts, crushed
1 tbsp fried shallots
Combine the lime juice, caster sugar, fish sauce, oil and chilli in a large bowl. Toss through the prepared apple, avocado, red onion, grapefruit and herbs.
To cook the scallops, heat the oil in a large pan over a high heat. Season the scallops with salt and pepper. Add to the pan and cook for 2 minutes on each side, until golden and just cooked through. Serve with the salad, topped with peanuts and shallots.
Salmon sushi and brown-rice bowl
This is such a beautiful light meal. I like to use short-grain brown rice rather than a basmati, because it has more bite and character. It's not always easy to find in supermarkets, but health-food shops always seem to have it on their shelves.
Serves 4
300g brown rice
400g very fresh, sushi-grade salmon, sliced
100g edamame
200g asparagus spears, cut thinly on the diagonal
Handful watercress
4 spring onions, shredded
Pickled ginger, to serve
For the dressing
2 tbsp lime juice
2 tbsp rice vinegar
1 tsp caster sugar
1 tbsp soy sauce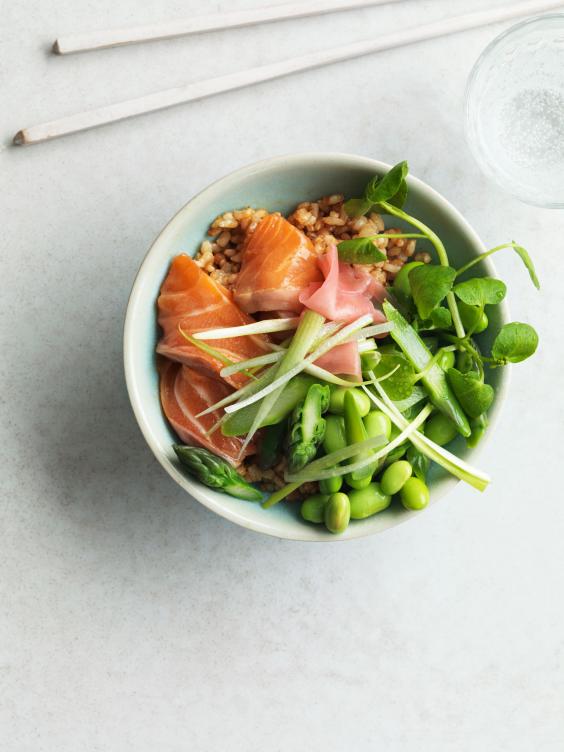 Cook the rice according to packet instructions. Combine the dressing ingredients; stir all but 1 tbsp into the rice. Set aside to cool.
Place the salmon in a bowl and stir through the remaining tbsp of the dressing. Cover and chill while you prepare the vegetables.
Cook the edamame and asparagus in a pan of salted boiling water for 2 minutes until just cooked. Drain and refresh.
Divide the rice between four bowls. Top with the edamame, asparagus, watercress, spring onions and salmon. Serve with pickled ginger, if liked.
Garlic prawns with saffron-roasted tomatoes
Make sure to have lots of paper napkins at hand – it's impossible to really enjoy these prawns without getting stuck in. If prawns are not your thing, these tomatoes are also great with grilled mackerel, squid or salmon.
Serves 4
400g whole king prawns
2 tbsp olive oil, plus extra to drizzle
1 tsp sumac
1 tsp ground coriander
1 red chilli, chopped
2 garlic cloves, chopped
Plain yoghurt, to serve
Flatbread, to serve
For the saffron-roasted tomatoes
1½kg plum tomatoes (I used a mix of large and baby plum)
4 tbsp olive oil, plus extra for drizzling
½ tsp dried chilli flakes
1 tsp caster sugar
Generous pinch saffron stamens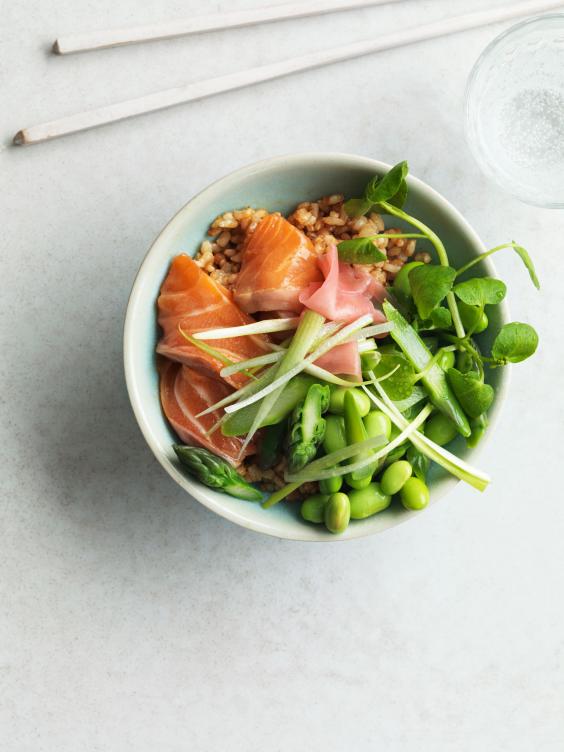 Preheat the oven to 160C/325F/Gas3. Cut any large tomatoes in half. Put all the tomatoes in a large roasting tray. Combine the olive oil, chilli, sugar and saffron in a small bowl. Spoon over the tomatoes and season with salt. Cook for 45 minutes, or until the tomatoes are starting to break down.
Place the prawns in a dish with the olive oil, sumac, coriander, chilli and garlic. Season with salt and set aside for 5 minutes.
Heat a large frying pan over a high heat and add the prawns. Cook for 1 minute on each side, or until the prawns have turned pink. Serve with the tomatoes, a good dollop of yoghurt and warmed flatbread.
Food stylist: Marina Filippelli; Stylist: Rachel Jukes
Reuse content