If supermarket sales are a trustworthy barometer of the eating habits of the nation, it's no wonder that blackcurrants are known as the "forgotten fruit", as Whittern Farms grower Jo Hilditch, chair of the British Blackcurrant Foundation, describes them.
Of the five national supermarkets asked for their thoughts on them, only one – M&S – can find anything it wants to share with The Independent about these small, sharp-tasting berries, whose  season typically runs from early July for four to six weeks. "Where everyone who had a garden used to have a blackcurrant bush as part of their self-sufficiency, now they have become one of the least common fruits," explains Hilditch, who plants blackcurrants on her Herefordshire farm, as her grandmother did in the early 1900s. "I want to remind people, and bring them back into people's kitchens, whether through juices, in yoghurts, from frozen, just anyhow!"
We're well acquainted with blackcurrants made into juice. Hilditch makes a fancy British Cassis, but the majority of the 350 or so tonnes picked each year goes – you guessed it – into bottles of Ribena, the end of the road for 95 per cent of the UK blackcurrant crop. The original formula, as an unbranded blackcurrant cordial, was distributed to children during the Second World War to supplement vitamin C levels. This evolved into Ribena, and it was marketed as a healthy product until the 2000s, when questions were raised about the levels of sugar, vitamin C and actual fruit in the drink. It lost most of its health credentials as a result.
The fruit itself, however, has held on tightly to all of its nutrients, packing them densely within its glossy deep purple skin. Blackcurrants have been hailed as a homegrown superfood, with no air miles or expensive extraction to worry about. In fact, Hilditch set up the Blackcurrant Foundation to raise awareness of the fruit's great nutritional benefits, as well as broadening their appeal in the kitchen. "They have four times more vitamin C in them than oranges, weight for weight," she points out. "Blackcurrants have the best antioxidant polyphenols, particularly anthocyanins, which, in research, have been shown to help in maintaining cardiovascular health, ageing and brain health, urinary tract health and healthy vision."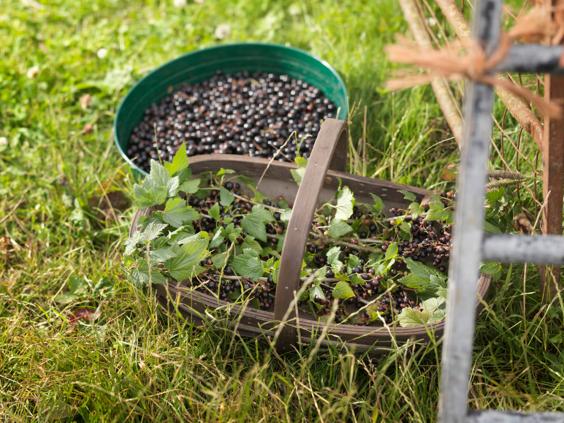 Healthy or otherwise, Hilditch loves Ribena and wouldn't be without a bottle. But where else can we use the currants? Elspeth Biltoft, who makes home-made Rosebud Preserves in Masham, North Yorkshire, says that blackcurrants are a gift to jam-makers because of their sharp-sweet flavour. "They have the right levels of naturally occurring pectin and acid," she says. "I've never understood why blackcurrant jam is less popular than strawberry, raspberry and apricot."
Biltoft has made blackcurrant jam since she started out 26 years ago, and likes her fruit a very dark colour and tart to taste. Too ripe, she says, and you lose that unique flavour that makes blackcurrants so special. Jams aside, her top tip is to use redcurrants and blackcurrants in a summer pudding, along with strawberries and raspberries, packed into a pudding basin lined with a good white loaf.
Adam Handling, head chef at Westminster restaurant Adam Handling at Caxton's and Scottish Chef of the Year 2015, also likes to bring the sharpness to a sweet dish, using it with high-quality dark chocolate. "I have a dessert that includes a blackcurrant gel and ice cream to complement rich chocolate truffle and chocolate shortbread," he says. "The blackcurrants provide a slight acidity, which balances the decadence of the chocolate." Kirsty Hale, who writes Riverford Organic Farm's recipes, makes the most of blackcurrants when they're available, and freezes them for the rest of the year. They can add a hit to a rice pudding or clafoutis, she suggests, and matches them with elderflower jelly, a lemon pudding, and saffron meringues.
On the savoury front, they go well with game, so it's worth freezing a few trays and waiting until autumn brings its venison. Make a sauce, says Hale, with shallots, rosemary, chicken stock and wine, add in a little vinegar, honey and five spice, then introduce the blackcurrants near the end so that you end up with a very fresh and fruity slick of sauce for your pink meat.
Even simpler is a blackcurrant vinaigrette from David Morris, fruit buyer at Booths, made from blackcurrants squashed with red wine vinegar and hazelnut oil, which is also good on game such as wild duck. And don't waste the leaves, says Morris: drop a few into your custard when making a crème brûlée to add flavour, then pick them out before setting and serving the dessert.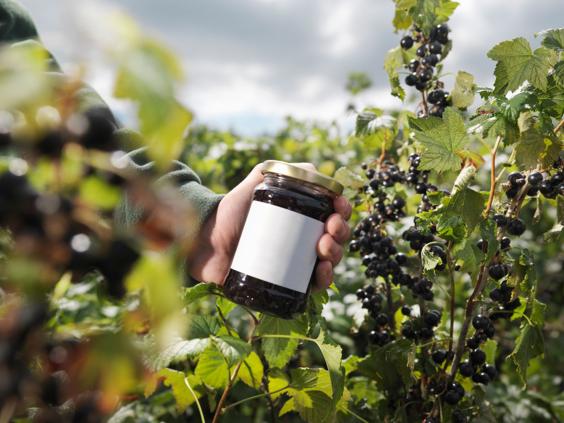 Blackcurrants are also a very fine mixer if you enjoy a cocktail or two. Hilditch began making her British Cassis to use up a surplus 10 years ago. She trampled fruit in a half-tonne bin and mixed it up with a drill. Methods are more sophisticated these days, but it's all still done by hand. She describes is as a "British take on the French staple, but infinitely more delicious, less sweet and syrupy and really fruity." It works as a base for recipes as well as cocktails. Her neighbours at Pixley Court make pressed juices and cordials, sold as Pixley Berries, from berries, sugar and water, and recommend mixing them with dry or sparkling white wine, or gin and a squeeze of fresh lemon.
In Somerset, Richard Hollingbery began planting blackcurrants in his hedgerows as treats for his dairy herd at Godminster Farm, whose milk is used for vintage cheddar and brie. When he was looking for a way to use the excess berries, his thoughts turned to vodka. He now produces 400 bottles of blackcurrant vodka each year, which he recommends in champagne cocktails.
Until the 1980s, Hilditch's blackcurrants were picked by hand, but now she employs tractor drivers and workers who sort the fruit along a conveyor. She grows six varieties, all named after Scottish mountains, and the first to arrive is Ben Gairn, which she will be picking this weekend. Hilditch likes the Ben Starav, the plumpest and the sweetest, best.
Marks and Spencer is attempting something of a blackcurrant revolution this summer. As much as they are loved for their tart flavour, blackcurrants can't compete with sweeter berries, especially when it comes to snacking on uncooked berries, as we do with punnets of strawberries, raspberries and blueberries. M&S is bringing back a heritage variety, the Ebony blackcurrant, which you'll find in stores from Monday, to see if it can re-engage our tastebuds. "In recent decades, the sweeter styles have fallen out of favour as blackcurrants have been predominantly used to make things such as cordials and flu powders, which require very intense flavours that the smaller, sharper varieties are more suited to," explains Andy Mitchell, M&S fruit expert. "So growers stopped growing the sweeter varieties."
"However, we think it's time now to bring back the blackcurrant – it's a classic British summer fruit. Our new Ebony variety is delicious and very healthy to snack on. It's bigger than the sharper varieties and incredibly healthy – blackcurrants actually have more antioxidants than blueberries. Our blackcurrants are also hand-picked, which means we know they're perfect quality."
Appearing as they do for only a few weeks in British summertime, blackcurrants are often considered to have a short season. The season isn't really that short compared to any other fruit or veg. Rather, it stands out because we import so many types of fresh produce throughout the year but rely on frozen blackcurrants. They freeze well and retain all their goodness so there's no reason not to stock up now.
Harvest time varies up and down the country, according to the weather. Sunshine contributes to a high-quality fruit. However, if the weather is too hot, the blackcurrants might cook inside their own skins. Hilditch assures me the recent heatwave hasn't damaged her crop too severely, so there will be no shortage of Ribena, for this year, at least.
Elderflower bubbly jelly with blackcurrant compôte
Recipe by Kirsty Hale, Riverford
Blackcurrant compôte can be used for all sorts of things. Serve for breakfast with granola and yoghurt, swirl into vanilla ice cream to make a blackcurrant ripple, or serve with meringue and cream. It will freeze well, too, so it's good for preserving the short blackcurrant season. We use Luscombe elderflower bubbly, made down the road from our farm with elderflower picked from our hedgerows, for the jelly. It keeps some of the bubbles, making a light pudding, perfect for summer days. You could also make a version using diluted elderflower cordial and water, if you can't find a bubbly elderflower pressé.
Ingredients to serve 4
For the jelly
450ml Luscombe elderflower bubbly, or another elderflower pressé
1x 12g sachet gelatine powder (or a 6.5g pack of vegetarian gel)
For the compôte
125g blackcurrants
1-2 tablespoons icing sugar, to taste
1 tablespoon water
3 finely chopped mint leaves (optional), plus a few small mint sprigs to serve
Preparation
Pour 120ml just-boiled water into a large heatproof jug or bowl. Stir in the gelatine  powder, mixing well to  dissolve all the powder. If it doesn't all dissolve, put in a heat-proof bowl over a pan of simmering water, and stir until it does.
Add the elderflower bubbly. Wait for a minute or two to let the mixture settle, then dab away any froth with kitchen paper.
Pour into small glasses or bowls. Chill until set, approx 1 hour. Meanwhile, make the compôte: gently warm the blackcurrants, 1 tablespoon of the sugar and water in a pan until the blackcurrants just start to soften and  release a little of their juice.
Taste and add more icing  sugar to your own preference for sweetness. Remove from the heat and leave to cool. Stir in the fresh mint if  using. Serve with the jellies, decorated with small  mint sprigs.
Reuse content