There is no question that afternoon tea is in vogue. And it has definitely evolved a lot over the last two hundred years. These days afternoon tea is enjoyed by many, but most of all it's now an avenue for chefs to express their creative flair and add new twists to the indulgent British tradition.
The birth of afternoon tea is credited to Anna Maria, the 7th Duchess of Bedford around 1840. At the time, it was usual for people to take only two main meals a day: breakfast and dinner (around 8pm) and Maria is said to have complained of "having that sinking feeling" during the late afternoon. So, the solution for the Duchess was a pot of tea and a light snack taken privately in her boudoir during the afternoon. She then started to invite friends to join her in her rooms at Woburn Abbey in Bedfordshire and the tradition became popular within fashionable society.
Afternoon tea has become synonymous with opulence, which is why it has always been seen as a middle or upper class activity, however AfternoonTea.co.uk managing director Keith Newton said: "Over the last few years, there has been a renewed interest in British traditions, particularly in our food and drink - The Great British Bake Off is a good example of this.
"The Queen's Diamond Jubilee and Olympics helped to increase our sense of national pride and we saw a big increase in the rise in people taking afternoon tea as a result."
He added: "Afternoon tea isn't an everyday activity, it is an opportunity to indulge and to take time relaxing with friends and family.
"For visitors to the UK, afternoon tea is a novelty and a chance to try something different. Many visitors believe that the British still have afternoon tea everyday!"
Basic afternoon tea consists of finger sandwiches, scones (accompanied by jam and cream) and pastries on a tiered plate, all washed down by a pot of tea set in a lush garden or a posh hotel. But nowadays, it goes beyond these settings, and has become a detailed and artistic experience.
"In recent years, we have seen chefs getting more adventurous with their afternoon tea menus. Most still stick to the traditional framework of sandwiches, scones and cakes but let their culinary skills go to town with delicious new sandwich fillings and flavoured breads. Their artistic flair is used to create delicate deserts and sweet treats," says Newton.
"We have also seen a big increase in the number of themed menus on offer. Events such as Chelsea Flower Show, Wimbledon, Halloween and Christmas provide an opportunity to serve something different and spice up their usual menu."
Afternoon teas are so popular that this week sees Afternoon Tea Week (August 11-17) set up by afternoon tea online guide afternoontea.co.uk.
Newton explained: "We want to celebrate the tradition of afternoon tea and encourage people to get involved, whether you are going 'out to tea' at a hotel, buying cakes from your local bakery or preparing and baking it from scratch at home."
The afternoon tea aficionado's top five London summer afternoon teas are those with a summer theme or venues that allow you to sit outdoors and enjoy the sunshine.
Top 5 London summer afternoon teas
Top 5 London summer afternoon teas
1/5 Montague on the Gardens Bloomsbury - conservatory and terrace

2/5 British Summer Holiday Afternoon Tea at The Emmeline's Lounge in St James's

3/5 Ice Cream Afternoon Tea at The Dorchester

4/5 Al Fresco Afternoon at Park Tower Knightsbridge

5/5 The Royal Horseguards Hotel has a secluded terrace overlooking the river and London Eye
Afternoon tea fusions are also a growing trend. Mo Cafe and Terrace at MoMo Restaurant is a North African haven set in the heart of the city. Its chef, Soufian Larbi, puts a Moroccan twist to a quintessentially British menu. The idea of this fusion is to engage people from different kinds of backgrounds. Instead of finger sandwiches, expect Zaalouk - charcoal grilled aubergines mixed with spices on bruschetta; Cheese briouats and Mechouria - charcoal-roasted peppers with tomato and garlic on bruschetta. The Maghrebin pastries are almond-based that can only be found and eaten at the restaurant and the scones contain cinnamon powder.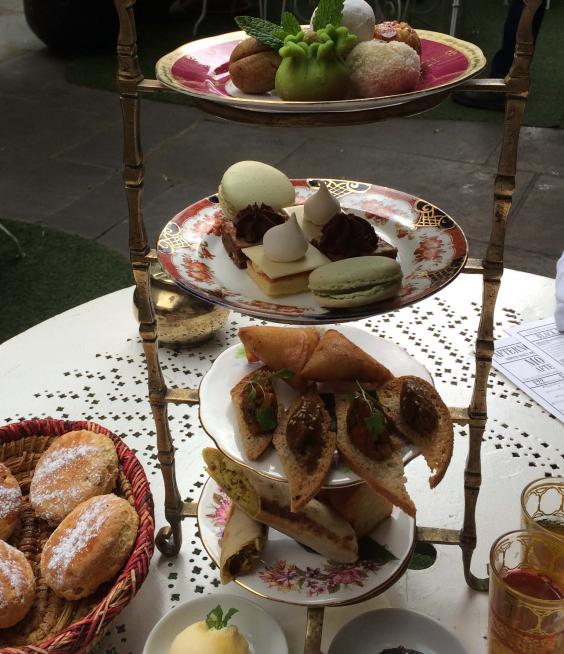 Chelsea's Bō Làng's Anglo-Chinese fusion, prepared by head chef Chen Fang, includes the following savoury treats to name a few: Crispy duck with cucumber and duck sauce, Beetroot with fresh salad, fresh cheese with cucumber topped with balsamic pearls and crab meat and mayo. The pastries are sprinkled with green tea powder. The restaurant's afternoon teas are served in beautiful, traditional cast iron teapots and accompanied by a range of delicate, oriental flavoured pastries.
And if one nice setting is not enough for one sitting, there is BB Bakery's Afternoon Tea Bus Tour, where you can hop on a double-decker Routemaster and enjoy the sights of Central London as you tuck in sweet and savoury treats.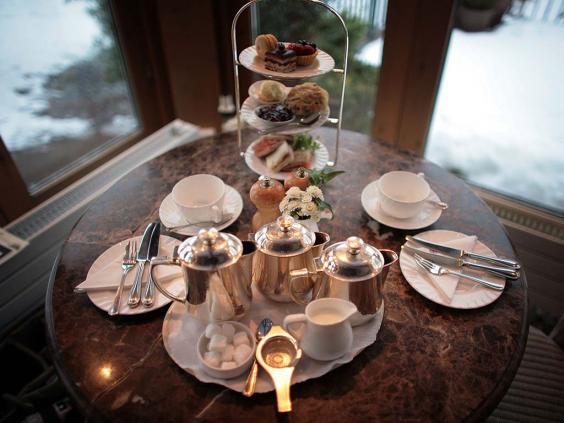 Outside of the capital, there are some brilliant afternoon teas to try. For instance, Betty's in Yorkshire is known for its decadent afternoon tea experience and of course, you can experience the English social custom where it all began at Bedfordshire's Woburn Abbey at The Duchess' Tea Room.
There are certainly lots of different types to try. Some are made for tourists, but there are plenty out there that offer a wonderful dining experience to share with family and friends. Even if you want to have a go at home yourself, why not put the kettle on?
Reuse content