Britain is going Creme Egg crazy this Easter – with social media cracking under the weight of weird and wacky ways to eat them. According to maker Cadbury, more than 200 million are sold in the UK every year. 
And this Easter has seen an added eggs-plosion, with posts on Facebook, Twitter and Instagram sharing Creme Egg-inspired hacks, recipes, stunts and record attempts. We've seen everything from battered versions at a Birmingham chip shop; a Derby-based chef's twist on the traditional scotch egg, with the gooey chocolate wrapped inside sausage meat; and a Creme Egg "crodough" – a croissant/doughnut hybrid – available in an east London bakery.
The official Creme Egg Facebook page currently has more than 2.5 million likes, while Instagram users are egging each other on to upload images of their creations with nearly 80,000 pictures tagged with #cremeegg.
And on Twitter, the numerous recipes being shared range from the sublime to the ridiculous, all in a bid to tantalise tweeters' tastebuds. There's avocado with Creme Egg, a steady stream of Creme Egg cocktails (one particularly memorable one being a mojito with chocolate syrup), not to mention gut-busting Creme Egg burgers, pizzas or milkshakes.
The extraordinary range and quantity of suggestions appears to show the nation's love affair with the chocolate shell with its fondant centre is as strong as ever – despite last year's controversy over Cadbury's changing the recipe.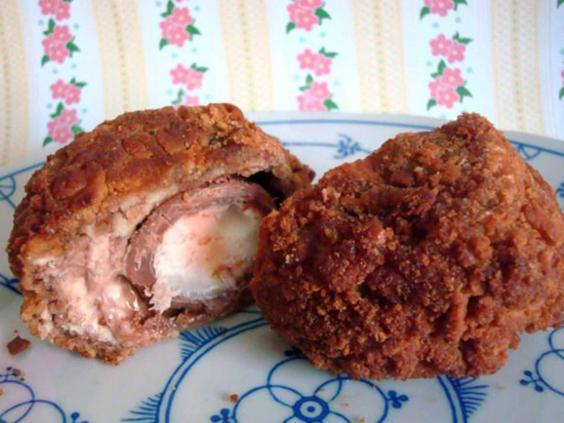 In January, The Grocer reported that the chocolate company had lost £6m in 2015 because of the recipe change; the article also claimed that Cadbury was upping its marketing spend by £1m this Easter in a bid to reverse a Creme Egg sales slide of 7.4 per cent. The panic around plummeting sales figures also prompted the confectionary giant – now owned by US food mega-brand Kraft – to open a pop-up Creme Egg Café in London, with dishes such as a Creme Egg-filled toastie, Creme Egg tray bake, and strawberries and creme (egg) on the menu. Cadbury is now also using Snapchat to reach a new generation of fans.
Robert Opie, founder of the Museum of Brands, says he's not surprised by the longevity of the Creme Egg. He explains: "They have been around for so long that they are a part of our calendar. Familiarity is a strength of any brand, and you know Easter's coming when you see the first Creme Egg in the shops.
"Nostalgia is key for many brands and parents would have introduced their children to them, and so on down the years… If they suddenly vanished we would feel desolate for a generation." Mr Opie may be slightly overegging things there, but you know what he means.
"And it helps that chocolate produces endorphins in our brain and we relate Creme Eggs to special family moments", adds Mr Opie. "It's no surprise Eggs are seeing a boost from social media, with consumers extending the brand and doing the marketer's job for them." 
But, he says – and Cadbury would do well to take note if they're entertaining the idea of a rebrand as part of their new sales drive – "What we like about brands is the way they remain the same. We must be careful not to change them too much and lose that emotional connection."
The number of applications for world records relating to Creme Eggs is also booming – although there is currently only one official one. It's held by Canadian Pete Czerwinski, who ate the most in a minute – six – in April 2014. 
Jakki Lewis, PR director for Guinness World Records, says, "We always see an increase at Easter of people wanting to break egg-related records – Creme Egg ones tend to be especially popular in the UK. We would encourage anyone who's interested to apply to break the existing record, or to get creative and suggest a new one, which our records team will review."
Reuse content