If you're looking for me on a Sunday morning, try the Turkish Food Centre at the top of Ridley Road Market in Dalston, east London. It's the closest I get to a local supermarket.
Of course, TFC (as it's affectionately known) stocks washing powder, loo roll and lightbulbs. But to me, it offers much more than that. Strolling its aisles is like a nano-holiday, scooping up huge bunches of herbs for less than a quid, and filling a basket with lemons, olives and feta fresh from a tub of brine.
For me, one of the great joys of foreign trips is visiting food shops. I feel lucky I can do this at home, too, and within minutes be in my own kitchen making lunch. Usually, I'm not recreating Turkish recipes but, inspired by what I find, creating Turkish-ish dishes of my own.
When I first moved to this area 18 years ago, I'd scan TFC's shelves for unfamiliar ingredients in alluring packaging and scribble down their names, before going home to look them up. This is how I introduced into my kitchen the everyday poetry of kaymak, pekmez and kadayif. That's clotted cream, fruit molasses and stringy pastry to you and me.
In these recipes, I've focused on sesame, always present in some form or another in my Sunday TFC basket, whether as seeds, tahini or halva, which are all available pretty much everywhere now.
Debora Robertson is a food writer and editor who blogs at lickedspoon.com. Her book, 'Gifts from the Garden: 100 Gorgeous Homegrown Presents', is published by Kyle Books
Debora Robertson's Turkish recipes
Debora Robertson's Turkish recipes
1/10

Debora scans the shelves at the Turkish Food Centre in Dalston, east London

Joe Woodhouse

2/10

The Turkish Food Centre is the closest Debora gets to a local supermarket

Joe Woodhouse

3/10

When she first moved to the area 18 years ago, Debora would scan TFC's shelves for unfamiliar ingredients in alluring packaging and scribble down their names, before going home to look them up

Joe Woodhouse

4/10

Fresh fruit and vegetables on display at the Turkish Food Centre

Joe Woodhouse

5/10

Debora scoops up huge bunches of herbs for less than a quid

Joe Woodhouse

6/10

The Turkish Food Centre also sells meat

Joe Woodhouse

7/10

Inspired by what she finds, Debora can create Turkish-ish dishes of her own

Joe Woodhouse

8/10

Grilled lamb chops with whipped feta

Joe Woodhouse

9/10

Grilled onion salad served with chunky bread

Joe Woodhouse

10/10

Halva honey ice cream with sesame brittle

Joe Woodhouse
Grilled lamb chops with whipped feta
Don't be put off by the longish list of ingredients; this is pretty simple. Whipped feta is delicious on its own, too, as a dip for vegetables.
Preparation: 20 mins
Cooking: 15 mins
Serves 4
For the whipped feta
200g feta
3 tbsp whole milk yoghurt
1 tbsp olive oil
1 clove garlic
2 tsp dried mint
Finely grated zest of small lemon
For the tahini sauce
2 tbsp tahini
1 tbsp fresh lemon juice
¼ tsp honey
For the lamb chops
2 blood oranges
1 tbsp olive oil, plus more for serving
8 best end lamb chops
Juice of lemon
Handful salad leaves
15cm cucumber, sliced
Small handful mint leaves, roughly torn
40g walnuts, toasted
40g green olives, roughly chopped
Sumac
Fine sea salt and black pepper
Beat the feta until smooth, then stir in the yoghurt and oil until creamy. Mash the garlic into a paste with a pinch of salt then stir it into the feta with the mint, zest and some black pepper.
In a small bowl, whisk together the tahini, lemon juice and honey, then thin with hot water until it's the consistency of double cream.
Chop the top and bottom off an orange and stand it upright on a chopping board. Work around the fruit, cutting off the peel, pith and membrane to expose the flesh. Cut into 1cm thick slices; reserve any juices.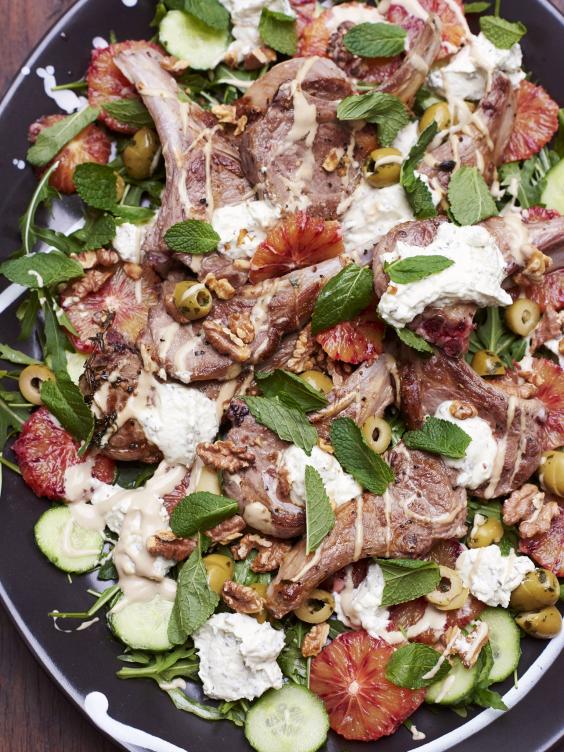 Warm the oil in a large frying pan over a medium-high heat. Season the chops and begin by frying them standing up on their sides, balancing one against the other, to allow the fat to crisp up a bit, then fry for 2 to 3 minutes per side, depending on how thick they are and how pink you'd like them. Rest for 5 minutes on a warm plate. Deglaze the pan with the lemon juice.
While the chops are resting, dress the leaves lightly in olive oil and any reserved orange juice then arrange them on the plate with the orange slices and cucumber. Spoon on some of the whipped feta and tahini, arrange the lamb chops over the top, then add the rest of the feta and tahini and any lemony juices from the pan.
Scatter on some mint, the walnuts, olives and sumac and serve with a little more olive oil trickled over the top.
Turkish grilled onion salad
This is my approximation of the free side salad they serve with your shish in many of the Turkish ocakbasis on the Kingsland Road, Dalston's kebab heartland. The essential sourness comes from salgam suyu, which translates as turnip water but is really juice from red carrot pickles flavoured with a bit of turnip. If you can't get your hands on a bottle, just use a few spoons of the juice from a jar of pickled gherkins.
Preparation: 10 mins
Cooking: 10 mins
Serves 4
3 medium yellow or white onions, and 3 red onions, peeled and cut into 6 wedges
4 tbsp pomegranate molasses
4 tbsp salgam suyu or pickle juice
Good squeeze of lemon juice
2 cloves garlic, minced
½-1 tsp chilli flakes
2 tbsp olive oil, plus a little more for brushing
A big bunch flat-leaf parsley, tough stalks removed and chopped
1 bunch coriander, tough stalks removed and chopped
3 tbsp roughly chopped mint leaves
3 tbsp roughly chopped dill fronds
2 tbsp toasted sesame seeds
Salt and freshly ground black pepper
Bread, to serve
I sometimes make this on the barbecue. If you'd like to, start by lighting the grill – get the coals nice and hot, so they are glowing red underneath, with a fine coating of grey ash on the top. Alternatively, you can just do it under a very hot grill.
Cut the onions into wedges, keeping the root intact so they don't fall apart. Thread on to skewers, sprinkle with salt and place on the grilling rack for 30 minutes.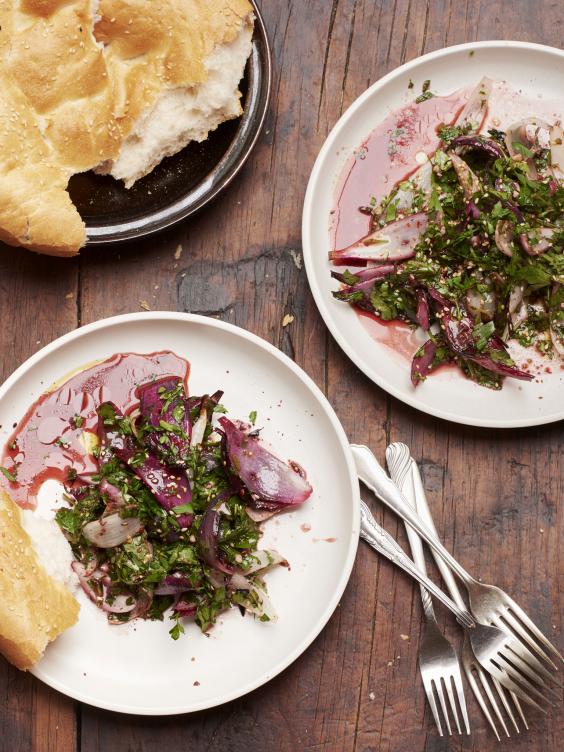 Whisk together the molasses, salgam suyu, lemon juice, garlic, a good pinch of chilli flakes and oil to make a lovely glossy dressing. Season with salt and pepper.
Brush the onions with olive oil, sprinkle a little more salt over them and grill for 5 to 7 minutes per side until gently charred around the edges. Carefully remove from the skewers, snip off the root, and toss them in the dressing. It seems like a lot of dressing, but don't worry, you want lots so you can mop it up with chunks of bread.
Sprinkle the herbs over the onions with the sesame seeds and more chilli flakes and toss together well. Serve warm or at room temperature.
Halva honey ice cream with sesame brittle
This is a very easy ice cream – no need to make an attention-seeking custard. Just whip together the mascarpone, cream and yoghurt and get cracking. The brittle isn't essential but it's a nice addition. And yes, you can make caramel.
Preparation: 10 mins, plus churning and 3 hours freezing
Cooking: 5 mins
Serves 6-8
500g mascarpone
250g double cream
100g whole milk yoghurt
60g runny honey, plus more for serving
1-2 tsp orange blossom water or rosewater, depending on the strength
¼ tsp ground cardamom
150g halva, broken into pieces
For the brittle
Vegetable oil, for greasing
150g caster sugar
3 tbsp sesame seeds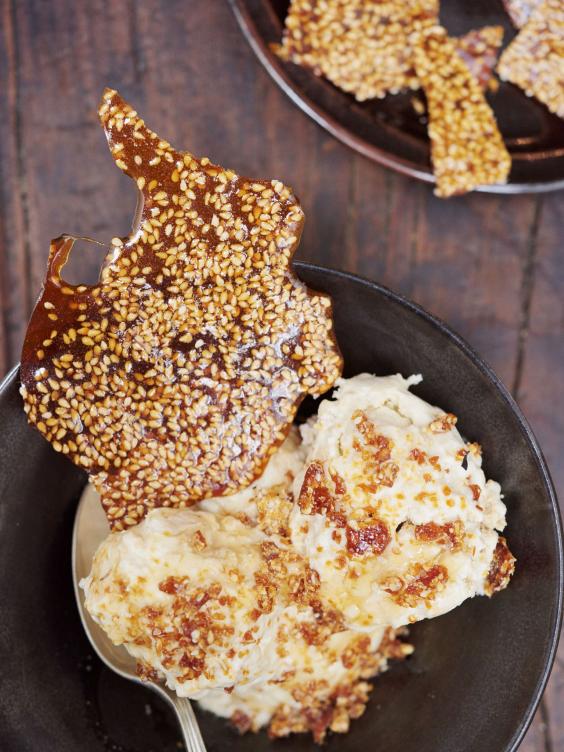 Stir together the mascarpone, cream and yoghurt until smooth. Stir in the honey, orange blossom or rosewater if using, and cardamom. Churn in an ice-cream maker, according to the machine's instructions. Scoop into a freezer-proof container. Use a spatula to stir through the halva and some more ripples of honey. Freeze for at least 3 hours before serving.
To make the brittle, line a baking sheet with lightly greased Silpat or baking parchment. Heat the sugar in a medium saucepan. Leave to melt, without stirring, for about 5 minutes until you have a rich, golden caramel. Stir in the sesame seeds then pour immediately ont o the baking sheet. Leave to set and cool. Bash some into powder and break the rest into shards.
Serve the ice cream with some of the brittle powder and shards scattered over the top, and a last-minute trickle of honey.
Reuse content