Ant and Dec have a lot to answer for. The television presenters are unwittingly helping to block one of the most logical and healthy solutions to an impending European protein shortage; edible insects.
The projections are stark. Livestock farming is becoming unsustainable. Soya, the main protein source in animal feed, costs up to £1,000 a ton and it takes 25kg of soya to rear 1kg of beef. Domestically we only produce 2 per cent of the soya we need. Most agricultural land in Europe is already in use, so we are reliant on imports in a global market where consumption of meat has increased 20-fold in 40 years and will keep increasing. Scientists agree that Europe is facing a huge a protein shortage and increasingly argue that insects could be the answer.
But in the UK, we are not particularly comfortable with the idea of eating bugs, thanks in part to programmes such as I'm A Celebrity... Get Me Out of Here!, in which the aforementioned duo preside over contests in which squirming public figures eat a range of creepy-crawlies. Insect food has an image problem.
Wild foods: where to find and how to cook them
Wild foods: where to find and how to cook them
1/10 Wild garlic

Look out for a lush green carpet of foliage in woodland and a garlicky smell. This can be harvested all year round, but the best time is from July to December when the bulbs are dormant. You can use this in the same way as normal garlic – in stews, stir-fries, or rubbed into roasted meat.

Ninian Reid

2/10 Wood sorrel

Wood sorrel, which is often mistaken for clover, grows in shady woodlands. Its leaves and stems have a lemony flavour, making them ideal for salads or as a garnish in sandwiches. Or, if you are feeling adventurous, blend the leaves with honey for a refreshing iced tea.

Richard Adams

3/10 Dandelion

This scourge of gardeners is a gift to foragers. Dig out the roots, clean them, then grind and roast to make dandelion coffee. This is a caffeine free alternative that bears a resemblance to normal coffee in appearance and taste.

Neil Bradshaw

4/10 Rosehips

The fruit of the rose plant has been used by children for generations to make an itching powder, which is extracted from the fine hairs inside the hip. Don't let that put you off though – you can blend dried berries with hibiscus to make a delicious herbal tea.

Rebecca Siegel

5/10 Chestnuts

The smell of roasted chestnuts is synonymous with Christmas, but there is no need to go to the supermarket to get yours this year. The nuts are inside the prickly outer layer, and usually drop to the ground underneath the tree. Collect them now, and have them in storage ready for the festive season.

6/10 Gorse

This evergreen shrub grows in all kinds of habitats, from windswept moors and coastal paths to urban commons and building sites. As each gorse variety flowers at a different time of the year, you can generally pick the vivid yellow blooms all year round. They can be added raw to salads, or used to make fruit tea.

John Haslam

7/10 Rowan

Though sometimes known as the "Mountain Ash", this deciduous tree grows in all sorts of places, such as parks, waste grounds and hedgerows. Rowan berries are very bitter, but can be used to make jelly, which goes especially well with game.

8/10 Hawthorn berries

These red fruits are surprisingly versatile in the kitchen, and can be used to make jellies, jams and even an alcoholic Schnapps! Just make sure you do not eat the seeds, as they contain cyanide.

9/10 Crab apple

This early relative of the commercial apple is perfect for making jams and jellies as it is fulll of pectin, a setting agent. Combine crab apples with a low pectin fruit such as rose hips or rowan berries.

Hans Kylberg

10/10 Chickweed

You will find this hardy herb sprawled across forest floors all year round. To harvest, cut off the new growth at the top of the plant. It is highly nutritious, and has a mild flavour suitable for sandwiches, soups and salads.
The tide of public opinion, however, may now be turning and British businesswoman Christine Spliid is at the forefront of this attitudinal shift. She has raised more than£10,000 on Kickstarter to launch Crobar; a range of healthy protein bars made using fruits, nuts and high-protein flour derived from freeze-dried, pulverised crickets that goes into production this month. Spliid, who has a degree in psychology, believes that once consumers put aside their reservations, logic will prevail.
"Insects have been presented as gimmick food," she explains. "But there is a growing acceptance of edible insects in Belgium, Holland, Spain and France. The US is ahead of the game, too. It is just a matter of time before attitudes change across all Europe."
In fact, more than 80 per cent of the global population eats insects. Certain grubs contain around 50 per cent protein, the constitution of which is similar to fish, pork or beef, but less fatty. Insects also contain polyunsaturated fatty acids and high levels of vitamins and minerals and are generally viewed as very tasty. Spliid continues: "The idea of a protein deficit is so abstract at the moment, it is easier to convince people of the health benefits. But first, it has to taste good. The crickets I use are freeze-dried and roasted on a low heat for around 24 hours which locks in the vital nutrients. They have a hazelnut taste."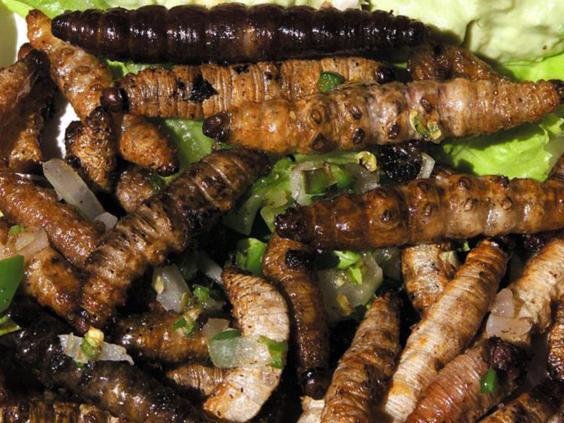 Indeed, what was once seen as a novelty is now becoming accepted as a mainstream ingredient in several EU countries. In 2013, Belgium became the first European country to allow the sale of insects for human consumption. Supermarkets there stock a range of insect-based products including a spread made from mealworms, carrots and tomatoes. Other countries followed suit. Last year, one of Holland's main supermarket chains, Jumbo, introduced a range of insect foods in its 400 stores, which included bug burgers and breaded bug balls.
In the UK, scientists at the Food and Environment Research Agency in York are involved in an £3m EU-funded project called PROteINSECT which is investigating introducing insects into the human food chain. Last year, it found that more than 70 per cent of people surveyed would eat pork, chicken or fish from animals fed on insects. It is hoped that this acceptance will eventually translate into mainstream acceptance of insects in direct human consumption.
Project co-ordinator Dr Elaine Fitches explains: "Our goal is to make meat production more sustainable. One of the longer term aims is to look at the feasibility of introducing insect protein for direct human consumption. People might accept it as an added ingredient if it tastes good. The trick is making something out of insects that doesn't look like insects."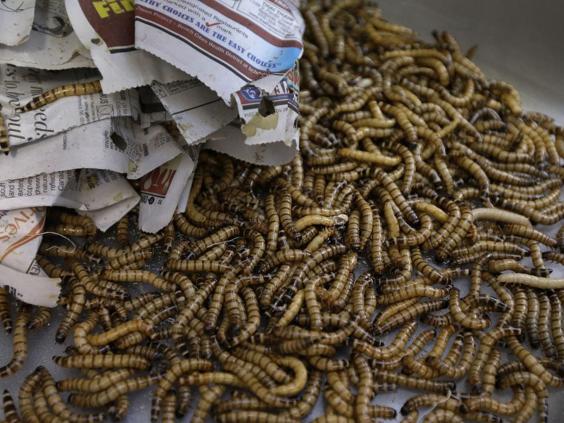 But in Britain, the march of the edible bugs has already begun. The first 10,000 Crobars are being produced by a UK food manufacturer. Another British company, Grub, sells a range of edible insects for use in recipes through specialist health-food stores such as Planet Organic, and London restaurants Wahaca and Archipelago offer insect dishes to diners.
Perhaps in the not too distant future, we'll watch reruns of Ant and Dec's horrified reactions as reality stars munch witchetty grubs and wonder what all the fuss was about.
Reuse content