BULLACE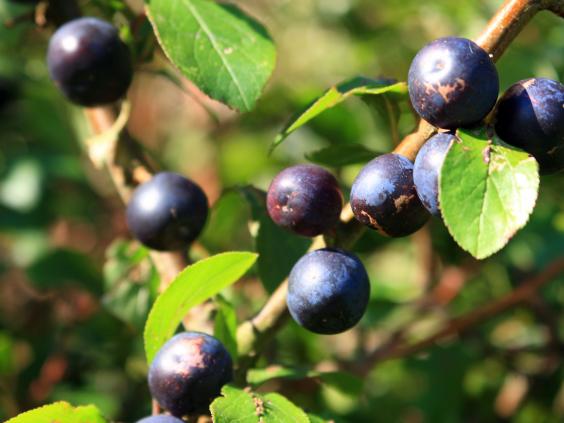 Little-known bullace are wild greengages that can be either yellow-green or blue-black and can often be mistaken for extra-large sloes. They have a full-on fruity, plum-like taste, yet are acidic and require plenty of sugar. They're delicious in crumbles and pies, where they can be used instead of plums (though with extra sugar). A more unusual option is to make old-fashioned bullace "cheese", a fruit paste formed into a "cake" for slicing. Quince paste, aka membrillo, is better known today, but bullace and damson cheeses were once familiar in English larders and make marvellous accompaniments to strong British cheeses.
To make bullace (or damson) cheese, use 1.5kg of fully ripe fruit. Wash carefully, removing any leaves and stems. Pour into a non-reactive pan and add 200g of water, simmer until skins and stones begin to float to the surface. Pass through a fine sieve or mouli-legume. Weigh the fruit pulp and add half its weight in sugar. Heat gently to dissolve the sugar, then simmer, stirring continuously until it becomes rich in colour and stops running together again when the spatula is drawn though the mixture. Line Swiss roll tins with baking parchment, fill with the paste, and while it's still warm, cut into strips and press down greaseproof paper on top of the cheese to work out any air bubbles. Keep refrigerated. It will last up to three months, though is best eaten fresh as a sweetmeat or accompaniment to blue cheese.
MULBERRIES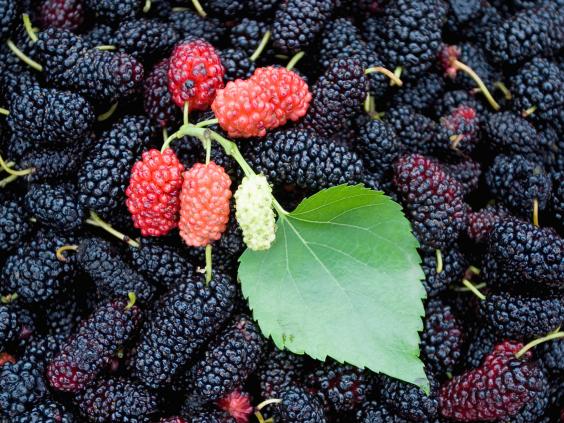 The mulberry has a full-on, luscious, deep fruitiness which makes it, according to Romuald Feger, executive chef of The Connaught, "incomparable in its sensual, musky flavour, expressing the best of raspberry and blackberry". Hence, his determination to have a limited-edition mulberry jam to serve for afternoon tea at The Connaught. Feger sought out Judy Gifford, a former film producer turned artisan jam-maker whose company, Tea Together, supplies many of the world's best hotels and even the Paris Senate. He set her the task of creating a bespoke mulberry among several other nostalgic jams (including Mirabelle & Gewurztraminer) that hark back to his grandmother's recipes and require extreme dedication and a finely tuned palate to perfect. 
What has made the mulberry quest harder still is their rarity, turning the picking itself into a treasure hunt, though several centuries ago there was an abundance of mulberries, often planted in churches and vicarages. Eventually, Gifford gained permission to pick a mulberry tree at Dulwich Picture Gallery, in south London, plus several on private estates.
"Picking mulberries is a messy affair; I looked like a Tarantino extra afterwards," says Judy. The reality is that each mulberry has to be picked individually by hand and even berries on the same tree tend to ripen at different times, so several visits were required. The jams are traditionally made by hand in copper pans at Gifford's farmhouse, close to Le Touquet in northern France. "The reaction of the sugar with copper results not only in a better taste but a better shine," Feger explains, which is something home jam-makers should bear in mind. The results (with a little added crab apple to balance the mulberries' richness) are formidable, especially served on towering scones in The Connaught's elegant lounge.
ROWAN BERRIES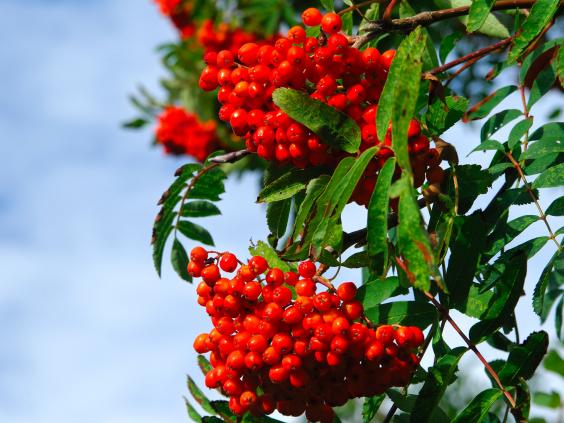 Probably the most plentiful autumn wild berry, rowan berries are soft and juicy when red and ripe. Rowan or mountain ash trees, with berries that turn first orange, then red, are everywhere in both cities and peaty hills. The berries get their name from the Old Norse word for "to redden". Traditionally, and according to folklore, they were planted close to houses, as they were believed to have magical qualities to ward off malevolent forces such as witches (or perhaps traffic wardens now).
Branches of rowan berries can be knocked down with a stout stick, though the berries shouldn't be eaten raw as they're likely to cause indigestion. Wait until after the first frost of the year for less bitter berries, or freeze them before using. They're best made into jellies where they can be mixed with crab or cooking apples and their tart flavour makes a perfect partner to both lamb and venison. Or treat them creatively (yet still cooked) and serve as they do at Oliver Peyton's Keeper's House at The Wallace Collection, with venison tartare, parsnip and kale crisps. The jelly is good with scones, too, or as a glaze on a berry tart or on a fruit teacake. Rowan berries can be used in place of angostura bitters in making gin, or with oranges as a country wine, steeped in vodka. µ
DAMSONS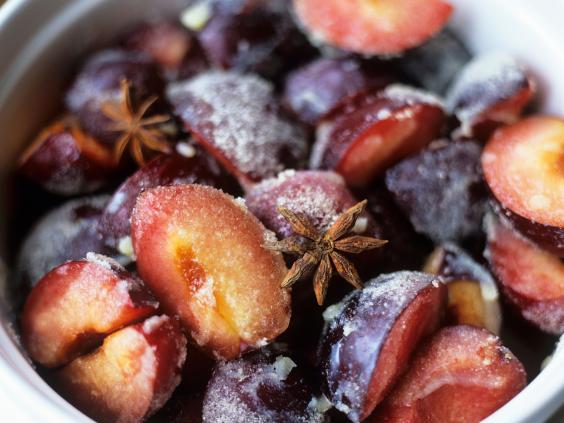 Originating in Damascus, Syria, damsons received their name when brought to Italy by the Romans. Intensely flavoured yet astringent, crimson damsons with yellow-green flesh grow wild in hedgerows, though there are cultivated varieties, too, especially Westmoreland, Witherslack and Kendal damsons around the Lyth Valley in Cumbria.
Damsons are recognised as part of Slow Food's "Forgotten Foods" for their distinctive flavour and traditional use in artisanal products from beer (try Strawberry Bank Damson beer) to ice cream, chocolates and pies. Edwin Booth, the chairman of Booths supermarkets (which sell damsons right now at the height of their season) is a damson fan and recommends serving damson cheese or jelly alongside roast lamb to give Sunday lunch a seasonal boost. For a shortcut, buy fresh damson cheese by England Preserves (englandpreserves.co.uk), available now in limited quantities. Or stir their Darling Damson with Stones preserve into a gravy to give it a lush, ruby finish.
Damson jam (made by Hawkshead Relish in the North-west, hawksheadrelish.com) is especially good on crumpets, Scotch pancakes and bannock bread. Damsons can also be pickled, and make a delicious accompaniment to game dishes.
Jeremy Lee,  of Quo Vadis restaurant in Soho, is a also fond of damsons. As well as damson jelly served with grouse, the restaurant's menu also features an aperitivo of Campari, damson and soda.
The chef Stevie Parle recommends making damson ice cream, with 500g of damsons puréed with 200g of sugar and mixed with 250ml of double cream and the same again of natural yoghurt, churned in an ice-cream maker or frozen in a tray for four hours, whisking every 30 minutes.
My favourite way of serving damsons is to stew them. Simmer 250g of damsons with 100g of sugar and 120ml of water for 30 minutes. Strain off the syrup and bring to the boil until thick.
ELDERBERRIES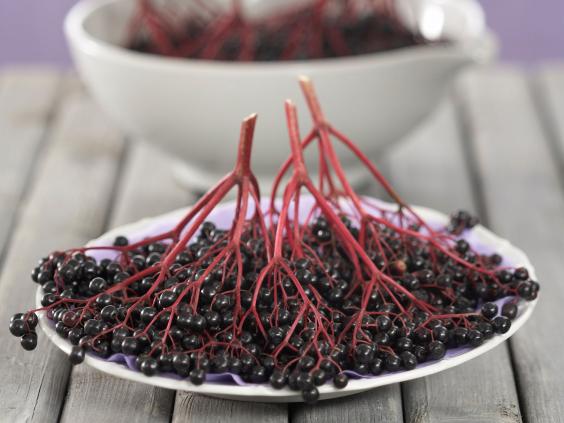 White elderflowers not picked for cordial morph into elderberries in the autumn and grow wild in hedgerows.
They're deep, purplish-black when ripe, and rich and brambly in flavour. Elderberries, however, should not be eaten unripe (green or red) or raw, as they have a poisonous alkaloid that causes stomach aches, so be sure to cook them thoroughly, which renders it harmless.
Partner the berries with plums or apples in a crumble or cobbler. For an extra-decadent pudding, serve with calvados cream or custard. Elderberries are a great foil to game and as their seasons are synonymous, they make especially pleasing partners. Galton Blackiston of Morston Hall in Norfolk picks his own and serves loin of venison with chanterelles and elderberry jus and makes elderberry jelly, too.
SLOES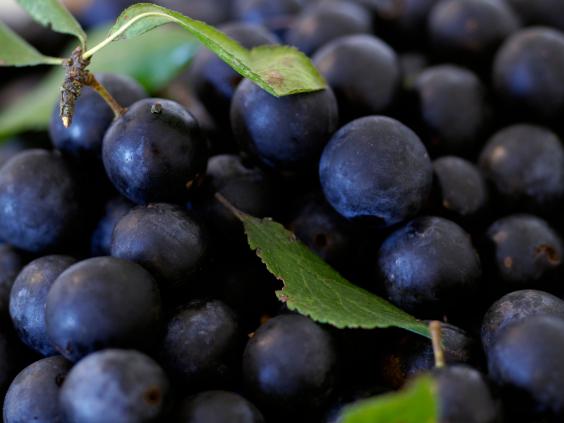 These are tart little berries, like tiny purple-black plums in appearance, that grow on prickly bushes on the top of stone walls and are found in wild hedgerows until the end of October. Sloes are not just for gin, though making one's own gin is more fashionable than ever. Darina Allen, the author and chef of Ballymaloe Cookery School, is a great fan of sloe gin and gives a definitive recipe. Wash and dry 600ml of sloes (or damsons). Prick each in several places with a needle. Put the preserved fruit in a sterilised glass jar, cover with 350g of white caster sugar and 1.2 litres of gin and seal tightly. Shake the container every other day to start with and then every now and then for 3-4 months until it will be ready to drink.
I sampled delectable sloe cookies at La Grenouillère, which were served to guests with green tea on arrival at the restaurant in Calais. Or marinade sloes with vinegar, bay leaf and peppercorns for a good British imitation of Japanese umeboshi.
Reuse content