Cheeks are a good-value food and butchers and fishmongers are finally getting used to some customers with refined palates who actually want to eat economical but tasty cuts. Think pork, veal, ox and fish cheeks, such as ray and monkfish; not only are these cuts economical in the sense they are completely boneless, but they have a better flavour than the main cuts on the rest of the body. You will probably need to give your 'monger or butcher some notice, but these cuts are very versatile, tasty and a cheeky dinner-party talking point.
Monkfish cheeks with creamed spinach, brown shrimps and capers
Serves 4
You may need to order monkfish cheeks in advance from your fishmonger, although I have seen them in a few good places of late.
500g monkfish cheeks, trimmed
1tbsp of vegetable or corn oil
250ml double cream
A couple of handfuls of spinach leaves, washed and chopped
Salt and freshly ground black pepper
100g unsalted butter
2tbsp large capers, rinsed
60g brown shrimps
Bring the cream to the boil and simmer until reduced by one-third, then add the spinach, season and cook for a couple of minutes on a high heat, stirring as it's cooking, until tender. Blend in a food processor as coarsely or as smoothly as you like, then transfer back into the saucepan and simmer until it thickens to a spooning consistency.
Meanwhile, season the monkfish cheeks, heat the oil in a heavy or non-stick frying pan and cook the cheeks on a low to medium heat for about 3-4 minutes on each side, adding a knob of butter towards the end of cooking.
Remove the cheeks and put to one side.
Add the rest of the butter to the pan and heat until foaming, then add the capers and shrimps and remove from the heat.
To serve, spoon the spinach on to warmed plates, arrange the cheeks on top and then spoon the capers, shrimps and butter over them.
Braised Ox cheeks with port and turnips
Serves 4
To go with the ox cheeks in this dish, it's best if you can find small turnips with their leaves; you can then cut the leaves off, cook them briefly and scatter them over with the turnips. The leaves have a great flavour and it seems a shame to just throw them in the bin.
800g ox cheeks, halved if large
2 glasses of good red wine
1 clove of garlic, peeled and crushed
1tsp chopped thyme
1 bay leaf
Vegetable oil for frying
30g butter
1 small onion, peeled and chopped
½tbsp plain flour
1½ltrs beef stock (a couple of good cubes will do)
1tsp tomato purée
Salt and freshly ground black pepper
150ml port
16 baby turnips or 3-4 medium sized ones, peeled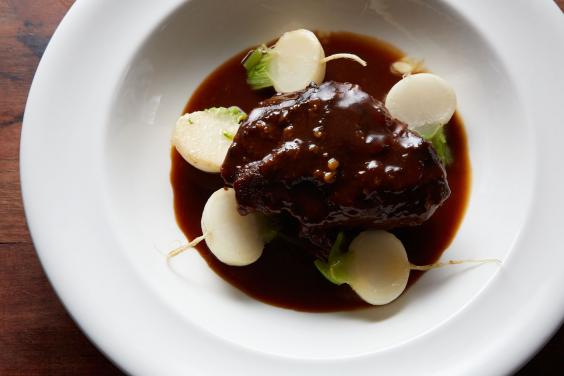 A couple of days before you make this dish, put the ox cheeks into a non- reactive bowl with the red wine, garlic, thyme and bay leaf. Cover with clingfilm and marinate in the fridge. When you're ready to make the dish, drain the meat in a colander, reserving the marinade, and dry the cheeks on some kitchen paper.
Heat the vegetable oil in a heavy-bottomed frying pan, lightly flour the meat with half a tablespoon of the flour, season with salt and pepper and fry the meat on a high heat until nicely browned.
Heat the butter in a large, heavy-bottomed saucepan and gently fry the onion for a few minutes until soft. Add the remaining tablespoon of flour and tomato purée and stir over a low heat for a minute. Slowly add the marinade, stirring constantly to avoid lumps forming. Bring to the boil and simmer until it has reduced by half. Add the beef stock and the pieces of beef, bring back to the boil, cover with a lid and simmer gently for about 2-2½ hours, until the meat is tender and the sauce thick. If you have a pressure cooker it will be ready in half the time.
It's difficult to put an exact time on braised meats, sometimes an extra half an hour's cooking may be necessary. Check by tasting the meat. Once it's cooked, the sauce should have thickened to a gravy-like consistency. If not, dilute a little cornflour in some water, stir into the sauce and simmer for a few minutes.
While the meat is cooking, if using baby or small turnips, you can cook them whole without peeling them; with larger ones, simply peel and cut them into wedges or large chunks. Cook them in boiling salted water, just enough to cover with a teaspoon of sugar for about 5 minutes, or until just cooked. Drain, stir in the butter, cover with a lid and keep warm.
To serve, add the port to the beef and simmer for a few more minutes. Spoon the cheeks on to warmed serving plates or a sharing dish and spoon the turnips on top.
Bath chaps with winter remoulade
Serves 4-6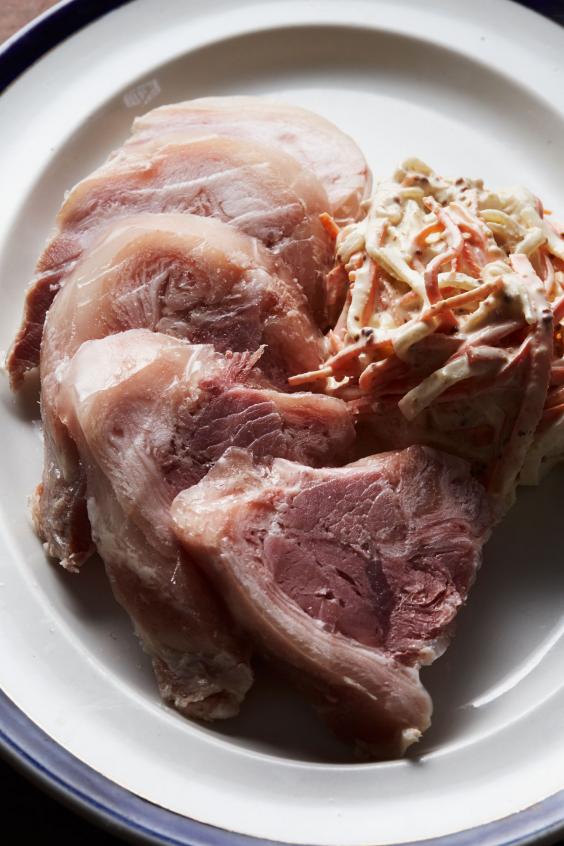 Why is it so difficult getting hold of Bath chaps? I'm not talking about blokes from Bath here, but the cured and cooked pork cheeks that were once a popular local favourite, though now are in somewhat short supply.
A few weeks back, I was involved in hosting a bread workshop at the Bertinet Kitchen cookery school in Bath and thought it a good idea to get my hands on some chaps for this column. After calling the best butchers in town and failing on all counts, I decided to pop into the indoor market where I remember seeing them some 10 years or so ago – and there they were on the deli counter in among the olives and samosas.
If, like me, you can't find Bath chaps most of the time, you can also use a cooked ham hock for this dish. Alternatively, perhaps try to persuade your butcher to brine some pig's cheeks, which can then be boiled like you would with a ham hock.
2 Bath chaps or cooked pig's cheeks, chilled
For the winter remoulade
1 medium carrot, trimmed, peeled and finely shredded or grated
1 small red onion, peeled, halved and thinly sliced
1 small turnip, peeled and finely shredded or grated
A piece of celeriac weighing about 150g, peeled and finely shredded or grated
2tsp Dijon mustard
2tsp grain mustard
2-3tbsp good-quality mayonnaise
Salt and freshly ground black pepper
First, make the remoulade: mix the mustard and mayonnaise together then mix with the vegetables and season to taste.
Next, cut the Bath chaps into slices and arrange on serving plates. Finally, spoon the remoulade on top or to the side.
Braised pork cheeks with apples and cider
Serves 4
If you can find them, pork cheeks are a great cut of pure meat. What's particularly good about them is that they have natural marbling, so the meat stays moist during slow cooking.
I've used an old-fashioned Parisienne cutter here for the apple garnish, which gives it a good look – and you can get them easily from kitchen supply shops.
500-600g pork cheeks, cut into 4-5cm chunks or left whole
60g butter
2 medium onions, peeled, halved and finely chopped
Salt and freshly ground black pepper
50g flour, plus some for dusting
500ml dry cider
700ml chicken stock
150g piece of streaky bacon or pancetta, cut into 1cm cubes
4 firm dessert apples, peeled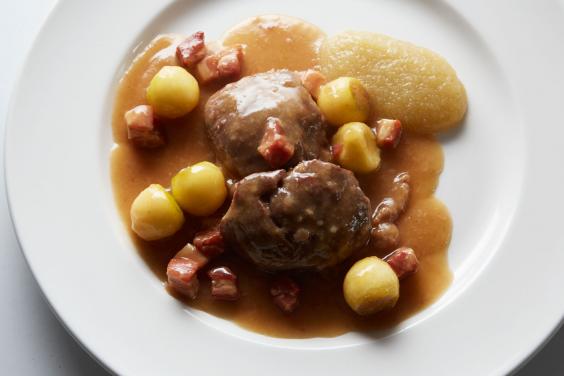 Season and lightly flour the pork cheeks. Heat a frying pan with a tablespoon or so of vegetable oil and fry the cheeks on a high heat for a few minutes, browning them on all sides, then drain on some kitchen paper.
Meanwhile, melt the butter in a heavy-based saucepan and gently cook the onion for 2-3 minutes until soft; add the flour and cook on a low heat for a minute, then gradually add the cider and stock to avoid lumps forming; bring to the boil, add the pork cheeks and bacon, season and simmer gently for about an hour or until the cheeks are tender.
While the cheeks are cooking, scoop balls of apple with your Parisienne cutter and add to the sauce for about 2-3 minutes when the cheeks are almost done, so they still have a bit of bite. Put all of the apple trimmings in a pan with a little water, cover with a lid and cook on a low heat until tender enough to purée and the liquid has evaporated. Blend in a food processor or blender until smooth.
The cider sauce should have reduced and thickened by now; if not, remove the cheeks and simmer the sauce until it's thickened, then return the cheeks.
To serve, spoon the cheeks, sauce and apple scoops on to warmed serving plates or a sharing dish, with the apple sauce served separately or on the plates, whichever you prefer.
Reuse content