The lintel over the brass revolving door says simply, '60.E.65', the décor is a riot of neo-classical columns and severe lines, the entrance hall wouldn't look out of place on an ocean-going liner and, when you finally reach the main dining room, you find a shrine whose vast chandeliers are gold-tiled rings. Like many of its owner's dishes, it has an oxymoronic quality of epic prettiness.
This, ladies and gentlemen, is Daniel, the famous three-Michelin-starred French restaurant at No 60 East 65th Street, on Manhattan's ritzy Upper East Side, where Daniel Boulud has been wowing New Yorkers for years. He is, arguably, Manhattan's favourite French chef, partly because he plays up the Gallic charm (and 'e tok wiz a vair' vair' foncy Frurnch accong, despite his long familiarity with American voices); and partly because he deals in a sexy fusion of old-world haute cuisine fussiness and New World, roast-me-a-hog gutsiness. It takes marketing nous as well as cuisinal skill to put Florida Frogs' Legs Fricassee on the menu, knowing that American pride will make diners wolf it down, even if they'd have turned their noses up at the French original. Ditto the Stewed Alaska King Crab (with Hawaiian Hearts of Palm) and the Roasted Colorado Rack of Lamb, both of which featured this month on their $125 prix fixe menu.
Daniel, the restaurant, has featured in The World's 50 Best Restaurants pantheon, sponsored by San Pellegrino, for eight years (it's currently at number 29) and has been hosed with hosannahs since it opened in 1993. The Herald Tribune named it one of the 10 best restaurants on the globe, the Zagat people gave it New York City's top rating for food, service and décor; Daniel himself was named Chef of the Year by Bon Appétit. Nice going for the farmer's son from Lyon. Daniel, the owner, hasn't been shy about building on success. This century, he's opened more 'casual' (ie, cheaper) simulacra of Daniel all over the place: the camply-titled 'db Bistro Moderne' in Manhattan's theatre district, Café Boulud in Palm Beach, Florida, the Daniel Boulud Brasserie in Las Vegas. He now has 14 restaurants around the world, including Singapore and Beijing.
He made it to London in 2010, taking over the basement of the Mandarin Oriental hotel in Knightsbridge and calling it Bar Boulud. Reviewers praised the food's old-fashioned, 1970s-bistro simplicity, though some wondered why the walls were lined with framed napkins bearing the stains of posh vintage wines – '66 Romanee Conti burgundy, '59 Cheval Blanc claret – like the sheets hung out the windows of marital bedchambers in medieval times to signify that, yep, the bride was a virgin.
It was here that I meet M Boulud, a sleekly handsome chap of 58 in his chef's whites, as he processes through the Friday lunchtime crowd, pausing for chats, smiles, little shoulder squeezes, promises that OK, sure, he'll try and reserve someone a table at the Manhattan Daniel sometime (some hope).
It's been quite a year for you, I > say, celebrating two decades at the top of the food game and at the centre of an empire. How did you celebrate?
"Every year in May I do a gala dinner for the City Meals on Wheels charity," he says, "and this year I asked along many of the, how you say, alumni of Daniel chefs, who worked with me over the 20 years. There was a six-course meal, with two chefs for each course. It was a lot of fun. Can there be a better celebration than to have it wiz young cooks who became chefs themselves, and made a second generation of the first Daniel generation?" M Boulud, I should mention, is not a man overburdened by modesty.
What had he chosen as main course? The chef whips out an iPad. His nimble fingers sweep across the screen, scrolling diary entries back through the weeks, every entry carrying a link to lunch and dinner menus. "I think it was a choice between the duo of beef and veal, or a dish based on sea bass, with leeks, potatoes and red wine," he says, frowning to remember. "They made their own interpretations of a classic dish of mine. Inspired by a style of cooking I made, but they made it their own way, so it was cute and personalised."
Two words in that sentence – "classic" and "cute" – constantly recur when Boulud talks about his book, Daniel: My French Cuisine (Sphere, £35,) newly published to mark his 20 years of Manhattan conquest. It's a fabulous piece of work, a 400-page monster, solid as the platter of Red Snapper en Croute de Sel on page 108, full of gorgeous photographs. The first half features dishes from Daniel New York: they're a blaze of astonishing colours, vivid sweetie hues, cute as cupcakes, blazing pinks and lemons and apple greens, closer to Dolly Mixtures or Caran d'Ache crayons than actual food. It seems an act of wanton destruction to disturb, for example, the Spring Rabbit Rissole assemblage on pages 172-3, let alone eat it.
The same applies to later pictures of the 'Iconic Sessions' which Boulud masterminded at the Daniel over three weeks: two dozen dishes from the madder extremes of "classic" French cooking, specially recreated for the book. They include Volaille a Noelle, a gastronomic absurdity which gives astonished diners a whole, perfect chicken, cooked with beak, head and body apparently intact, which is then sliced through to reveal that it's filled with spinach and truffle mousse, carved in teardrops. Or the Turbot Soufflé, on which the chef arranges a "Provençal checkerboard" with crisscrossing green lines of iced chive, green globs of courgette, red circlets of cherry tomato...
Monsieur, I say, is this visual sophistication vital? Isn't the Provençal checkerboard a waste of time? "Is not for zer everyday," says Boulud. "In a tasting menu it would be fine, in an à la carte menu, perhaps not. But the outside is only the start. What's perfect about that turbot is that, when we cut a slice, inside there is lobster and a mousse [of seabass and cream] and then the checkerboard doesn't matter, because the turbot is perfect, the cuissance inside is perfect, the lobster is perfect, and we couldn't have done better if we were cooking for the Queen of England. It may look cute but the point is, when you cut it and serve it, it's perfect."
In the Iconic Sessions, Daniel is joined by Bill Buford, the American writer, a former literary editor of The New Yorker who moved to Lyon en famille in 2008 to begin a new life. Buford has recreated himself as a cookery sage, pasta maker and butcher's apprentice, who befriended Boulud in Manhattan. Photographs show the grizzle-bearded Buford as a burly St Peter, assisting Boulud's Jesus Christ to prepare the Last Supper.
Why did he take on such an ambitious task? "Because I felt that, if I only do a book about the Daniel restaurant today – very nice place, beautiful food, a great expression of what the staff do – there won't be enough in it about French cuisine for me. I wanted to go back to the old classic French stuff. So I went to the publisher and suggested we do some iconic dishes."
Which one did he most enjoy bringing back? "I loved all of them, but my favourite was the Pot au Feu. I started to do it in a very grand way in the South of France, 30 years ago. Then I did it at the Cirque restaurant. I wanted to remind people of its beautiful virtue." As he explains in the book, to him, Pot au Feu isn't just boiled-meat soup. It's "a poem of the French soul".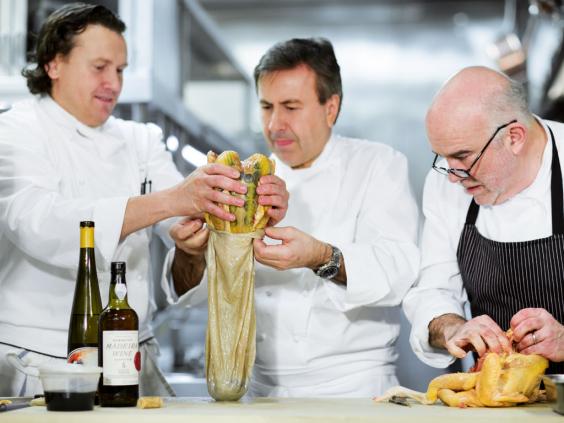 Daniel Boulud was born in Lyon in 1955, and brought up on a farm. His first paid job, at 14, was peeling carrots and potatoes in the kitchen of a Lyon restaurant called Nandron. Across the road was Les Halles de Lyon, the spectacular indoor food market where France's top chefs still come to stock up on cheese, escargots and everything else. Outside, he recalls in the book, "teemed the tripe sellers, the charcutiers, the oyster bars and bouchons... From the pretty, blonde lady fishmonger (a favourite with all the chefs) to the paunchy butcher and the baggy-eyed baker, these characters lived together..."
His family didn't actually need a market, a butcher or baker to supply their food. They had everything at home. Boulud, always a voluble talker, goes into raptures about the smells and tastes of his childhood. "We cooked all the time. Every Saturday and Sunday, we had a fancy roast. Duck, guinea fowl, chicken – everything was jumping and flapping, only 10 feet away from the table! We always needed two birds at each meal because there were always at least eight of us in the house." Lunch started with his mother's salad: "Salads normally don't smell, but here you could smell the garlic and mustard, the rapeseed oil and vinegar dressing, then we'd add fromage blanc and freshly roasted potatoes..."
He remembers especially the smell of cardoons. Cardoons? "It's of the artichoke family – you find it in Greece and Italy. Anywhere north of Lyon it's too cold to grow them. We used some chicken jus, make a little roux and a sauce, and we'd braise them and cover them with cheese and marrow, and bake it all in the oven, and the smell of the cardoon gratin..." – M Boulud for a moment goes all Homer Simpson – "amazing. And we had soup every day, garden vegetable soup. It started cooking at 5pm, to be ready at seven-sirty. Also, quenelle dumplings, with crayfish sauce, the only fancy thing we'd buy outside the farm. Then there'd be charcuterie, made by ourselves, the terrines, the hams, the belly, the saucissons. We made goat cheese – we had 40 goats and 20 cows – we went to the farmer's market every Saturday and sold it all, the cheese, the eggs, the chickens, the vegetable. But the cured ham stayed at home, to be eaten every day at the table."
He has a remarkable story about the universality of small things. "On weekends we would bake bugnes – a simple fried cookie with sugar which, in other parts of France they call merveilles," he says. "Once, on US television, I mentioned them, and said, send me a stamped, addressed envelope or call this number, and I'll give you the recipe. The response was amazing. I got 7,000 letters and 3,000 phone calls saying, 'I remember my granny in Poland... I remember my ma in Romania...' All of them made that fried cookie, but they all had different names. It was the most universal cookie I'd ever heard of."
Understandably overwhelmed by this sensory overload at home, M Boulud set out on his travels, and worked his way through some of the best kitchens in France. At 15, he was a finalist in a competition to find France's Best Culinary Apprentice. He worked under Roger Vergé, George Blanc and the nouvelle cuisine wizard Michel Guérard. He learnt about wine, service, restaurant design, even floral displays. The great Paul Bocuse (who contributes a seigneurial preface to the book) took him on as a protégé. Boulud began to travel, first to Copenhagen, then New York when he was 30. Unstoppable, driven, polymathic about French cuisine, from rustic ham-curing to the esoterica of Escoffier's Le Guide Culinaire and the Larousse Gastronomique, he opened the Frenchified Polo Lounge at the Westbury Hotel, then La Régence at the Plaza Athénée hotel.
In 1986, he took over as executive chef at Le Cirque at East 58th Street and for six years made it a byword in French-Manhattan class, before striking out on his own with Daniel.
Now look at him: not yet 60, three Michelin stars under his belt, endlessly on the move, glad-handing through his empire. He's so approachable, you end up asking him slightly silly, while-I've-got-you-here questions: does he believe in hanging meat for (the new fashion) 44 days? "Non, I don't like that – you can't do it with grass-fed meat, because it would be like that" – he bangs the table twice – "there would be no fat left in it. For me, 30 days it's already pretty good for ribeye or sirloin on the bone. I like my meat grass-fed and juicy. The French never age their meat more than two or three weeks."
Is it true (surely a shocking heresy) that he prefers dry herbs to fresh? "It depends. You pick mint, parsley, coriander, put them in an oven with a pilot light and let them dry, then put them in a blender. When we cook Middle Eastern food, we get better result with dry herbs, in a compound of meat or vegetables, than fresh herbs. We get a cleaner taste. Drying works for particular things – like tea leaves."
Lastly, does he have any truck with extreme experimentalism? Was he a fan of, say, El Bulli in its heyday? "It's amazing what's happening with the food revolution now. When I saw Ferran [Adrià, of El Bulli] close his restaurant, I wished he could have lasted longer, because we wanted to see more of him. But he got to the point where he thought, 'I've done it all, I'll move on'." The maestro of cute gastro-classicism smiles his sleekest smile. "Whereas I am celebrating 20 years of Daniel, and I hope I'll be celebrating 30 years and 40 years from now. Sometimes, being more classic, you don't have to reinvent yourself every year..." µ
Reuse content