It's that long awaited time of the year when we can enjoy delicious young green peas, beans and other new season vegetables. The problem is we call them spring vegetables – but it's usually not until summer time that the real crops actually arrive. Spring or summer vegetables tend to be a bit more versatile than winter roots and brassicas. They certainly make for appealing menu dishes and add a real splash of colour.
Peas, broad beans and sugar snaps are also good fun to grow at home and you can harvest them as small or as large as you wish, while making use of the tendrils to toss into a salad.
Salmon and pea broth
Serves 4
You often see salmon tails for sale in fishmongers; they are generally a bit cheaper than regular salmon fillets, and perfect for a broth like this. You could throw in some sliced mangetout or sugar snaps if you wish; if you grow your own then snip off and add a few of the tendrils.
200g salmon tail fillet
1.2 ltrs fish stock
A good knob of butter
1 leek, cut into a roughly 1cm dice
Salt and freshly ground black pepper
250g freshly podded peas (or frozen peas will do)
A handful of pea shoots, chopped or left whole
Put the salmon tail in a saucepan with the fish stock, bring to the boil, simmer for a minute then remove from the heat. Remove the salmon tail from the stock with a fish slice and transfer to a plate.
Heat the butter in a pan and gently cook the leek for 3-4 minutes, stirring occasionally until soft. Add the fish stock, season and simmer gently for 10-12 minutes.
Tip in the peas and simmer for another 5-6 minutes or until tender (frozen peas will only need a couple of minutes once they come to a simmer).
Blend a quarter of the mixture in a liquidiser until smooth and return to the pan. Adjust the seasoning if necessary then remove the skin from the salmon, flake it into chunks and add to the soup along with the pea shoots.
New season vegetable casserole
Serves 4
This makes a great vegetarian starter or main, and will go well with many meals as a side dish. You can put whatever young vegetables you wish into this, but don't go too crazy; more than about five and it can become a bit of a dog's dinner.
For the sauce
2 medium shallots, peeled and finely chopped
120g unsalted butter, diced and chilled
120ml white wine
150ml vegetable stock
3tbs olive oil
1tbs chopped chervil
Salt and freshly ground black pepper
To serve
30-40g podded weight of peas
30-40g podded weight of broad beans
12 baby or chantenay carrots, peeled
80-100g seasonal mushrooms, such as morel, girolle or St George's – or you could mix in other seasonal veg such as baby turnips, sugar snaps or mangetout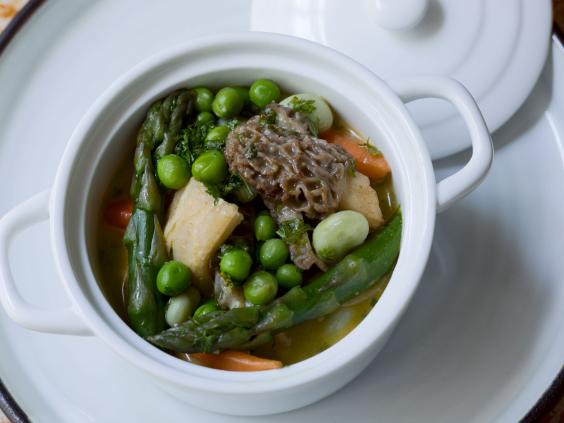 To make the sauce, gently cook the shallot using a knob of the butter in a medium saucepan for a minute, without colouring, then add the white wine and simmer until it's almost evaporated. Add the vegetable stock and simmer until it's reduced by two-thirds. Remove from the heat and whisk in the butter then the oil to emulsify the sauce.
Meanwhile, lightly cook all the vegetables. To serve, mix the vegetables with the sauce, stir in the chopped chervil and season to taste. Serve immediately.
Spring vegetable spelt risotto
Serves 4 as a starter
This is a spelt version of a classic risotto primavera, which is one of the great risottos and which tells you, in a comforting sort of way, that spring has arrived ("primavera" means "spring" in several languages). You can vary the ingredients according to what's available. Throughout spring you could add green or runner beans, barbe di frate (monk's beard) and even samphire when it appears. I served this at Roger Saul's bowel cancer charity dinner at Kilver Court a few weeks back, as a vegetarian alternative to ink spelt; both dishes went down a storm.
1 small onion, peeled and finely chopped
160-200g pearled spelt
1-1.5 ltr vegetable stock (a good stock cube will do)
60g shelled weight of peas
100g shelled weight of broad beans
60g green beans, trimmed and cut into ½cm pieces (or seasonal alternatives such as wild garlic leaves, barbe di frate or asparagus)
2tbls chopped parsley
Salt and freshly ground black pepper
90g Italian butter, or unsalted butter mixed with 1tbsp double cream
1tbsp freshly grated Parmesan or other hard cheese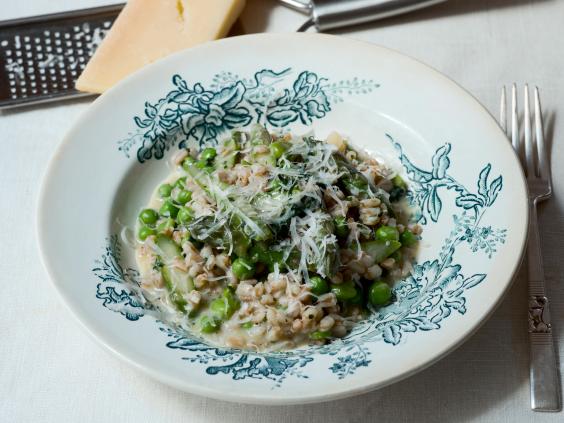 Cook the vegetables in salted boiling water, leaving a bit of a crunch, then drain in a colander. Meanwhile make the risotto; take a thick-bottomed pan, melt 30g of the butter and gently cook the onion for a minute or two without colouring until soft, add the spelt and stir for a minute on a low heat with a wooden spoon.
Gradually add the stock a little at a time, stirring constantly and ensuring that each addition of liquid has been fully absorbed by the spelt before adding the next. Season with salt and freshly ground black pepper.
When the spelt is almost cooked, add the rest of the butter, the cream, vegetables, Parmesan and parsley. Check the seasoning and correct if necessary. The risotto should be moist but not stodgy. Serve immediately.
Spring vegetable salad with falafel and feta
Serves 4-6
You may want to make extra falafel to serve another time as a snack, plus you are likely to start munching on them once they are cooked – so I have allowed a little extra mix here!
For the broad bean falafels
200g podded weight of fresh broad beans (unshelled)
1 large clove of garlic, peeled and crushed
1/3tsp ground coriander
1tsp ground cumin
1tbsp chopped parsley
1tbsp chopped dill
4 spring onions, finely chopped
1tbsp chopped coriander leaves
A good pinch of cayenne pepper
4-5tbsp dry white breadcrumbs
Salt
Vegetable or corn oil for frying
For the dressing
The juice of 1 lemon
4-5tbs olive oil
To serve
A handful or so of coriander, mint and parsley leaves, washed and dried
30-40g podded weight of peas, cooked
30-40g podded weight of broad beans, cooked (if they are large, you can shell them if you wish)
100-120g good quality feta, broken into nuggets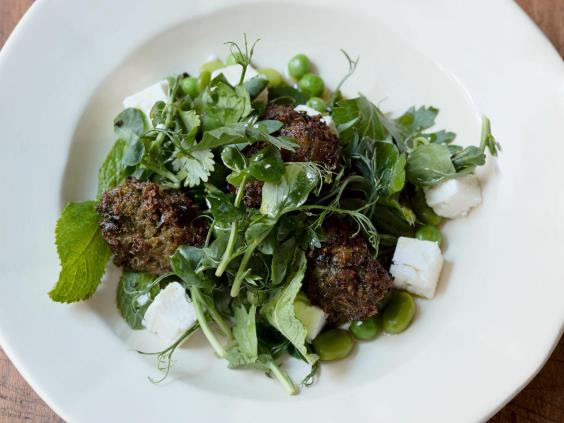 First make the falafels. Put the broad beans in a food processor with the garlic, ground coriander and cumin, and blend to a coarse puree. You will probably have to stop the machine a couple of times to scrape the sides with a spatula in order to get an even-textured mix. Remove from the machine and transfer into a bowl.
Mix in the parsley, dill, spring onions and coriander; season with salt and cayenne pepper (they will need to be well seasoned) and mix in the breadcrumbs. Make into patties by shaping small handfuls into balls in your hands and flattening them slightly. Put them on a tray or plate and refrigerate for a couple of hours. Make the dressing by whisking the lemon juice and olive oil and seasoning to taste.
Preheat about 8cm of vegetable oil to 160-180C in a deep, heavy-bottomed pan or electric deep fryer. Fry the falafels, about 5 or 6 at a time depending on the size of the fryer, for 5-6 minutes until golden, then remove from the fat and drain on kitchen paper. To serve, arrange the herb leaves, falafels, peas, broad beans and feta on one large or individual serving plates and spoon over the dressing.
Reuse content