Our crazy, stormy winter that abruptly ended in a spell of summery weather at the beginning of March really did force up the wild garlic shoots. We had our first foraged delivery of ramsons, or ramps – the wider leaved variety of wild garlic – at the end of February from the West Country, along with our first box of Wye Valley asparagus. Well this is great news for our menus in the restaurants – and for sexing up dinner-party dishes.
Every year I make a point of preserving some leaves and stems to use in dishes throughout the summer and winter. Wild garlic purée and pesto are great for tossing into pasta and all sorts of dishes – and the pickled buds and stems for adding a little something special to an Asian dish, or starters or cheese.
Wild garlic spelt risotto
This tasty, cheap dish makes a great starter or vegetarian main course. The puréed wild garlic comes into play here, giving the risotto a vibrant green colour.
Serves 4-6
1 large onion, peeled, halved, finely chopped
2tbsp olive or rapeseed oil
160-180g spelt, soaked in cold water for a couple of hours
1.5ltrs vegetable stock, or a couple of good stock cubes dissolved in the same amount of boiling water
A handful of wild garlic leaves and stems, washed and roughly chopped
A couple of tbsp of wild garlic purée
80g unsalted butter, diced
For the wild garlic purée
2-3 handfuls of wild garlic leaves and stems, washed and dried
120-150ml rapeseed oil
First make the purée: simply blend the wild garlic in a liquidiser with the rapeseed oil, until smooth, then it can be stored in a sterilised preserving jar in the fridge for up to six months.
Heat the oil in a heavy-based saucepan and gently cook the onion for 2-3 minutes, without colouring. Drain the spelt and add it to the onion; season, then gradually add the stock, ensuring each addition has been absorbed before adding the next. Cook for 15-20 minutes, until the spelt is tender but not too soft. Add a couple of tablespoons of the purée, the wild garlic and the butter. The risotto should be a little sloppy; add more stock if you need to and season to taste. Serve immediately.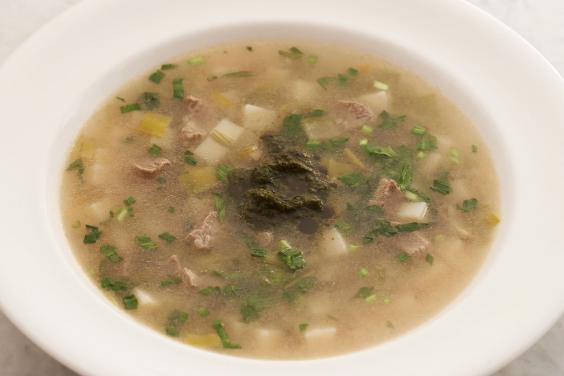 Mutton and wild garlic broth
Long, slow cooking not only suits mutton, it also gives you a delicious stock to make this broth. You can vary the vegetables and pulses here – perhaps adding yellow or green split peas, maple peas, celeriac or any other root vegetable. A few cabbage leaves at the end would also add colour and texture.
Serves 4-6
200g neck of mutton fillet
1 onion, peeled and finely chopped
2ltrs fresh lamb or chicken stock (or 3 good-quality stock cubes dissolved in the same amount of hot water)
1 leek, washed, cut into rough 1cm squares
1 large potato, peeled and cut into rough 1cm dice
Salt and freshly ground black pepper
A handful of wild garlic leaves, washed and roughly chopped
A couple of tablespoons of wild garlic purée (see risotto recipe, above)
Put the mutton into a large, heavy-based pan with the onion. Pour on the stock, bring to the boil, season, then lower the heat, cover and simmer very gently for about an hour, until the mutton is tender. It may take a little longer as it's difficult to put an exact time on slow-cooking cuts.
Add the leek and potato and simmer for another 10-15 minutes, until the potatoes are cooked. Simmer for another 30 minutes.
Add the wild garlic and simmer for a couple more minutes.
Taste and adjust the seasoning, then ladle into warm soup plates and spoon the purée on top.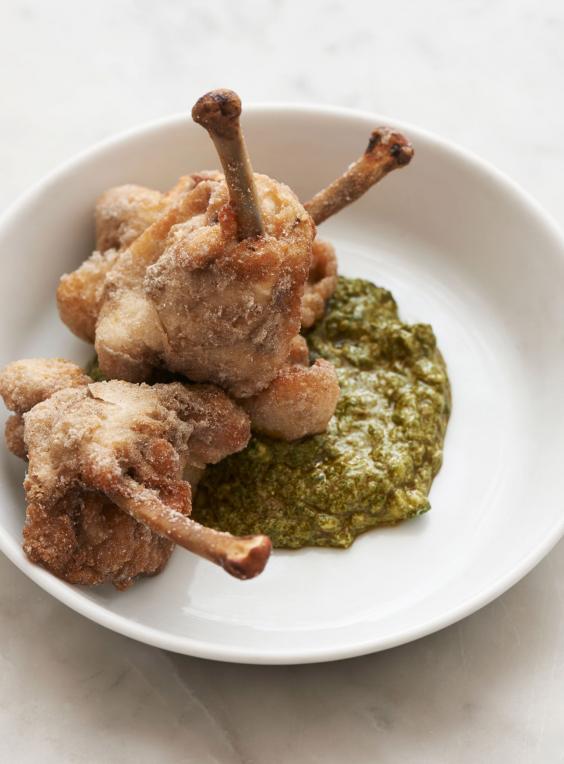 Buttermilk fried chicken with Ramsons mayonnaise
This goes down a treat as a bar snack in my restaurants and is the perfect nibble with a drink or cocktail. We make our own butter, so we use the excess buttermilk for the marinade, but you can buy it in Waitrose and good supermarkets.
The best cut for this is the first joint of the chicken wing nearest the breast, which supermarkets and butchers do sell and sometimes call the tulip. If you can't find these, then boned and skinned thighs work well.
Serves 4
16 chicken wing joints, skinned
1 chicken stock cube dissolved in 500ml hot water
200ml buttermilk
½tsp ground cumin
½tsp chilli powder
2tsp onion salt
Salt and freshly ground black pepper
100g self-raising flour
Vegetable or corn oil for deep frying
2-3tbsp good-quality or homemade mayonnaise
A couple of tablespoons of wild garlic purée (see risotto recipe, above)
Pull the thickest part of the chicken wing flesh down the bone, and turn it inside out so it looks a bit like a lollipop. Place in a saucepan, cover with the stock, bring to the boil and simmer for 6-7 minutes, then remove from the heat and leave to cool in the stock. Once cool, remove the wings and put them in a container with the buttermilk and half of the spices, season and leave to sit in the buttermilk for an hour. Mix.
Preheat about 8cm of oil to 160-180C in a large, thick-bottomed saucepan or electric deep-fat fryer. Remove the chicken from the buttermilk, season the flour and mix with the rest of the spices, then pass the chicken through the flour, shaking off any excess, then dip in the buttermilk and finally back through the flour.
Deep-fry the chicken in two batches, moving the pieces around with a perforated spoon as they are cooking, for 3-4 minutes, until light-golden; then transfer to some kitchen paper. Mix the mayonnaise and purée together, and serve alongside the chicken.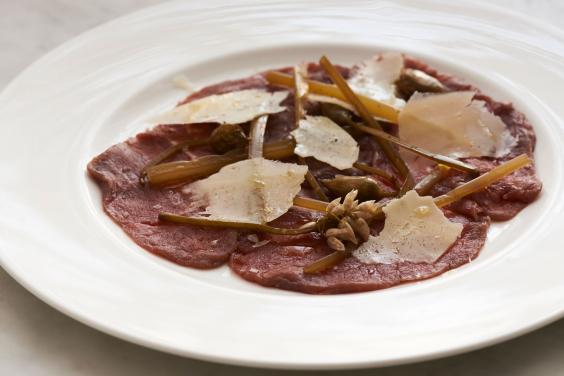 Beef Carpaccio with pickled Ramsons and shaved Berkswell
Near the end of the wild garlic season, I love to pickle the stems, bulbs and buds. Last year, I did cider vinegar and Japanese rice vinegar versions, which I still have now in my store-room fridge.
Serves 4
400g good-quality beef fillet, trimmed of any fat and sinew
Good-quality extra virgin olive oil
Some shavings of Berkswell cheese or Parmesan
Flaky sea salt and freshly ground black pepper
For the pickled ramsons
The stems and bulbs from 50-60 leaves of wild garlic
200ml cider vinegar
½tbsp caster sugar
1tsp salt
15 black peppercorns
½tsp fennel seeds
At least a couple of days before, but preferably a week, make the pickled ramsons. Bring the vinegar, sugar, salt, peppercorns and fennel seeds to the boil, then leave to cool. Pack the stems into a sterilised preserving jar or plastic container and pour the vinegar mixture over.
Wrap the beef in clingfilm and twist the ends until it has become a tight tubular shape. Place it in the freezer for about an hour to firm it up, but don't let it freeze. Remove the clingfilm and with a razor-sharp carving knife, slice the beef as thinly as possible and lay each slice on to a large sheet of clingfilm.
Cover this with another layer of clingfilm and with your hand or a rolling pin, carefully flatten the meat so it becomes as thin as possible. Lay the slices on to large plates, so that the serving area of the plate is completely covered. Cover with clingfilm and store in the fridge until required.
To serve, season the beef with a couple of turns of freshly milled black pepper and with sea salt. Drizzle on a little rapeseed oil and finally scatter on the pickled ramsons and cheese.
Reuse content