From chipolatas to Italian mortadella, I am a big fan of sausages. They are so very versatile; as good for breakfast as they are served at a dinner party.
They're a sort of universal culinary currency – you find them all over the world. Though, perhaps unsurprisingly, quality standards vary as much as their locale. For instance, the run-of-the-mill British banger doesn't compare well to your average European sausages. The reason being that many of our producers are driven by the necessity to turn out a cheap product for families on a budget. Nothing wrong with that, of course, but over the years it's meant the British sausage has acquired a bad reputation.
They don't have to be all fillers and stabilisers, however – it's worth shelling out a little more money and getting a proper sausage which tastes of pork, and not the indescribable things that make good meat into an inferior product.
Scallop, chorizo and quinoa salad
Serves 4 as a starter
We were recently sent some British-grown quinoa by homegrown bean and pulse specialist, Hodmedods.
It might surprise you to know this, but quinoa is not a new thing in the UK, it's been grown here for over 20 years – albeit originally for bird seed.
4 large or 8 small scallops, shucked and cleaned 
12 mini cooking chorizo 
40-50g quinoa, soaked in cold water for an hour 
A handful of coriander leaves and tender stems, washed and dried 
A handful of flat parsley leaves, washed and dried 
15-20 fine chive tops, washed
For the dressing
1 small red chilli, trimmed and finely chopped 
A small piece of root ginger (20-30g), finely grated 
The juice of 2 limes 
2tbsp olive oil 
3tbsp vegetable or corn oil 
Salt and freshly ground black pepper
Simmer the quinoa in salted water for about 15 minutes, or until the grains open and become tender, then drain in a sieve and leave to cool. Whisk together all of the ingredients for the dressing and season.
Preheat a ribbed griddle pan on the stove and cook the chorizo on a medium heat for 6-7 minutes, remove from the heat and keep warm. Cut the scallops in half and season them.
Turn up the heat on the griddle and cook the scallops for about 20-30 seconds on each side.
To serve, arrange the coriander and parsley on serving plates with the chorizo and scallops, scatter over the quinoa, then season the salad and spoon over the dressing; scatter over the chive tops at the very end.
Bratwurst with runner bean and shallot salad
Serves 4
I'm a big fan of the bratwurst. I suppose, to some, it's no more than a posh frankfurter but, for me, there is a certain sophistication to them. You can serve them with all sorts of interesting accompaniments: one of my favourite things to do with them is pair them with a Bavarian warm potato salad, but they are equally good in something summery and light, like this bean salad.
Bratwurst are not easy to buy in the UK, but Waitrose do very good ones.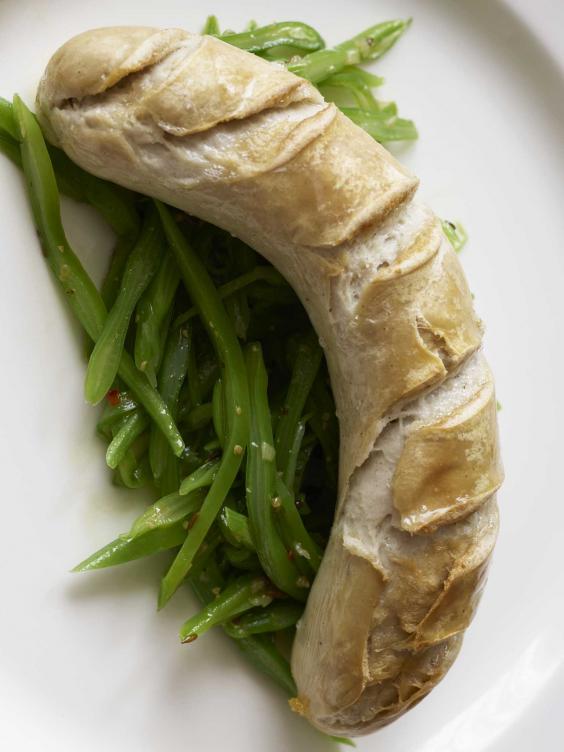 4 bratwurst 
A little vegetable or corn oil for brushing
For the runner bean salad
4 large shallots, peeled, halved and finely chopped 
1tsp cumin seeds 
2tsp white wine or cider vinegar 
150ml vegetable stock 
200-250g runner beans, trimmed and very finely shredded on the angle 
Salt and freshly ground black pepper 
2-3tbsp olive oil 
½tbsp grain mustard
First, make the runner bean salad.
Gently simmer the shallots and cumin seeds in the vinegar and vegetable stock for about 10 minutes or so, until the liquid has almost all evaporated.
Meanwhile, cook the beans in boiling salted water for 1-2 minutes, or until just tender with a bit of bite, and drain.
Toss the beans with the shallot mixture, olive oil and mustard and season to taste, cover with clingfilm and keep warm.
Meanwhile, score the bratwurst about 5 times, brush them with oil and cook under a medium grill for 5-6 minutes, turning them halfway through cooking until lightly coloured.
To serve, spoon the beans on to serving plates and place the bratwurst on top.
Mortadella and fennel salad
Serves 4
I always used to think that mortadella was one of those cheap Italian sausages – like luncheon meat – that you put in sandwiches.
And I suppose there are indeed some poor-quality ones that fit that bill, but over the years I've tasted a few very good ones that have totally changed my view of the sausage.
Today, I'm very happy to eat it as a starter all on its own.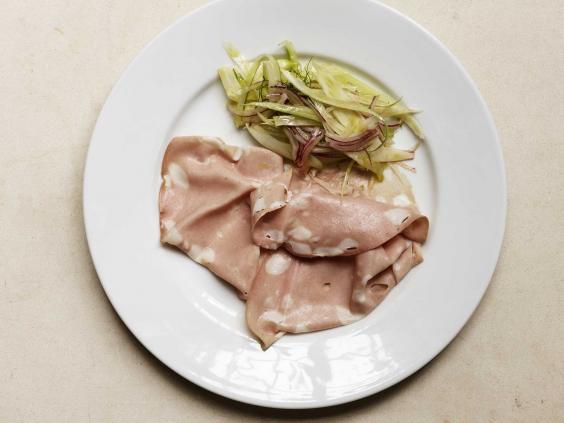 12 or so slices of good-quality mortadella
For the fennel salad
1 bulb of fennel, quartered and very thinly sliced (a mandolin is perfect for this), plus any green tops 
1 small red onion, peeled, halved, root removed and very thinly sliced 
2tbsp cider vinegar 
2tbsp olive oil 
Salt and freshly ground black pepper
Mix all of the ingredients together for the fennel salad in a non-reactive bowl; season to taste. Cover and leave to marinate for an hour.
To serve, arrange the mortadella on a large serving dish or individual plates with the fennel and a little of the marinade spooned over the top.
Braised faggots with French-style peas
Makes 4
The thought of faggots with gravy from the chippy takes me straight back to my childhood. You don't really see them in London chippies, but they should be serving them I reckon. To make them, you will need to pre-order caul fat from your butcher's. You can make it without, but you will need to adjust the quantities a little – as indicated in brackets – so they hold together.
For ease I have put the pea recipe separately at the end.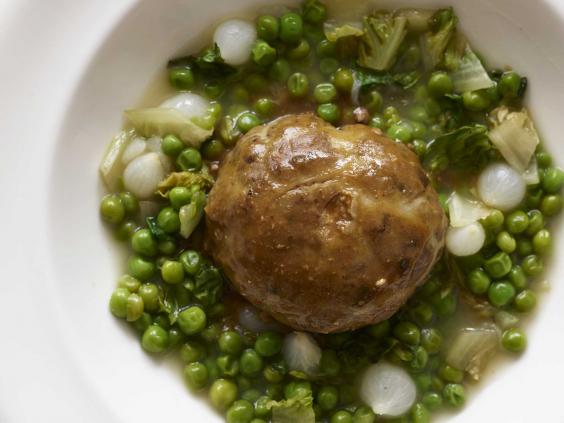 For the faggots
400g (200g) pork liver, coarsely minced or chopped in a food processor 
250g (450g) pork mince with a good proportion of fat 
2 medium onions, peeled, halved and finely chopped 
1 clove of garlic, peeled and crushed 
One-third of a tsp of ground mace 
1tsp chopped fresh sage 
1tsp chopped thyme
Vegetable oil for frying 
100g fresh white breadcrumbs 
100-120g caul fat
For the gravy
2 medium onions, peeled, halved and finely chopped 
½tbsp vegetable oil for frying 
30g butter 
30g flour 
1tsp tomato purée 
1ltr beef stock (a cube will do)
A few drops of Worcestershire sauce
First, make the gravy. Gently cook the onions in the vegetable oil in a covered pan for 2-3 minutes, or until soft. Turn up the heat and allow the onions to colour. Add the butter and then stir in the flour; cook on a low heat for a minute or so. Add the tomato purée and gradually add the beef stock, stirring well to avoid any lumps forming. Bring to the boil, season and simmer for 45 minutes on a very low heat.
Meanwhile, gently cook the onions for the faggots on a low heat in a tablespoon of vegetable oil, with the garlic, mace, sage and thyme, for 4 or 5 minutes. Remove from the heat and leave to cool. Mix the pork liver and minced pork together with the breadcrumbs and cooked onion mixture; season with salt and pepper. Divide the mixture into 4 balls and refrigerate for around 30-40 minutes.
If you are not using caul fat, wrap each ball in clingfilm a couple of times and steam over a pan of simmering water for 20 minutes; then leave to cool.
If you have caul fat, wash it under cold running water for about 10 minutes and pat dry on some kitchen paper or a clean tea towel. Lay it out on a table and cut it into 12 rough squares, enough to wrap around each of the balls of meat a couple or so times, then carefully wrap them.
Preheat the oven to 220C/gas mark 7. Lightly oil a deep roasting tray and put the faggots in, with the join on the caul fat underneath. Roast for about 20-30 minutes, until lightly coloured, then drain any excess oil and pour in the gravy. Turn the oven down to 160C/gas mark 3, cover with foil and braise for 1 hour.
If you are not using caul fat, unwrap the faggots and roast and braise as above.
To serve, spoon the French-style peas on to a deep plate, place a faggot on top and spoon a little of the gravy over.
For the French-style peas
Serves 4
If you want to make these quickly you can use frozen peas.
200g peas, cooked (frozen are fine) 
20-24 button onions, peeled 
250ml chicken stock (a good cube will do) 
1 head of little gem lettuce, cut into rough 2cm chunks 
Salt and freshly ground black pepper 
2tsp corn flour
Simmer the onions in chicken stock for 10-15 minutes, until tender, dissolve the corn flour in a little water and stir enough into the stock to thicken it to a gravy-like consistency; then stir in the peas and lettuce and continue simmering for 2-3 minutes; season and then serve