Aren't they funny things, plums? They come in all sizes and colours and in an equally broad range of flavours, from explosively sweet to disappointingly dull, but they make a great ingredient if you give them a chance.
Most of us stick to the obvious when it comes to eating them – straight from the fruit bowl when at their best, or making a crumble or jam when less than perfect.
But their repertoire is so much bigger than that – at Brogdale in Kent old varieties offer plenty of food for thought, not to mention food for pickling, preserving, and making marinades; Chinese plum sauce probably came about from an abundance of fallen plums that an inventive grower turned into a great sauce.
Plum coupe with gingernut biscuits
Serves 4-6
Coupes have fallen out of favour these days, but this one, combining rippled ice-cream with plum compote, clotted cream and ginger nuts, makes a great dinner-party dessert. You can use one variety of plums for the whole thing, or make two batches of compote with different varieties, perhaps Victoria for rippling through the ice-cream and greengages for the sauce. Just halve the compote quantities accordingly.
For the plum compote
1kg plums, halved and stoned
150g caster sugar
1tsp cornflour
For the ice-cream
400ml full-fat milk
1½ vanilla pods
½tsp Bourbon vanilla essence
400ml Jersey or clotted cream, or a mixture of the two
6 egg yolks
150g caster sugar
To serve
120-140g clotted cream
4-6 gingernut biscuits, broken into small pieces
First make the compote. Place the plums and sugar in an ovenproof dish. Cover with a lid or foil and bake for 30 minutes, giving the occasional stir. Remove a couple of tablespoons of the liquid, mix with the cornflour and stir back into the plums. Blend half of the plum mixture in a liquidiser until smooth.
To make the ice-cream, pour the milk into a saucepan, split the vanilla pods lengthways with a sharp knife and scrape the seeds into the milk with the point of the knife, then add the pods as well. Bring the milk to the boil and remove from the heat. Whisk the egg yolks and sugar together, then pour the milk into the pan and whisk well.
Return the pan to a low heat and cook for about 5 minutes, stirring constantly with a whisk, but don't let it boil. Remove from the heat and whisk in the cream. Leave to cool, remove the vanilla pods, then churn in an ice-cream-maker. When the ice-cream is ready, transfer to a plastic container and gently stir in enough of the plum compote to form a rippled effect. Cover and place in the freezer for a few hours.
To serve, place a spoonful of the compote in each glass. Top with a couple of scoops of ice-cream and more compote, then add a spoonful of the clotted cream and scatter the biscuits on top.
Braised wild duck with plums
Serves 4
This is a take on the Persian dish, Faisinjan, which is traditionally served with duck, lamb or chicken. As we are in game season, it sort of makes sense to use wild duck, pintail duck or widgeon, and British plums instead of pomegranates for that sweet and savoury flavour. You can use any plum variety.
2 oven-ready wild ducks
1tbsp vegetable oil
2 large onions, peeled, halved and finely chopped
½tsp ground cinnamon
A good pinch of freshly-grated nutmeg
A good pinch of saffron strands
½tsp freshly ground black pepper
200-250g plums, halved, stones removed
1tbsp brown sugar
1tsp tomato purée
70g ground walnuts
1.5 litres chicken stock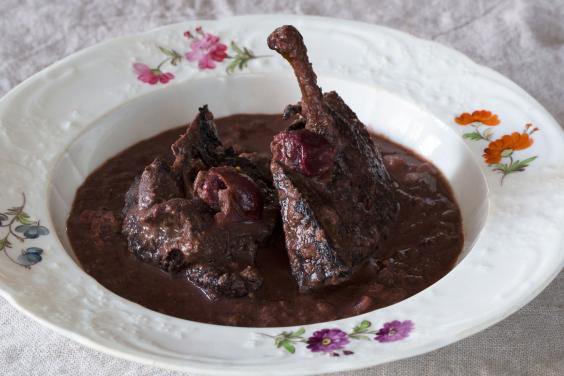 Preheat the oven to 230C/gas mark 8. Quarter the ducks with a heavy chopping knife, cutting away any excess backbone without any meat on it, and lay skin-side-up in a roasting tray. Season lightly with salt and roast for about 15 minutes until nicely coloured. Meanwhile, in a large pan or flameproof casserole, gently sauté the onions in the vegetable oil with the cinnamon, nutmeg, saffron and black pepper, stirring occasionally until soft.
In a blender, purée half of the plums with a spoonful or so of the chicken stock. Then add this, along with the sugar, tomato purée, walnuts and remaining chicken stock, to the onions. Add the duck, cover the pan, bring to the boil and simmer gently for 40 minutes, skimming every so often, then add the remaining halved plums and continue cooking for another 15-20 minutes. The sauce should have thickened but if not, remove the pieces of duck, return the pan to a medium heat and cook until it has reduced and thickened, stirring to prevent it sticking.
Serve with basmati rice or Persian-style rice, which is boiled until all the water has evaporated, then finished in a pan with butter on a medium flame to give it a crisp texture.
Plum cheese with cobnuts
Serves 10-12
This is a great thing to make when plums are in season and plentiful, or when you grow them and want some alternatives to jam. You can use a single plum variety or a mixture, up to you. It works beautifully with any kind of cheese, but I particularly like it with blue cheeses such as Stilton, Cornish blue or Blue Monday.
500g plums, halved and seeded
450g caster sugar
25-30 shelled cobnuts, roughly chopped
3 leaves of gelatine (9g)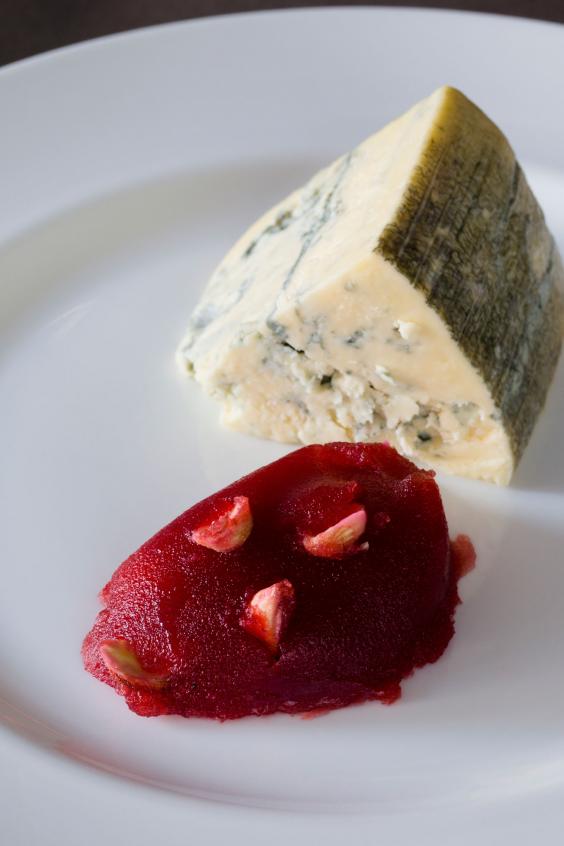 Soak the gelatine in cold water for 2-3 minutes, then squeeze out. Put the plums, sugar and gelatine into a large, heavy-bottomed saucepan and gently bring to the boil, stirring continuously. Remove any scum that rises to the surface.
Allow to simmer for 1 hour, then pass through a fine-meshed sieve. Pour into a mould or Kilner jar and leave to set in a cool place.
Serve spooned out on to a plate or turn the jelly out and cut it into chunks. Any that you don't eat straight away will keep in the fridge, or can be stored in the Kilner jar.
Pickled Greengage and goat's cheese salad
Serves 4
I did a pickled greengage recipe from Charles Campion a few years back, but I've included it again here as it's so good. You could use little damsons instead of the greengages. Hard, semi-hard or hard cheeses are best, or soft goat's cheese broken into little nuggets. You can serve this as a starter or a cheese course.
40 or so pieces of pickled greengage (see below)
80-90g goat's cheese, such as Ticklemore
A couple of handfuls of small salad and herb leaves, preferably a single leaf (rocket, silver sorrel, land cress etc)
For the dressing
2tbsp of the pickling liquid from the greengages
1tsp Tewkesbury or Dijon mustard
2tbsp rapeseed oil
2tbsp vegetable or corn oil
Salt and freshly ground black pepper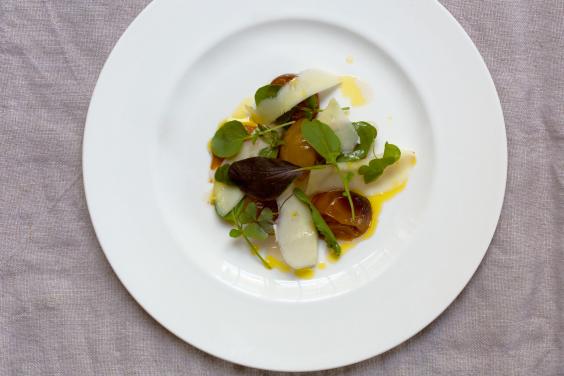 Whisk all of the ingredients together for the dressing and season to taste. To serve, toss the leaves in some of the dressing then arrange them on a plate with the greengages. Using a peeler or sharp knife, shave the cheese on top of the leaves and spoon more dressing over.
For the pickled greengages
2kg damsons or greengages, halved and stoned
1 litre white distilled vinegar
500g granulated or caster sugar
The seeds from 20 cardamom pods
2tbsp green peppercorns
5g mace blades
12 dried red chillies
Pack the greengages into 4 or 5½ litre sterilised kilner or preserving jars with an equal proportion of the spices in each. You may need more or less depending on how tightly they are packed.
Meanwhile, boil the vinegar and sugar for a couple of minutes, stirring a couple of times, until the sugar has dissolved.
Pour the hot liquid into the jars, seal the lids, then turn the jars upside down for 15 minutes or so to seal the lids.
Then turn the jars back up, leave them to cool, and store in a cool place for up to six months.
Reuse content