Everyone should have blueberries in their fridge at this time of year. No ifs, no buts.
They are one of those summer fruits that you can snack on from the fridge, scatter on your breakfast, incorporate into a salad, or use to knock up a simple pudding.
There are a lot more British blueberry growers today than in recent years, so the supermarkets aren't flooded with imports in the way they used to be. And that's a good thing, because these British berries are a true superfood.
Duck with blueberries
Serves 4
Duck always partners well with fruits. Duck and orange is an old classic, of course, but fruits such as blueberries, small cherries and even rhubarb work a treat, too.
4 duck breasts
Salt and freshly ground black pepper
For the sauce
2 shallots, peeled and finely chopped
A good knob of butter
2tsp flour
½tsp tomato purée
50ml red wine
50ml port
250ml chicken or beef stock
125g blueberries
First make the sauce: melt the butter in a thick-bottomed pan and gently cook the shallots for 2-3 minutes until lightly coloured.
Add the flour and tomato purée and stir well over a low heat for a minute. Gradually add the red wine and port, stirring to avoid lumps forming, and then gradually add the beef stock.
Bring to the boil and simmer very gently for about 20-25 minutes, giving the occasional whisk, until the sauce has reduced by about two-thirds and thickened. Then add the blueberries, cover and remove from the heat.
Season the duck breasts, heat a heavy frying pan and cook them with the skin down first for about 5 minutes on a medium heat, pouring off any fat as it's cooking (which you can save for roast potatoes).
Turn the breasts over and cook for another 4-5 minutes, keeping them nice and pink.
To serve, cut the breasts into 6-7 slices, spoon the sauce on to warmed serving plates and arrange the duck on top with the skin side up.
Omelette soufflé with blueberries
Serves 4
This is a take on the classic French dish and you can fill it with all sorts of things – make use of the abundance of summer fruits and make a summer fruit mixture or, as I've done here, use blueberries.
You can make the pancake mix in advance, along with the compote, and then you just whisk in the egg whites and fold together before cooking.
For the omelette
4 eggs beaten
40g flour
80-100ml milk
2 eggs, separated
50g caster sugar
50g butter
For the blueberry compote
150g blueberries
50g caster sugar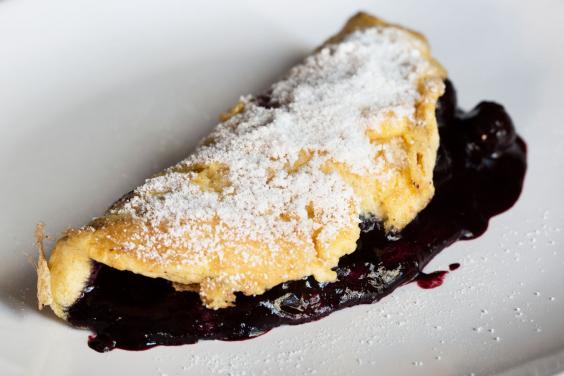 First make the blueberry compote. Put the berries in a saucepan with the sugar on a low heat and cook for 3-4 minutes, stirring every so often. Don't let the blueberries disintegrate too much. Remove from the heat and leave to cool a little. Now preheat the oven to 200C/gas mark 6.
To make the pancake mixture, whisk the eggs, egg yolks from the separated eggs, flour, caster sugar and one-third of the milk until it is smooth, then whisk in the rest of the milk to form a batter.
Whisk in the remaining milk, then strain if necessary. In a clean bowl, whisk the egg whites until stiff, then carefully fold in the pancake mixture.
Heat a small, non-stick frying pan. Add a little butter, pour in a quarter of the pancake mix, tilt the pan immediately so that the mixture spreads evenly, then pop them in the oven for 2-3 minutes until the mixture is just set.
Straight away, transfer to warmed serving plates, spoon the blueberry mixture in to the centre, fold the omelettes over and dust with icing sugar.
Pigeon and blueberry salad
Serves 4
We are now knee-deep in the season of the pigeon. They have spent weeks now munching on all the berries the hedgerows have to offer. It is the perfect time to make use of them.
If you can get your hands on little wild blueberries, you will find they are even better for this than their larger, cultivated brethren.
Once you've made this dish, you can take the pigeon bones and boil them for a nice broth for future use.
Two oven-ready pigeons
60-70g butter, softened
Salt and freshly ground black pepper
A small handful of blueberries (about 40-50g)
A few handfuls of small, flavoursome salad leaves and herbs
For the dressing
1tbsp red wine vinegar
½tsp Tewkesbury or Dijon mustard
4tbsp rapeseed oil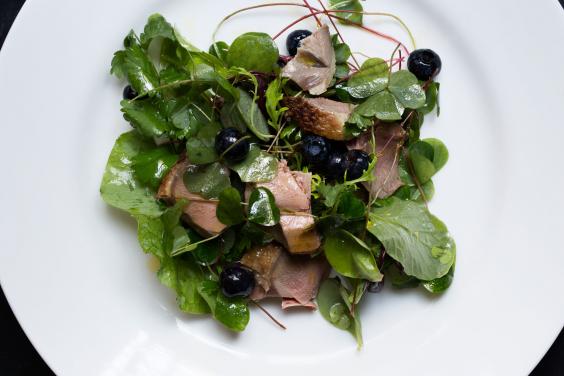 Preheat the oven to 240C/gas mark 8, season the pigeon and rub the breasts with butter. Roast for about 12-15 minutes, keeping them pink in the middle, then allow them to rest.
Meanwhile, make the dressing by whisking all of the ingredients together and seasoning to taste.
To serve, remove the breasts from the carcass, cut them into half a dozen slices and remove all of the leg meat and shred it. Arrange the leaves on four serving plates with the pigeon and blueberries, and spoon over the dressing.
Iced blueberries with hot white chocolate sauce
Serves 4
One of those perfect marriages of ingredients, and one of the easiest desserts to prepare and serve at a dinner party. The idea came from a customer back in my Le Caprice days. I can't think why more chefs haven't copied it. Maybe it's because it's not stretching enough for most pastry chefs.
But when it comes to producing a beautiful dessert at home, that's a virtue. And what could be simpler: berries biding their time in the freezer and white chocolate sauce gently heating over a pan of simmering water, until you're ready to serve and gobble it all up. This version uses just one berry but, if you like, you can use a mixture of summer fruits.
350-400g blueberries, frozen
For the sauce
300g best-quality white chocolate, buttons or bars, chopped into pieces
300ml double cream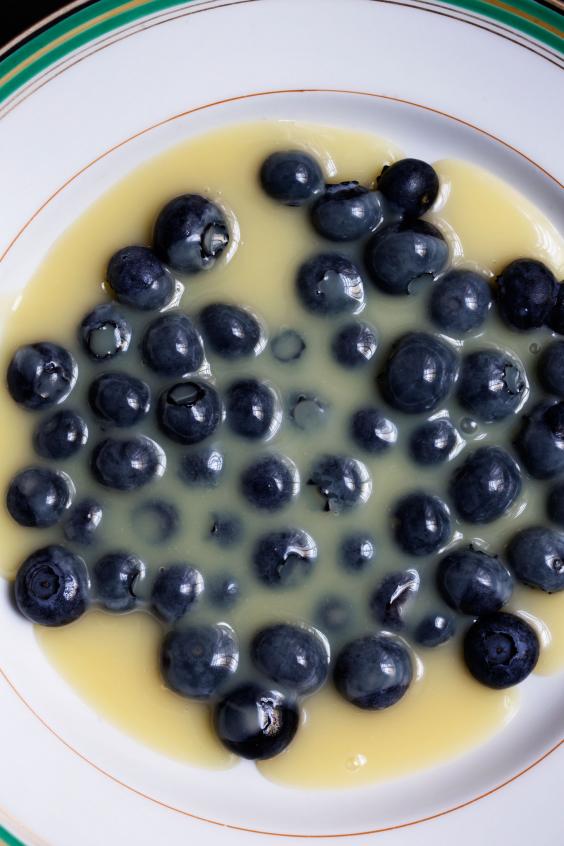 Put the chocolate and cream into a bowl over a pan of simmering water for about 20-30 minutes, stirring every so often. This can be done while you are eating your starters or mains. When the sauce is hot, just cover it with clingfilm and turn the heat off.
Five minutes before serving, put the blueberries on to a dessert plate and leave at room temperature to lose a little of their chill for 3-4 minutes, but don't, however, let them start defrosting.
Transfer the chocolate sauce into a serving jug. Place the berries in front of your guests and pour the hot chocolate sauce generously over the berries at the table.
A collection of Mark Hix's recipes are now available to buy in e-book form, priced £2.99 each; see independent.co.uk/ebooks/cookbooks
Reuse content