With the boom in artisan baking and bread making, you might have thought we'd be seeing a lot more Scandinavian open sandwiches around. These Nordic staples are easy to make and endlessly versatile, and they look and taste absolutely fantastic. I do come across the odd one here and there, and of course in this country we love to put things on toast – technically making a kind of open sandwich – but we rarely get very adventurous with it.
That's a shame. You can have lots of fun with open sandwiches, utilising and matching all sorts of seasonal ingredients. There's not too much skill required, to be honest, just a delicate touch so that they look visually appealing.
Hot-smoked salmon with pickled fennel and horseradish
Serves 4
Hot-smoked salmon, or Bradan Rost (roast salmon, in Gaelic) as it's sometimes referred to, is cured in a similar way to the cold-smoked fish, then cooked in a hot kiln. It has a dark colour and lovely firm texture. I've used toasted dark rye bread (also called pumpernickel) with pumpkin seeds here, but you can really use any base you fancy.
1 small or half a bulb of fennel, halved and very thinly sliced
Salt and freshly ground black pepper
2tsp caster sugar
Enough cider vinegar to cover the fennel
1tbsp creamed horseradish
1tbsp good quality mayonnaise
4 slices of dark rye bread
200-250g hot-smoked salmon
The fennel tops or a few sprigs of dill
Start on the pickle a day or two beforehand. Put the fennel in a non-reactive bowl, season lightly, add the sugar and cover with the vinegar. Cover with cling film and place in the fridge.
When ready to serve, drain the fennel (keeping the vinegar for a salad dressing), and mix the horseradish with the mayonnaise. Toast the bread on both sides. Break the salmon into pieces and arrange on the bread with the pickle, then top with a small spoonful of the mayonnaise and the fennel tops and dill.
Lobster, avocado and crispy bacon
Serves 4
I always have a can or packet of Peter's Yard rye crispbreads in my larder. They make a great and simple platform for an open sandwich.
If you don't want to splash out on lobster, you can use good quality prawns or even crab. But one lobster will be enough for four sandwiches – and you can also later make a good quantity of bisque from the shell.
2 small ripe avocados
½tbsp mayonnaise
Salt and freshly ground black pepper
The juice of 1 small lemon
1 lobster, 500-600g, cooked and removed from the shell
4 rashers of streaky bacon, grilled until really crispy
4 rye crackers or crispbreads
1tbsp olive or rapeseed oil
A few sprigs of Greek basil (bush basil) or another herb such as chervil or dill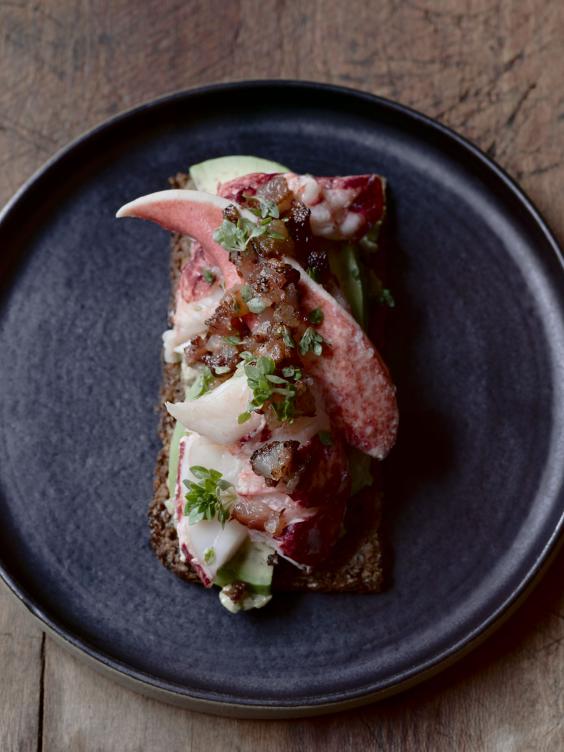 Peel and stone both of the avocados. Crush one with a fork and mix with the mayonnaise. Season and add a little lemon juice to taste. Cut the lobster tail into four lengthways, and cut each slice in half. Cut the claw meat in half such that it looks like four claws. Chop the bacon as finely as possible.
Cut the second avocado into slices. To serve, spread the crushed avocado on the crispbreads then arrange the sliced avocado on top with the lobster, placing the halved lobster claws on top. Mix the remaining lemon juice with the oil, season, then spoon a little on top together with a scattering of bacon and herbs.
Mortadella with porcini on toasted ciabatta
Serves 4
Try and buy the best mortadella you can find – some of the cheap stuff tastes a bit like Spam! You can use fresh or frozen porcini (cep) mushrooms or, if you can't get your hands on them, oyster mushrooms will work well too.
2-3tbsp olive oil
150g porcini or oyster mushrooms, sliced
Salt and freshly ground black pepper
½tbsp cider vinegar
2-3tbsp chopped chives
4 x 1cm thick slices of ciabatta
8 slices of mortadella
A few sprigs of parsley, chopped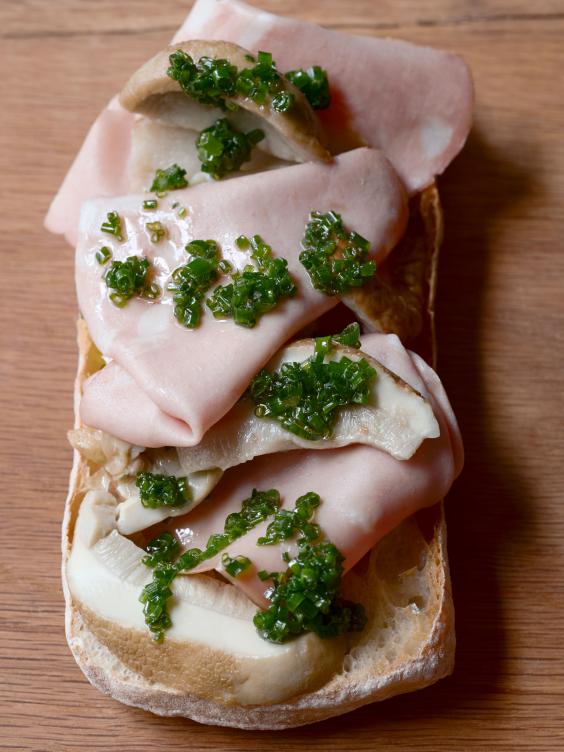 Heat the oil in a frying pan and gently fry the mushrooms for 2-3 minutes, seasoning them lightly as they are cooking. Add the vinegar and remove from the heat. Stir in the chives and leave to cool.
To serve, brush the ciabatta with olive oil and toast both sides. Drain off the porcini, reserving the oil, and arrange on the ciabatta with the mortadella, folding it so it sits proud, not flat, on the bread. Spoon over some of the oil and chives mix, and sprinkle with parsley.
Shaved courgettes with goat's curd and olives
Serves 4
Raw courgettes, thinly shaved on a mandolin, make a great summer salad or open sandwich topping. If you can't find goat's curd then a fresh goat's cheese is fine.
2 courgettes, sliced lengthways as thinly as possible with a mandolin or grater
2-3tbsp olive oil
½tbsp white balsamic or white wine vinegar
A few sprigs of oregano or marjoram
Salt and freshly ground black pepper
4 x 1cm thick slices of sourdough
16 good quality pitted black olives
100-120g goat's curd or soft goat's cheese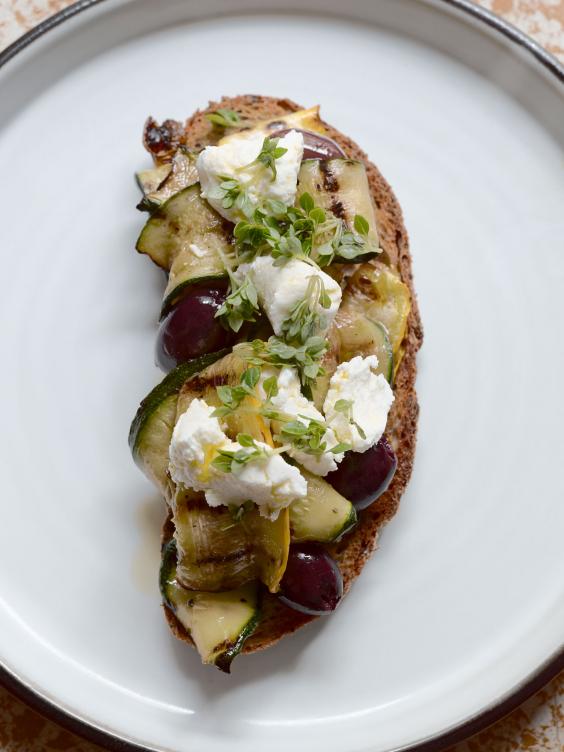 Mix the courgettes with the olive oil, vinegar and oregano and season to taste. Brush the sourdough with a little olive oil, and toast or griddle on both sides
To serve, arrange the courgettes on the bread with the olives, and spoon small dollops of the goat's curd on top.
Reuse content