I wrote about spelt last year as it was becoming ever more popular. These days, it's approaching the status of a kitchen staple. Many more people are giving up traditional wheat flour and turning to this ancient grain, which has a unique gluten structure which makes it easier to digest. If you are interested in making the move to spelt, it is worth checking out the products sold by Roger Saul's Sharpham Park.
Spelt pudding with prunes
Serves 4
Spelt grains make a hearty and robust version of a rice pudding. Although it's quite creamy, it is relatively healthy, especially if you use low-fat milk.
I've used the baker Richard Bertinet's prunes steeped in Armagnac, which he gave me a couple of years ago, but you could make your own version, or use morello cherries in eau de vie, or a fresh fruit compote.
100g spelt, soaked in water overnight and drained
4 prunes
1.2-1.5ltr milk
100g caster or granulated sugar
120ml condensed milk
Put the spelt in a pan with a litre of the milk and the sugar, slowly bring to a simmer and continue simmering very gently for about 35-40 minutes, stirring regularly. During cooking, feel free to add more milk if it's getting dry.
Once the spelt is tender, remove from the heat and transfer to a bowl and stir in the condensed milk. You can adjust the consistency with more milk if you wish, then top with a prune, and serve it hot or cold, or just at room temperature.
If you want the old-fashioned baked effect, with the skin on, just pop it into an oven-proof dish, pour a little milk on top and bake it in a moderately hot oven for about 30 minutes.
Spelt bread
Makes 2 large loaves
I had to phone my friend Richard Bertinet for this recipe as I just couldn't get it right.
For the poolish
500g spelt flour
500g water
10g fresh yeast
Mix everything together in your mixing bowl, cover with a baking cloth or large freezer bag which you have split, then secure it with an elastic band and leave for 3-5 hours in a warm place or overnight.
For the bread
All of the poolish mix
500g spelt flour
10g fresh yeast
20g salt
150g water
100g whole spelt grains, soak them overnight in warm water (optional)
A little butter or vegetable oil for tins
Preheat the oven to 250C. Lightly grease 2 x 800g bread tins.
Combine the poolish with the spelt flour, spelt grains (if using), yeast, salt, water and mix together with the help of a scraper.
Now use your scraper to help turn out the dough on to a surface (don't flour it first). Work the dough until it's smooth and elastic.
Lightly flour your surface and then form the dough into a ball. Put it back into your (lightly floured) mixing bowl, cover with a baking cloth and leave to rest for 1 hour.
Lightly dust your surface with flour again, turn the dough out and divide in half. Cover with baking cloths and leave to rest on the work surface for 15 minutes.
Shape into 2 large loaves and put into your greased tins. Cover with baking cloths and leave to prove for 1 hour, or until they have just less than doubled in volume, then turn the loaves on to a peel ready for baking.
Spray inside the oven with a water spray. Put in your tins, spray again and quickly close the oven. Set your timer for 2 minutes. After this time, turn down the heat to 220C and bake for a further 25-30 minutes until the bases of the loaves sound hollow when tapped. Cool on wire racks.
Spelt cheese and onion seed Madeleines
Makes about 20-30
These are great little savoury snacks which are perfect with a glass of wine or served as a soup garnish.
If you have small tins you can make mini ones, too, which make great pre-dinner canapés on their own or can be topped with a little cured ham or smoked salmon.
135g unsalted butter, softened
2tbsp clear honey
3 large eggs, beaten
135g white spelt flour
3tsp baking powder
100g finely-grated hard cheese like parmesan, berkswell or cheddar
2tbsp onion seeds
Melt the butter and honey in a saucepan, then remove from the heat.
Using an electric mixer, whisk the eggs for 3-4 minutes until they have roughly tripled in volume. Fold in the flour, baking powder, cheese, onion seeds and butter mixture until well mixed. Pour into a container and leave to rest for 2 or 3 hours in the fridge.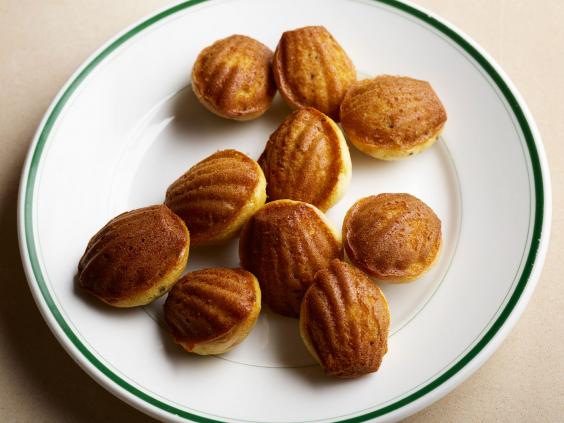 Preheat the oven to 180C/gas mark 5. Grease your madeleine moulds with butter and dust with flour. Place a dessert spoon of the mixture in each mould and cook for 12-15 minutes. Leave to cool and transfer to a cake wire before serving.
Spelt and corn drop scones with bacon and chilli honey
Serves 4
These make great breakfast, brunch or tea-time snacks. I've used canned sweetcorn in this but you can use frozen or fresh.
120g white spelt flour
1.5tsp baking powder
2 eggs, beaten
120ml milk
100g cooked sweetcorn kernels, or canned
Salt and freshly ground black pepper
8 rashers of back bacon or Kassler or pancetta
4tbsp clear honey
1 red chilli, trimmed and finely chopped
Roughly chop two-thirds of the sweetcorn and put the whole kernels to one side in a small bowl.
Put the flour and baking powder into a bowl. Stir in the eggs, the chopped sweetcorn and enough of the milk to form a smooth batter; season.
Mix the whole corn kernels with the chilli and honey.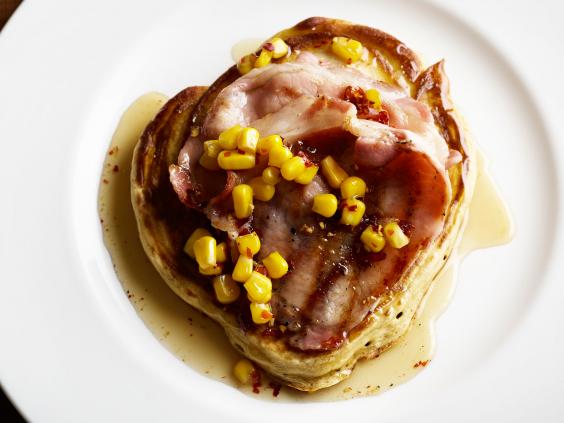 Heat a non-stick frying pan for the drop scones and a ribbed or heavy griddle pan for the bacon, rubbing them both with a little vegetable oil.
Drop double tablespoonfuls of the mixture into the pan and let them cook for 3 minutes until bubbles rise in the mix; turn them over and cook for another 2-3 minutes.
Meanwhile, cook the bacon for a minute or so on each side. Drain the drop scones on kitchen paper while you are cooking the rest.
To serve, lay the bacon on the warmed scones, transfer to warmed serving plates and spoon over the honey mixture.
Reuse content