I've long been a collector of vinegars, mustards and oils. In fact, I have so many I like to think that I have every occasion and mood covered – a salad dressing for every season, if you will.
I remember when I was a young chef at London's Grosvenor House Hotel, we used simple dressings such as sherry vinegar and walnut oil with a touch of seasoning and a pinch of sugar. That simple mix would totally transform salads, which is what you want from a good dressing.
These days, the supermarket shelves are lined with dozens of vinegars to experiment with. The trick to choosing the right one is to try and match the dressing to the type of salad you are making; treat it as a vehicle for bringing all of the flavours together.
Normally, the best vinegar-to-oil mix is one part vinegar to three or four parts oil. With the sweeter vinegars, however, you can use more.
Mustard is also sometimes great at bringing the oil and vinegar together. With robust leaves you need a really emulsified dressing which is where that little jar of Dijon, grain or Tewkesbury mustard in your fridge really comes into its own.
Pasta and prawn salad
Serves 4
This is a great way to use the shells from seafood, if, that is, they don't already have an appointment with your soup pot. I use the dressing for all kinds of shellfish salads. It keeps very well frozen or in a preserving jar in the fridge for a month or so.
16 large seawater whole raw prawns
200g spaghetti or another pasta
4 firm tomatoes (flesh only)
2tbsp chopped parsley
2 green or red chillies, finely chopped
1tbsp cider or white-wine vinegar
Salt and freshly ground black pepper
For the infused oil
The shells from the prawns
120ml olive oil
150ml vegetable or corn oil
1tsp tomato purée
4 firm tomatoes (skin and pulp only)
1 clove of garlic, peeled and halved
1tsp fennel seeds
10 black peppercorns
A couple of sprigs of thyme
Remove the heads and shell the prawns then make a slit along the back and de-vein them if necessary. To make the prawn shell oil: put all of the ingredients for infused oil in a saucepan with three tablespoons of water. Bring to a simmer and keep on a very low heat for 10 minutes then remove from the heat and leave to infuse for an hour and strain through a fine-meshed sieve. The next day, strain through muslin or a fine-meshed sieve and store in a sterilised bottle or jar in the fridge.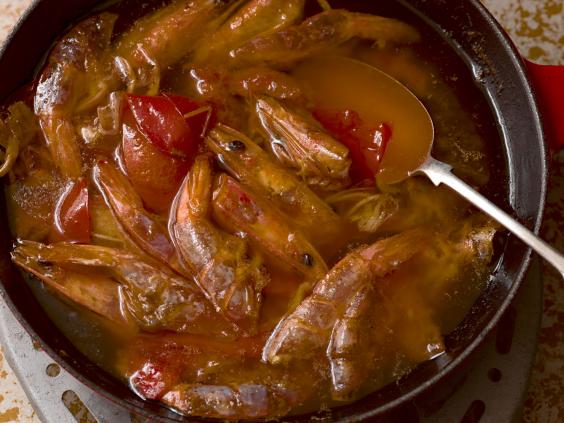 For the salad, quarter the tomatoes with a sharp knife, then, with the skin side on the board, remove the skin and squeeze out the seeds. Cut the flesh into rough ½cm dice.
Cook the pasta in boiling salted water according to the manufacturer's instructions then drain and quickly refresh under some cold water. Cook the prawns in a little salted water for a minute then drain.
To serve, whisk the prawn oil with the vinegar and season. Then toss the pasta with the prawns, parsley, tomatoes, chillies and dressing, and season to taste.
Curly endive, blue cheese and pickled walnut salad
Serves 4
This is an incredibly simple salad. You can use a blue cheese of your choice and any odd and ends – even the rind – for the dressing. The liquid from the pickled walnuts also makes a fantastic condiment or dressing, and if you simmer and reduce it you will end up with something close to aged balsamic vinegar.
You can use this dressing for all sorts of things, but it works particularly well with Belgian endive, simple lettuce hearts or gems, or asparagus.
A small head of frisée (curly endive), trimmed, washed and the larger leaves torn down
60-80g blue cheese
4 large or 8 small pickled walnuts and their juice
For the dressing
30ml cider or white-wine vinegar
2tsp Dijon mustard
30-40g blue cheese
120ml vegetable oil
30ml water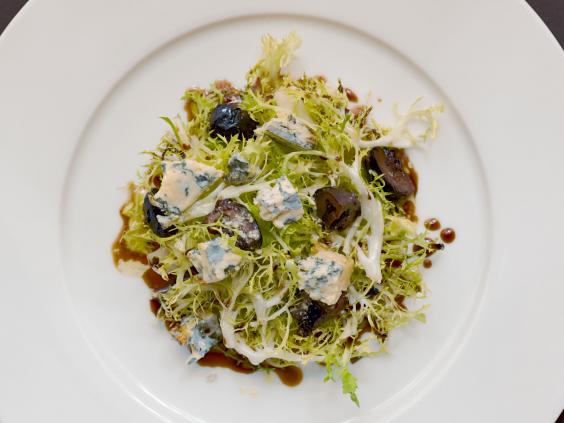 To make the dressing, blend all of the ingredients in a liquidiser and season to taste.
Drain off some of the juice from your jar of pickled walnuts and simmer it in a small pan until it has reduced by about half then transfer to a small dish.
To serve, quarter or cut the pickled walnuts into six. Toss the frisée in two thirds of the blue-cheese dressing then arrange on plates with the nuggets of blue cheese and the pickled walnuts.
Spoon a little more blue-cheese dressing over and spoon the reduced pickled walnut juice around.
Mackerel sashimi salad
Serves 4
Dried Japanese seaweed makes a great base for a salad, either vegetarian or, like this, with fresh raw fish tossed through it. I made this recently on Steve Sweet's charter boat Amaretto on our annual Lyme Regis to Dartmouth fishing trip. You will be surprised what can be knocked up on board a fishing boat.
I was recently sent some fantastic zingy yuzu along with some other fermented Marusho vinegars from Jon Old, who grows wasabi near my house in Dorset. There is such a difference in a good yuzu and ponzu sauce, and if the quality is good enough it can be used straight from the bottle like this.
10-20g dried seaweed salad, soaked in cold water for an hour
4 spring onions, cleaned and finely shredded on the angle
30-40g root ginger, scraped, thinly sliced then finely
6-8 mange tout, finely shredded
A handful of picked and washed coriander leaves
2 medium green or red chillies, very thinly sliced
4-6 very fresh mackerel fillets from medium-sized fish, skinned and boned
4-5tbsp of yuzu or ponzu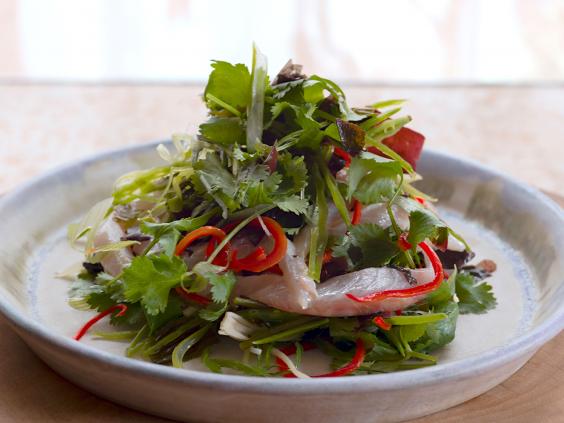 Cut the mackerel into chunks or strips, up to you. Quickly toss the mackerel in the yuzu or ponzu and put to one side on a plate.
Toss all of the other ingredients in the yuzu and lightly season then arrange on serving plates with the mackerel.
Bloody Mary salad
Serves 4-6
This is basically a Bloody Mary dressing. You could serve this as a starter, side dish or have it on toast for breakfast, the real thing on a plate instead of in a glass. There are lots of different varieties and colours of tomatoes on the market these days so a good selection helps with the presentation enormously.
300-400g tomatoes (a selection of different varieties and colours)
A piece of horseradish weighing about 40g
For the dressing
1-2tbsp vodka
5-6tbsp tomato juice
2tbsp rapeseed or olive oil
1tbsp cider vinegar
A few dashes of Worcester sauce to taste
A few dashes of Tabasco to taste
A couple of pinches of celery salt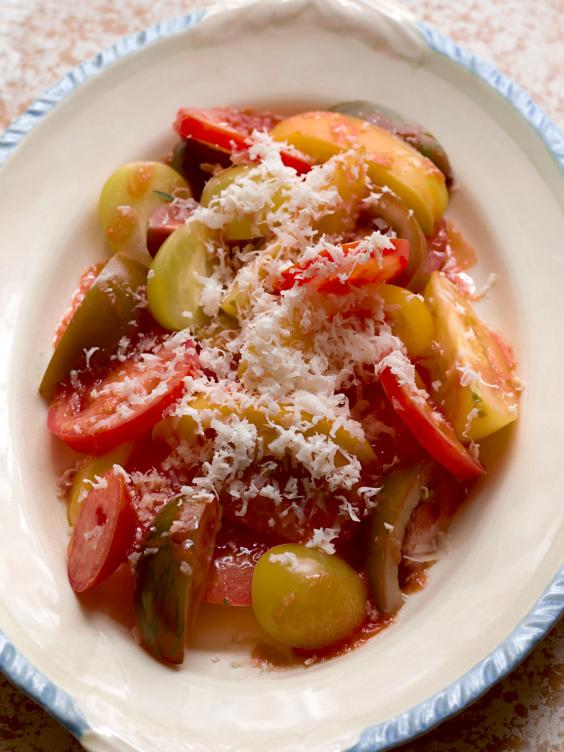 Whisk all of the ingredients together for the dressing and adjust to taste. Cut the tomatoes into different shapes (wedges, slices, chunks) and arrange on a serving plate.
Spoon over the dressing then grate the horseradish over the top.
Reuse content