I think blueberries are still classed as a superfood, though it's hard to keep up these days. One minute it's broccoli or edamame, then suddenly kale and quinoa arrive and knock them off the shelf. Well, whether or not blueberries are a superfood, they're most certainly a super thing to serve in both sweet and savoury dishes, and there are countless delicious ways to work them in to your dinner-party menus.
In the past, most of our blueberries were imported, but there are a good few farmers cultivating them here now, including the Dorset Blueberry Company down my neck of the woods.
If ever you find you have a surfeit of this delicious fruit, try preserving it in alcohol, not unlike the way you'd make a sloe gin. You can then use it as a base for cocktails, or simply save it to spoon over ice cream in the winter months.
Dorset Blueberry, ricotta and cobnut cheesecake
Serves 6-8
It's Jeans for Genes day on 18 September, when you're encouraged to wear your jeans to work or school, and donate to the eponymous charity, which helps children with genetic disorders. Of course, you can contribute in any way you wish; rather than blue jeans I'll be featuring blueberries on my menus on the 18th, with donations to Jeans for Genes. This splendid cheesecake might well be making an appearance.
450g blueberries
200g caster sugar
200ml water
20g cornflour
For the base
200g digestive biscuits or Hobnobs
80g butter, melted
For the filling
300ml double cream
100g caster sugar
250g cream cheese, softened to room temperature
250g ricotta, softened to room temperature
Finely grated zest of 1 lemon
1tsp vanilla extract
120-150g cobnuts or hazelnuts, lightly toasted
Put 200g of the blueberries (use the softer ones) into a pan with the sugar and 175ml water. Slowly bring to the boil to dissolve the sugar, then simmer for 3-4 minutes. Mix the cornflour with the remaining 25ml water and add to the pan, stirring. Simmer, still stirring, for another 2-3 minutes. Remove from the heat and strain through a fine sieve into a bowl, pushing the berries in the sieve with the back of a spoon to extract as much juice as possible. Leave to cool.
Meanwhile, line a 17-18cm round springform cake tin with greaseproof paper. Crush the biscuits in a food processor until they are the texture of coarse breadcrumbs – or you can smash them in a plastic bag with a rolling pin. Mix the biscuit crumbs with the melted butter and pack in to the cake tin, firming down with the back of a spoon.
Whip the cream and sugar together until fairly stiff. In another bowl, beat the cream cheese and ricotta until it softens a little, then fold in the whipped cream with the lemon zest and vanilla extract. Lightly fold through half of the cooled blueberry syrup (don't mix too thoroughly, though, as you want a ripple effect) along with half of the cobnuts. Spoon the mix on to the biscuit base and place in the fridge for 2-3 hours, or overnight, until firm.
Mix the rest of the blueberries with the remaining blueberry syrup. To take the cheesecake out, run a hot knife around the edge, then release the side of the tin and slide the cheesecake on to a board. Cut into slices and serve each portion topped with a couple of spoonfuls of the blueberry sauce and either whole or lightly chopped cobnuts.
Roast pigeon with wild blueberries
Serves 4
While blueberries are native to north America, bilberries (or, in Scotland, blaeberries), which are closely related, can be found across Europe. Sometimes called wild blueberries, they are smaller and have a bit more flavour than their cultivated cousins.
For the sauce
2 shallots, peeled and finely chopped
A good knob of butter
1tsp flour
½tsp tomato purée
100ml red wine
100ml port
350ml beef stock
40-50g wild or cultivated blueberries
4 oven-ready wood pigeons
Salt and freshly ground black pepper
50g butter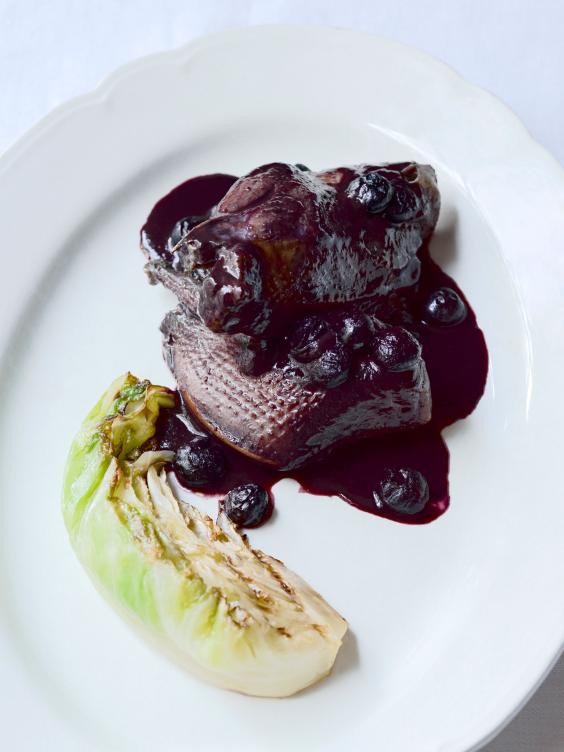 First make the sauce: gently cook the shallots in the butter for 2 -3 minutes until soft. Add the flour and tomato purée and stir well.
Gradually add the red wine and port, stirring continuously. Bring to the boil and reduce by two-thirds. Add the beef stock, then simmer until the sauce has reduced by half and thickened. Add the berries and remove from the heat.
Preheat the oven to 220C/gas mark 7. Season the pigeons and rub all over with the butter. Roast for 15 minutes, then remove from the oven and leave to rest for a few minutes. You can serve the pigeons whole, halved or with the breasts and legs removed. Arrange on warmed serving plates.
Blueberry relish
Serves 10-12
This is a great alternative to the usual chutney accompaniments to go with hard, soft or blue cheeses.
450g blueberries
450g caster sugar
Juice of 2 lemons
3 gelatine leaves (9g)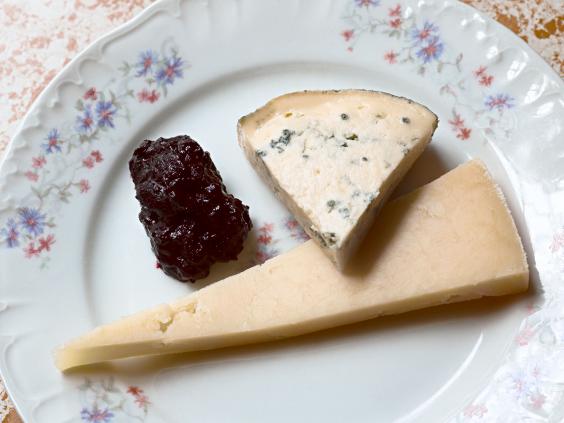 Place the blueberries and sugar in a large heavy-bottomed saucepan. Gently bring to the boil, stirring continuously, and simmer on a medium heat for 30 minutes. Add the lemon juice and simmer for a further 15 minutes until it's really thick. Skim with a ladle as it's cooking to remove and discard any scum that rises to the surface.
Simmer for 1 hour, then pass through a fine-meshed sieve. Meanwhile soak the gelatine leaves in cold water, then squeeze them out and stir into the hot mixture until dissolved. Pour into a mould and leave to set in a cool place.
Blueberry zabaglione tart
Serves 4
This is a nice simple tart to make. If you wish you can prepare the elements, apart from the zabaglione, in advance, and just warm the pastry and fruit up last minute. If you can't find Kingston Black (which is a Somerset apple) aperitif, then use Marsala wine, which is a traditional ingredient in zabaglione.
450-500g blueberries
4 all-butter puff pastry rectangles, rolled to 3-4mm deep and cut to about 8 x 10cm
For the zabaglione
4 medium egg yolks
5tbsp caster sugar
The seeds from a third of a vanilla pod
120ml Kingston Black aperitif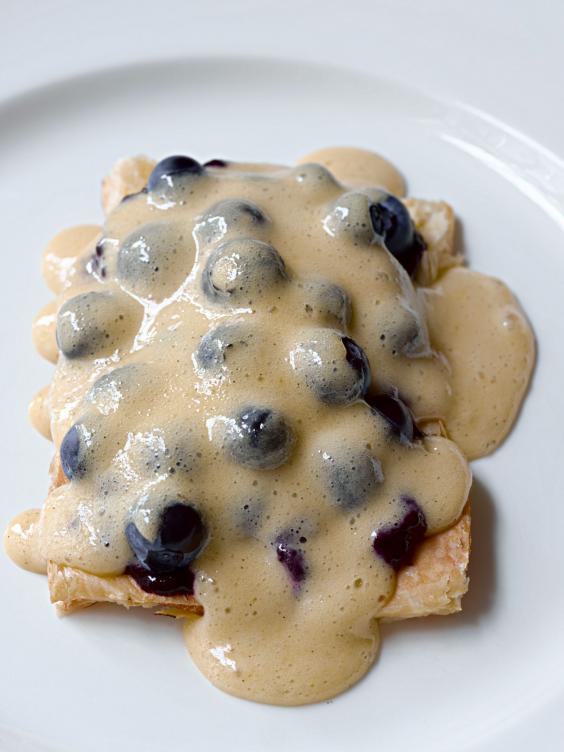 Put half of the blueberries in a saucepan and cook on a gentle heat for 3-4 minutes until they begin to break down, then remove from the heat and cover to keep warm. Preheat the oven to 200C/Gas mark 6. Dock the pastry all over with a fork to prevent it rising, place on a baking tray and bake for 5 minutes, then turn it over and cook for a further 3-4 minutes before removing from the oven.
Now make the zabaglione. Put the egg yolks, sugar and vanilla seeds in a round-bottomed steel or Pyrex bowl (not aluminium or it may go a grey colour). Beat well with a whisk for 2-3 minutes, then mix in the Kingston Black. Hold the bowl with a cloth and rest it over a pan containing 3-4cm of simmering water. Whisk continuously for a few minutes until the mixture is thick and frothy.
To serve, spread the cooked blueberries over the pastry (draining off any excess juice) put the blueberries on top and spoon over the warm zabaglione.
Reuse content