I love the unpredictability of wild mushrooms. While each species has a season, variations in weather can advance or delay their arrival by quite a bit.
I have a couple of old schoolmates who do a spot of foraging and at this time of year random pictures of their forage turn up on my iPhone.
When these overnight fungi appear, they suggest all sorts of interesting possibilities for the menu. Last week, Alex James brought me 20kg of puffballs that he picked in the field behind his house on the way to the station.
Foraging is fun, but don't take any risks and go with someone who knows about fungi as there are hundreds of different types, and often an edible variety and a deadly one will look much the same.
Trompette soup
Serves 4-6
This tasty soup looks amazing – it's dramatic in the same way as a black squid-ink risotto. It makes a huge visual impact served as a course at a dinner party, and has a great earthy flavour. You can use fresh or dried trompette de la mort mushrooms for this.
Ingredients
50g butter
1 small leek, washed and roughly chopped
250g fresh trompette de la mort mushrooms (half the quantity if dried)
250g field mushrooms, roughly chopped
1 clove of garlic, peeled and chopped
A couple of sprigs of thyme
2tsp plain flour
1.5ltrs vegetable stock (a couple of cubes will do)
Salt and pepper
2tbsp double cream
1tbsp chopped parsley
Trim any gritty ends from the trompettes and tear them in half. Wash them well in cold water, then drain in a colander.
Melt the butter in a large pan and gently cook the leek, field mushrooms, three-quarters of the trompettes, garlic and thyme for 3-4 minutes with a lid on, stirring every so often, until they are soft.
Stir in the flour, then gradually add the hot vegetable stock. Bring it to the boil, season and simmer gently for 45-50 minutes.
Blend the soup in a liquidiser and strain through a sieve into a clean > saucepan. Meanwhile, gently cook the remaining trompettes on a low heat in the rest of the butter in a covered pan for 3-4 minutes, stirring every so often; then mix in the parsley and remove from the heat. Add the double cream to the soup and a little more stock if the soup's too thick.
To serve, bring to the boil, adjust the seasoning if necessary, ladle into bowls and spoon the cooked trompettes on top.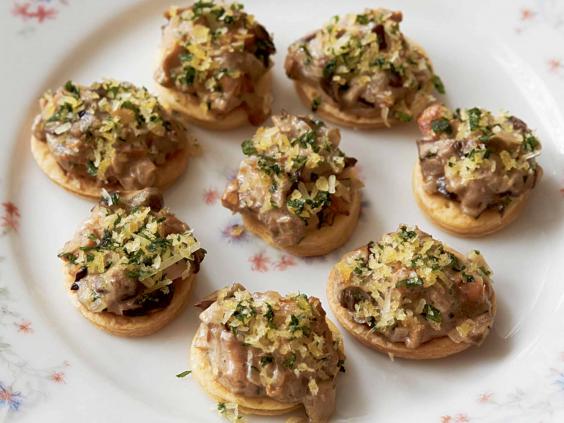 Wild mushroom tarts
Makes 15-20 as a canapé or snack
You can make these tasty little snacks any shape you want: round, square, rectangular – it's up to you. You can get away with using some cultivated oyster or shiitake in this, or a mixture of wild and cultivated.
Ingredients
200g butter puff pastry, rolled to about 2-3mm thick
2 shallots, peeled and finely chopped
A small clove of garlic, peeled and crushed
A knob of butter
100g wild mushrooms, cleaned and chopped into small pieces
Salt and freshly ground black pepper
150ml double cream
1tbsp chopped parsley
2tbsp fresh white breadcrumbs
1tbsp freshly grated Parmesan
Preheat the oven to 200C/gas mark 6. Prick the pastry all over with a fork, then cut into pieces. Use a pastry cutter to make discs – or squares, or rectangles, if you prefer – then put them on a baking tray.
Bake for 3-4 minutes, then remove from the oven and flip over on the tray and return to the oven for another 2-3 minutes.
Meanwhile, melt the butter in a pan and cook the shallots and garlic for a minute on a low heat, until soft. Add the mushrooms, season with a little salt and pepper, and cook for a couple of minutes until they soften.
Add the double cream, bring to the boil and simmer until it has reduced substantially and just coats the mushrooms. Stir in the parsley and half the Parmesan, then mix the rest with the breadcrumbs.
When you are ready to serve, spoon the mushroom mixture on to the pastry and scatter the Parmesan crumb on top. Bake for another 4-5 minutes or until the crumb topping is lightly coloured.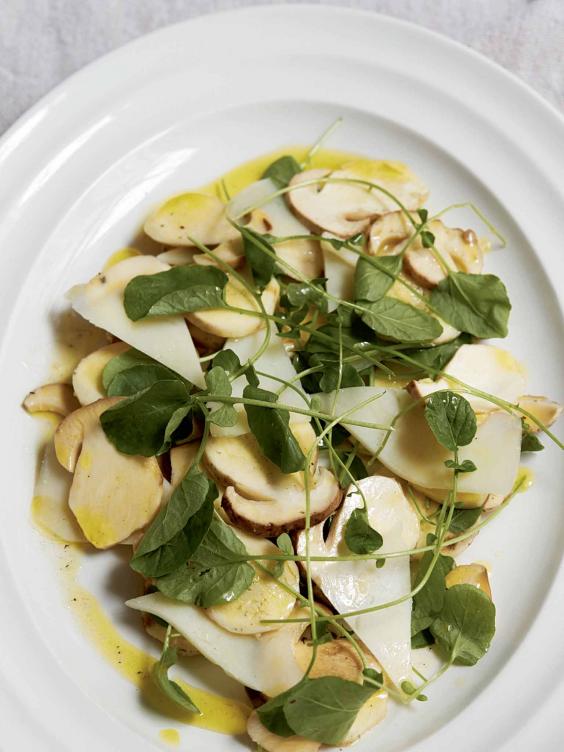 Shaved penny buns with Berkswell
Serves 4
When you have firm, ultra-fresh penny buns or ceps, try not cooking them and just serving them thinly sliced and raw.
Unless you pick your own they can be pretty pricey, so this is a great way to get the most out of a luxury ingredient and, of course, maximise the flavour.
Ingredients
250g firm ceps, cleaned and very thinly sliced
5-6tbsp rapeseed oil
Juice of 1 lemon
Salt and freshly ground black pepper
A handful of small, tasty salad leaves such as land cress, rocket, etc
100-120g mature Berkswell cheese
Put the ceps on a tray, season and pour over the oil and lemon juice, mix well, keeping the mushrooms intact; leave > for 15 minutes, turning occasionally.
To serve, arrange the leaves on serving plates with the mushrooms, pouring any extra marinating juices over them. If the mushrooms have absorbed all of the oil and lemon, just pour a little extra over. Shave the cheese as thinly as possible with a sharp knife, or you can use a vegetable peeler, and scatter over the salad.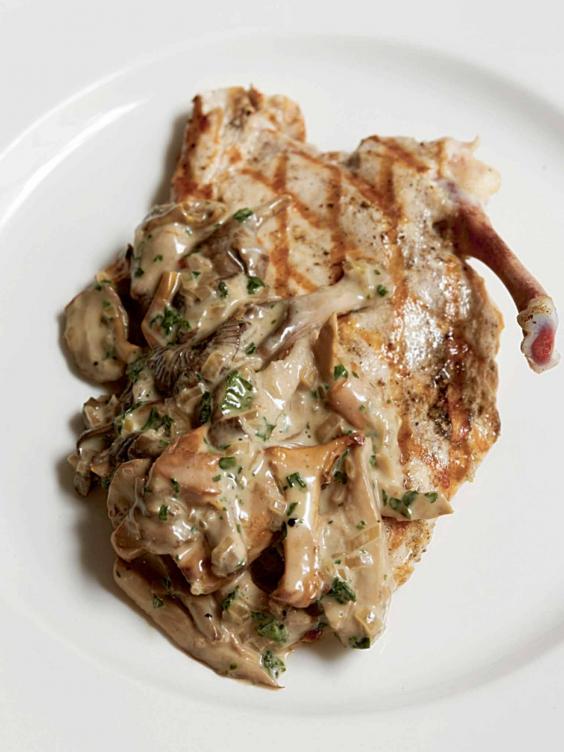 Chicken escalope with creamed wild mushrooms
Serves 4
This is a great, quick, dinner-party dish with two simple ingredients. You can use a single wild-mushroom variety or a selection, depending on what's available. This also works well with the chicken cooked on the barbecue – just spoon over the mushrooms at the table.
Ingredients
4 chicken breasts, skinned
Oil for brushing
A couple of knobs of butter
2-3 shallots, peeled, halved and finely chopped
2 cloves of garlic, peeled and crushed
200-250g wild mushrooms, cleaned and trimmed, or sliced if they are large
Salt and freshly ground black pepper
300ml double cream
2tbsp chopped parsley
Lay a piece of clingfilm on a chopping board, place the chicken breast on top, then lay another piece of clingfilm over that. Flatten the chicken with a steak hammer or rolling pin until it has about halved in thickness.
Heat the butter in a saucepan and cook the shallots, garlic and mushrooms for 3-4 minutes, seasoning and turning them as they are cooking; then add the cream, bring to the boil and simmer for a few minutes until the cream has reduced by half, thickened and just coats the mushrooms; stir in the parsley, cover with a lid and remove from the heat.
Preheat a ribbed griddle pan or barbecue, brush the chicken breasts with oil, lightly season and cook for a couple of minutes on each side.
To serve, transfer the chicken to warmed serving plates and spoon the creamed mushrooms over
Reuse content