The 2008 harvest was a particularly good one for Gusbourne Estate in Kent. Not only did its Brut Reserve 2008 recently win a prestigious award, but it was also the year that it hired grape pickers Rita Everett and Ann Hathaway.
At a youthful 72 and 73 respectively, Rita and Ann have become a key part of the harvesting team. While at many British vineyards you will see transient workers, agency staff and students picking the grapes each autumn, at Gusbourne, older pickers from the local community are often favoured.
When we meet in the office at Gusbourne, it's easy to see how enthusiastic the pair – who have a habit of finishing the other's sentences – are about the work.
"We keep going on longer than the young ones do, don't we?" Rita says. "I'll tell you what, the younger ones, they give up after a couple of days.
"They say, 'Ooh, I can't do that', or 'Ooh, it's too hard'. They just don't want to do it. They want the money, but they don't want the work. This is the trouble with lots of kids now. They spend half the time when they should be cutting a bunch of grapes, on the phone."
"One young fellow was cutting his hair with the cutter once," Ann says. "He cut his fringe."
Rita laughs, adding: "One did his nails once!"
The pair, who have since introduced friends and relatives to the annual event, work in a team of eight each autumn, all of whom are around their age.
Ben Walgate, the company's chief executive, says that the winemakers were keen to build a local, "loyal following", from the start. "That's quite rare," he says. "A lot of people have struggled to establish that, don't have the benefit and are reliant on agencies, where the labour is not necessarily local. But I think we're on to a good thing here."
Drinking a glass of the delicious Brut reserve while looking out over the beautiful Kent  countryside, it's hard to disagree. But it is  also easy to forget that Everett and Hathaway are not doing it for the fun of the fizz: the work can be cold, wet and hard on joints and backs. Hathaway describes herself as one of the country's "poor pensioners" and says her situation is like many of those on state pensions.
"It helps with the winter bills," Hathaway says about why they do it.
"This is the point of doing it, the pension isn't very big these days... You wouldn't be stood in mud here, for the love of it, would you? I mean, let's face it, although it is quite nice couple of weeks, you wouldn't do it if you didn't need the money."
Behind the community approach at Gusbourne lies a very focused business. It is listed on the AIM stock market and counts Lord Ashcroft among its investors. Although the operation is obviously far smaller and less established than the big champagne houses, walking around the wine-making area and talking to staff, it is clear that they are just as ambitious and carefully devoted to detail and production as their French rivals. As Walgate says: "Every element of the business we approach is to be the very, very best."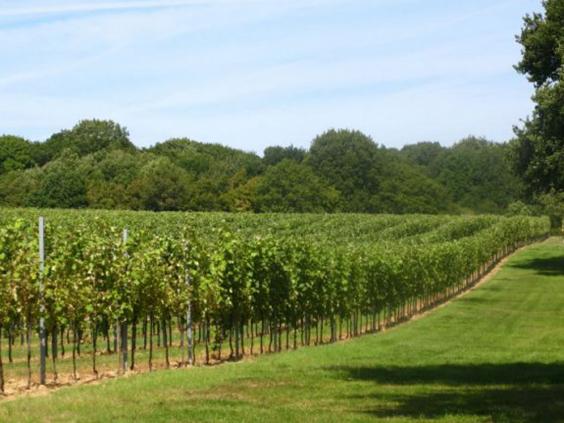 That work was rewarded at the end of last year, when Gusbourne won two trophies at the International Wine and Spirits Competition (IWSC). Unlike some medal-awarding competitions, the IWSC involves blind tasting, style-by-style by teams of experts, who are tested before they take part, plus a detailed chemical analysis of the wine. The first was English Wine Producer of the Year, the second, for the Brut Reserve 2008, was the Best Bottle Fermented Sparkling Wine award. This was a particular achievement as it had to beat stiff competition from around the world, and it impressed judges who deemed it "exquisite", praising its "rich and exotic" flavours and its "impeccable balance".
The sparkling-wine trophy has been won in the past by the British vineyards Nyetimber and Ridgeview, and helped them build their now international reputations, and since winning, Gusbourne has already had more foreign distributors take notice. It is part of a pattern that has seen British sparkling wine consistently beating its better-established rivals.
On a very obvious level, winning an award allows a bottle to carry a medal sticker. This allows the bottles to stand out on the shelves in shops with its little sticker, which studies have shown to be useful when wines from less established areas (like the UK) try to attract less well-informed customers.
Last year, the industry group English Wine Producers showed figures that English sparkling-wine makers had won eight international trophies for white and four for rosés in the past 15 years, the numbers are certain to rise when this year's figures are released.
"The thing we find with the competition wins is that it does attract a lot of interest, which is great," Julia Trustram Eve, marketing director at English Wine Producers, says. "It pitches English wines absolutely on that international stage, and if you are being tasted alongside the best of the best, it's a terrific accolade. A recognition in a competition such as IWSC is definitely something that enhances the profile and the reputation of that category."
It's something that Frazer Thompson, chief executive of the Chapel Down group, also based in Kent, agrees with. The company's wines won three gold medals at the Decanter World Wine awards last year.
"It has the desired jaw-dropping effect," he says. "It's like a baby growing up – you've got to take awards like that seriously. I'd love to see the size of the humble pie that some early commentators are now eating!
"Of course it's always subjective, and, of course, awards can be flawed. But for an embryonic industry such as ours, when we win, everyone wins and vice versa."
Speak to producers today and they are generally feeling confident about the future. Sparkling-wine production now accounts for around two-thirds of all UK wine production. Add to that the fact that this week a report by Rabobank suggested that the UK wine-buying market will continue to grow in 2014 and, according to English Wine Producers, sales are forecast to grow to £100m by 2015. Yet they currently only account for 0.14 per cent of the UK market (around 25 million drinkers), which suggests that there are still a lot of people to convince or, perhaps, who are unconvinced.
Although Britain might not have the same amount of sun as on the Continent, there are areas of great soil and the climate does allow for a continuously high level of acidity (important when producing bubbly) in the wines produced. Apart from reliable sun, one of the things producers do lack when compared with champagne houses, however, is the financial security to age their wines for longer.
It's something that Gusbourne hopes to capitalise on. The company recently won planning permission to expand its wine-making facilities to create a stylish winery, of the sort commonly found Down Under. It hopes that visitors will come, admire the views, eat lunch and, of course, buy British wine. And they say, if it takes off, there will be more jobs for local workers such as Rita and Ann. I'm sure they'll drink to that.
British wine winners
* Gusbourne Estate follows an ever-increasing trend of British sparkling wines  winning awards.
* Nyetimber in West Sussex is the largest UK winemaker and perhaps the best known. It first won the IWSC Best Bottle Fermented Trophy in 1997 and has won many awards since then.
* Ridgeview, in East Sussex, followed suit with its fresh Chardonnay-led signature cuvée, Bloomsbury, winning the same prize in 2002 and 2005.
* Since joining in the 1990s, the winemaker Samantha Linter has taken Bolney Estate in Sussex to great heights, with both the estate's Blanc de Blancs and Cuvee Rosé winning awards in competitions in the UK and in a number of countries worldwide.
* Chapel Down in Kent produce a wide range of wines both fizzy and still, with its fruity and creamy Rosé Brut being particularly successful, picking up plaudits at the International Wine Challenge and Decanter Awards.
Reuse content