A few weeks back, I went to Warsaw for the first time on a little gastronomic tour of the city and was pleasantly surprised by the flourishing of foodie culture there. The dining scene is becoming a competitive business and eating out is ever more popular. I was impressed by the food market in the city and the trouble the retailers go to to present home-grown, preserved and pickled produce.
There is a real sense of pride in what's going on, from artisan produce to what restaurants are offering. What's more, our pound goes an awfully long way, and with flights to Poland easy to come by, it's a fine, foodie short-break destination.
Here, I've put together some delicious select dishes inspired by my trip.
Stary Dom steak tartare
Serves 4
Stary Dom is a large traditional Warsaw brasserie with lots of theatre going on at the tables in an old-fashioned way you rarely see any more. Their preparation of steak tartare at the table is like seeing a skilled Japanese chef at work, slicing and chopping the fillet with razor-sharp accuracy.
500g very fresh lean fillet, sirloin or topside steak, finely chopped
2-3 medium-sized shallots, peeled, halved and very finely chopped
50g capers, drained, rinsed and chopped
50g gherkins, finely chopped
100g white button mushrooms, finely chopped and marinated in 2tbsp cider vinegar for 2-3 hours
2tsp Worcestershire sauce
1tbsp olive oil
Salt and freshly ground black pepper
With a very sharp chopping knife, slice your beef as finely as possible. Mix all of the ingredients together and season to taste. You may wish to add a little more Worcestershire sauce, or the other ingredients – up to you. Spoon the steak tartare on to a plate or, if you prefer, push it into a ring mould. Serve with a leaf salad and chips, or toast.
Goose goulash
Serves 4
This was a fantastic dish we had at a place called Kafe Zielony. It was one of the many courses at a birthday supper for the acclaimed Polish chef Wojciech Modest Amaro – and delicious it was, too.
I suppose in a country that produces a lot of geese, it makes sense to make the excess leg meat into a goulash.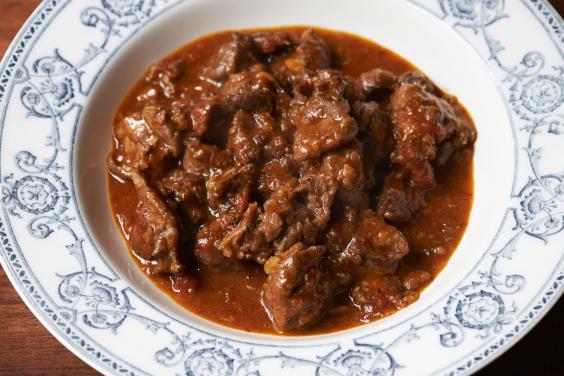 700-800g boned goose or duck leg meat with the skin removed
2tbsp plain flour
60g butter
2 red onions, peeled, halved and finely chopped
4 cloves of garlic, peeled and crushed
2tbsp vegetable or corn oil
½tbsp paprika
½tbsp tomato purée
150ml red wine
1ltr beef or chicken stock
1x200g can of chopped tomatoes
Salt and freshly ground black pepper
Cut the goose meat into rough 3cm chunks, then season and dust with flour. Heat a heavy-based frying pan with a couple of tablespoons of the oil and brown the pieces of goose on a high heat, turning as they are cooking. Remove from the pan and transfer to a plate.
In the same pan add the butter, onions, garlic and paprika and stir on a low heat for 2-3 minutes. Add the flour and tomato purée, stir well, then gradually add the red wine and stock, stirring constantly to avoid lumps forming. Add the meat and any juices and the tomatoes, bring back to the boil, season and simmer gently for about 1½ hours until the goose is tender.
It's difficult to put a time on braised dishes so it may well need a bit longer.
If there is too much sauce, then remove the meat and simmer the sauce longer to thicken it or, visa versa – add some water or stock to thin it down.
Deer steak with beets
Serves 4
This was one of the many courses we were served at that birthday supper, along with the goose goulash.
You can use the loin fillet or the under fillet for this dish and occasionally a really good butcher will dissect a haunch to reveal a tender inner fillet.
Try to buy a selection of coloured beets for this dish if you can.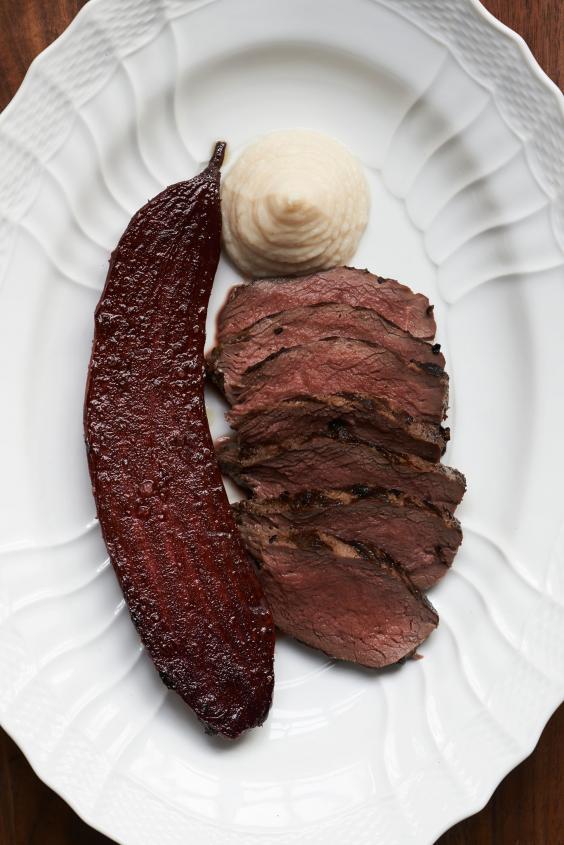 4 deer steaks weighing about 160g each
A little corn or vegetable oil for brushing
600-700g selection of beets – long red, golden, candy, etc
A couple of good knobs of butter
Salt and freshly ground black pepper
3-4tbsp rapeseed or olive oil
1tbsp of freshly-grated horseradish
You will need to cook the red beets separately from the yellow and white or candy beets to avoid them discolouring. Cook the beets in their skins in lightly salted water for about an hour, or until they are tender.
Next, preheat the oven to 200C/gas mark 6. Take some of the white or golden beets, depending on what you have, (about 100g) and remove the skin with your hands; chop up the beetroot a little and blend in a liquidiser with the butter and the freshly grated horseradish, until smooth, adding a little water to help it blend, if necessary. Transfer to a small saucepan and season to taste.
Put the rest of the beets in their skins in a roasting tray, spoon over a little oil and season to taste. Roast for about 30 minutes, turning as they are cooking.
Preheat a ribbed griddle or heavy frying pan. Cut the deer steaks into slices – or keep whole, if you prefer – season them and cook for 3-4 minutes on each side. Depending on the size of the beets you can halve them or cut them into wedges. Spoon a little of the purée on to warmed serving plates with the deer steak on top and arrange the beets around.
Wedding soup
Serves 4-6
I'm not sure if British wedding guests would welcome a bowl of tripe soup, but in Poland it's the tradition. We also had this at Stary Dom and I'm a big fan of tripe, especially in a rich broth like this. Try to use the unbleached tripe, which sadly a lot of butchers don't do these days, but Asian supermarkets often have it fresh or frozen.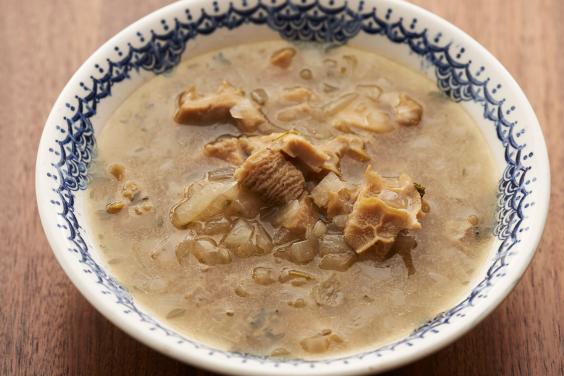 2tbsp rapeseed or olive oil
4 medium onions, peeled, halved and diced
A few sprigs of thyme with the leaves removed
A good knob of butter
1tbsp flour
300-400g unbleached tripe, cut into 3-4cm chunks
150ml white wine or cider
1½ltrs hot chicken stock
Salt and freshly ground black pepper
Heat the oil in a heavy-based saucepan and cook the onions with a lid on for 3-4 minutes, stirring every so often on a low heat and without colouring.
Add the butter and flour and stir well, then gradually add the wine and chicken stock to avoid lumps forming.
Add the tripe, season and simmer gently for about 1½ hours, skimming regularly or until the tripe is tender. Check the seasoning and adjust the consistency if you wish.
Reuse content