Just when I thought everyone was getting used to rhubarb and putting it on their dinner-party menus, there was a red alert up in Yorkshire: rhubarb supplies are running short due to extended winter conditions damaging the crop. A combination of this, and restaurants using more and more rhubarb, has compounded the short supply. Hopefully, though, the situation will improve, as there are so many great recipes you can try out using this delicious ingredient.
Bacon chop with pickled rhubarb
Serves 4
A good butcher, especially one who cures bacon, should be able to provide you with a bacon chop, either from the back or streaky. Preferably ask for it to be cut on the bone, about 1cm-thick. They do have a tendency to be a bit salty, so to be on the safe side, soak the chop in cold water for a few hours before cooking.
4 bacon chops, weighing about 180-200g
200g rhubarb, trimmed
2 shallots, peeled, halved and thinly sliced
150ml cider vinegar
1tbsp caster sugar
Salt and freshly ground black pepper
Dissolve the sugar in the vinegar. Thinly slice the sticks of rhubarb on the angle and mix with the shallots in a non-reactive bowl; season to taste. Cover with clingfilm and leave for 3-4 hours, or overnight.
Heat a ribbed griddle or heavy frying pan and cook the chop for 4-5 minutes on each side. Drain the liquid from the rhubarb and serve separately, or on the plate with the chop.
Rhubarb fritters
Serves 4
Rhubarb isn't generally something you would deep-fry, but this really works nicely, especially with the creamy sweet custard. A twist on a classic.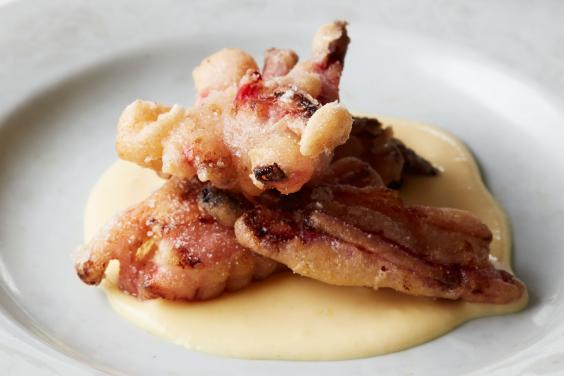 150g rhubarb, trimmed and thinly sliced on the angle
3tbsp self-raising flour
1tbsp caster sugar, plus more for dusting
Enough cold milk to make a light batter
Vegetable or corn oil for deep-frying
For the custard
One-third of a vanilla pod
300ml single cream
5 egg yolks
60g caster sugar
2tsp cornflour
First make the custard: split the vanilla pod in half, lengthways, and scrape out the seeds with a point of a knife.
Put the cream, vanilla pod and seeds into a small saucepan and bring to the boil. Remove from the heat and leave to infuse for about 10 minutes.
In a bowl, mix the egg yolks, sugar and cornflour together. Remove the vanilla pod from the cream and pour on to the egg mixture; mix well with a whisk.
Return to the pan and cook gently over a low heat for a few minutes, stirring constantly with a wooden spoon until the custard thickens – but don't let it boil. Remove from the heat, give it a final whisking and transfer to a clean bowl.
Put the rhubarb, flour and sugar in a bowl, then mix in enough milk to make a batter that just coats the pieces of rhubarb.
Preheat about 8cm of oil to 160-180C in a large, thick-bottomed saucepan or electric, deep fat fryer.
Drop spoonfuls of the mixture into the hot oil and cook for a couple of minutes, stirring with a slotted spoon until golden and crisp, then remove from the oil and drain on some kitchen paper; dust with caster sugar.
To serve, spoon the custard on to plates and stack the rhubarb fritters on top.
Rhubarb jelly
Serves 6-8
This simple and delicious jelly is the perfect match for Stilton or similar British blue cheeses like Harbourne Blue or Yorkshire Blue – the French Roquefort would also work well here. The Spanish version is made with quince and these jellies are a perfect foil for the slightly sharp taste of the cheese.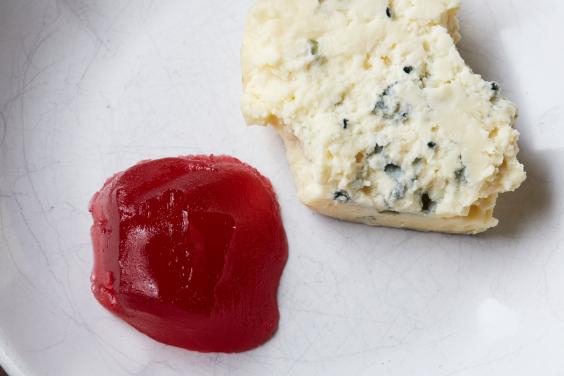 450g rhubarb, washed, trimmed and roughly chopped
450g caster sugar
3 leaves of gelatine (9g)
Put the rhubarb and sugar together in a large, heavy-bottomed saucepan, and gently bring to the boil, stirring continuously.
With a ladle, remove any scum that rises to the surface and discard. Allow to simmer for 1 hour, then pass through a fine-meshed sieve.
Pour into a mould or Kilner jar and leave to set in a cool place.
Serve spooned out on to a plate or turn the jelly out and slice it. Any that you don't eat straight away will keep in the fridge, or can be stored in the Kilner jar.
Ricotta with spiced rhubarb
Serves 4
This is a dead-simple dessert to execute for a dinner party with no complicated cooking techniques.
Try to buy the best-quality ricotta possible, as there are some cheap rogue ones on the market – it would be a shame to ruin this lovely dessert.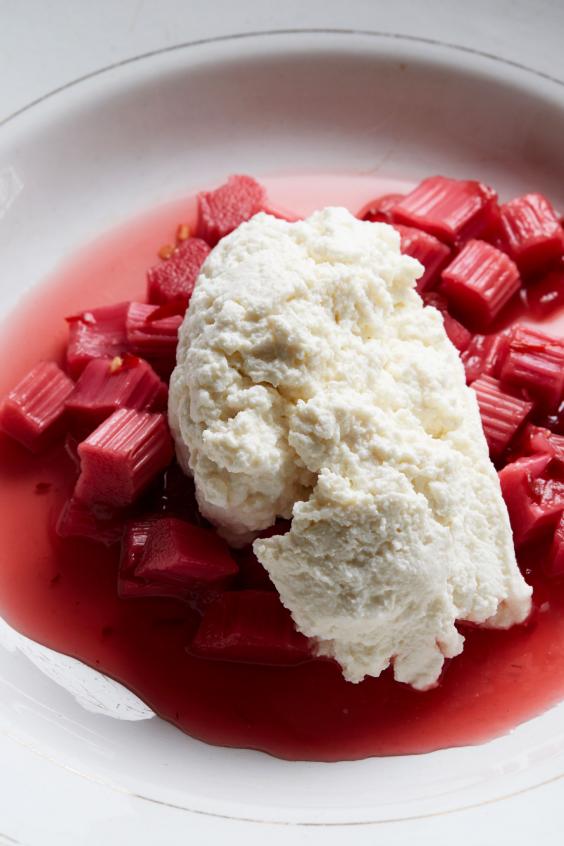 250-300g rhubarb, trimmed
150g granulated sugar
2tbsp ginger liqueur or a couple of good pinches of ground ginger
A good pinch of dried chilli flakes
2tsp grenadine
250-300g good-quality ricotta at room temperature
Cut the rhubarb into 3cm x ½cm-thick batons or into 1cm chunks. Put the sugar, ginger, chilli and grenadine into a saucepan with 200ml water, bring to the boil and simmer for a few minutes until it's reduced by one-third.
Stir in the rhubarb, cover and leave to sit off the heat until the rhubarb is just cooked.
If the heat of the syrup hasn't cooked the rhubarb, pop it back on the heat for 30 seconds or so, then leave to cool. If the syrup isn't thick enough, remove the rhubarb and simmer the syrup until it thickens, then leave to cool and mix back with the rhubarb.
To serve, just spoon the ricotta on to serving plates and spoon the rhubarb and syrup around.
Reuse content