Summer is finally upon us and as we endure England's mixed weather, we can at least pretend that we're somewhere hot like Italy. I cannot guarantee blue skies, but I can present you with a few delicious dishes from the islands of Italy.
Arancini
Arancini (meaning 'little oranges') are Sicily's famous deep-fried stuffed rice balls, usually filled with mozzarella and/or ragu, although the stuffing and the shapes can vary depending on the region. They'll solve your problem of leftover risotto or a dinner party starter crisis in a tick, and best of all, they taste wonderful.
Tip: go to Etoile D'or restaurant in Catania, Sicily for authentic Arancini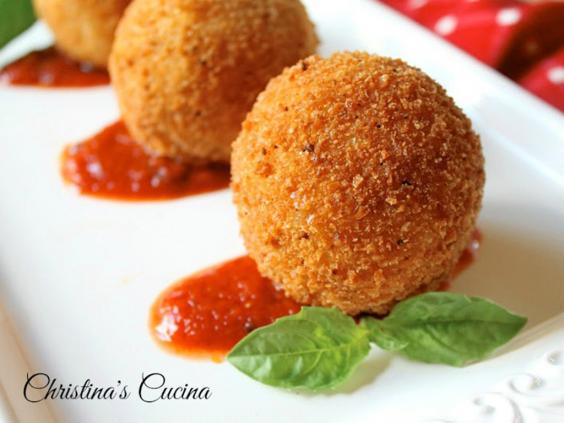 Ingredients
Risotto:
3 tbsp extra virgin olive oil
2 cups (15 oz) Arborio rice (the best rice to use is Carnaroli, but it may be hard to find)
4 oz white wine
approximately 30 oz chicken stock
salt
1 egg
Filling:
mozzarella, cut into 1/2" to 3/4" cubes
marinara or bolognese sauce  (optional)
cooked peas (optional)
Coating:
all-purpose flour
2 eggs, beaten
breadcrumbs
more tomato sauce, to serve (optional)
basil leaves, for garnish
Method:
Make the risotto by adding the rice to the heated oil in a large sauté pan, and stirring quickly for one or two minutes. Quickly add the white wine while stirring. With the heat on medium high, begin adding the chicken stock a little at a time, and continuously stirring, until all the stock has been used and the rice is cooked, yet still al dente. Add salt if necessary and remove from heat and set aside to cool.
Add an egg to the risotto and mix well, then refrigerate for a few hours, or overnight.
To make the aracini:
Place some rice in your hand and flatten it into your cupped hand, but don't make it too thin, or the filling will ooze out. 
Place a piece of mozzarella, and/or a little tomato sauce (and peas, if using) in the centre of the cupped rice.
Next, close the rice around the filling and shape into a ball.
If you'd like to make conical shapes, flatten the bottom of the ball, and make the top more pointed. 
Now, roll the shaped arancini in flour, then, roll them in the beaten egg. Finally, roll in the breadcrumbs. Set aside until all of the rice has been used. Heat some oil in a deep fryer, pot or wok until it is very hot.
Add the arancini, and cook quickly, turning often so they don't brown too much on one side. If serving immediately, fry for a few minutes, so the cheese will melt in the centre.
(If you'd like to serve them at a later time, remove them quickly after just browning; then, just before serving, place them on a baking sheet and re-heat in the oven at 400ºF for 5 to 10 minutes.)
Remove from oil and place on paper towel lined plate or tray. Serve plain, or place on tray with a little tomato sauce and garnish with basil.
You can also serve them with a little extra sauce on the side.
Recipe from: http://www.christinascucina.com/
Parmigiana
Another popular Sicilian dish, this time a layered bake made of traditionally aubergine, parmesan cheese and tomato. Variations such as Parmigiana with veal can be found in other countries, particularly in areas of Italian immigration.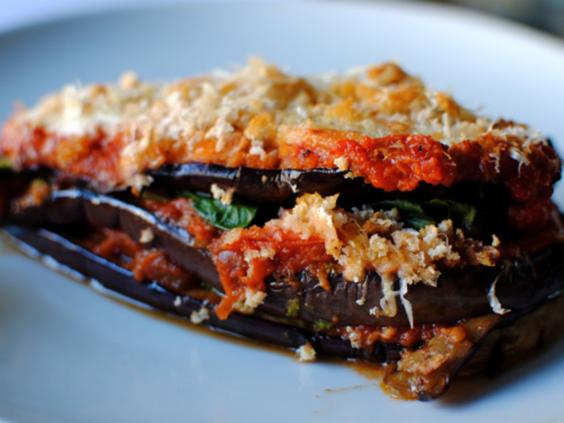 Ingredients: (serves 4)
Extra virgin olive oil
2 large aubergines
1 bag baby spinach, wilted and squeezed dry 
8 tbsp Wild Garlic Pesto (extra just in case)
Tomato Sauce (see below)
8 long wild garlic leaves – optional
1 ball fresh mozzarella, torn (lower fat is fine)
4 heaped tbsp Parmesan cheese, freshly grated 
4 heaped tbsp fresh white/sourdough breadcrumbs, lightly toasted in 180C oven for eight minutes
Method:
You can approach the aubergine one of two ways. The least time consuming is to slick two baking trays with olive oil. Slice the aubergines approximately 1 cm thick and lay on the oiled trays. Brush the aubergines with a little more oil. Bake the aubergine at 200 C/400F for about 20 minutes, or until very soft and looking golden brown. Remove the aubergines from the oven. Option two is very attractive, with slightly caramelised bits, but requires a little more attention – and a griddle pan. Heat the griddle pan to medium-high, slice the aubergine as above and, using a pastry brush or similar, slick one side only of each with a touch of oil. Slap a few oil-side down onto the hot pan, and cook until the underside has griddle marks. Flip and repeat, but without adding extra oil. Do this for the remaining slices.
Lower/heat the oven to 180 C/350F.  In a 20 by 26 cm/8 by 10-inch pan (approximate size) place the largest slices in a single layer (I can get four slices on the bottom, representing each serving). Top each with some sauce, a thin layer of spinach, a garlic leaf and a smear of wild garlic pesto. Continue layering up until all aubergines are used. Top the final layer with sauce, lay on the mozzarella, sprinkle over the Parmesan and the breadcrumbs. Drizzle with extra oil if you like. Bake uncovered until the cheese melts and the crumbs are browned – about 30 minutes. Have a peek at 25 minutes..
Tomato Sauce: 2 tbsp olive oil, 1 onion, diced, 2 cloves garlic, peeled and minced, 3 tbsp fresh thyme leaves or 1 tbsp dried, 1 medium carrot or ½ red pepper, 1 stalk celery – minced, 2  x 454 gm tins best quality chopped tomatoes (Cirio are my favourite), salt to taste, sugar or honey to taste (if tomatoes are a bit bitter). I often add a tablespoon of balsamic vinegar too.
Heat the oil in a medium, heavy-bottomed pan (not aluminium). Add the onion and sauté gently until onion is soft – about 5 minutes; add the garlic, thyme, carrot or pepper, and celery; continue cooking for 15 minutes, until the carrot is quite soft. Add the tomatoes with their juice and bring to the boil, stirring often. Lower the heat and simmer for at least 30 minutes, until as thick as porridge; season with salt, and maybe a pinch of sugar or honey. Cool slightly, then whizz with a hand blender (or not).You can keep this sauce in the fridge for one week or freeze in an appropriate container for 3 months. Use a bought sauce to save time but this sauce is easy and doesn't have the high levels of salt you find in the jarred stuff. Make a double batch and freeze to use as a pasta sauce, to bake over chicken or as a base for spaghetti Bolognese. The whole dish is freezable too, just add the cheese and bread crumbs before baking from frozen, adding an extra 10 minutes or so.
Recipe from kelliesfoodtoglow.com
Sebadas
A classic Sardinian delicacy, Sebadas are deep fried pastries coated in honey and filled with fresh pecorino (traditional Sardinian cheese). Although they sound questionable to our British taste buds, these mouth-wateringly good pastries have a sweet, delicate flavour and are worth stepping out of your comfort zone for.
Tip: Hotel Il Castello in Villaputzu, Sardinia serves my favourite Sebadas.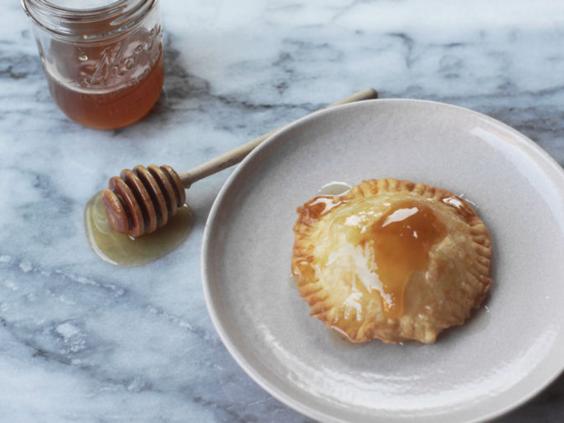 Ingredients: (makes 12)
4 cups (500 grams) of plain flour
1 cup (250 milliliters) cold water, or as needed
4 tablespoons (50 grams) of lard or butter
1 pinch salt
10 ounces (300 grams) of a young Pecorino cheese, cut into cubes
Zest of 2 lemons
Olive oil for frying
¾ cups (250 grams) honey
Method:
Make a dough by combining the flour and salt with some cold water bit by bit until you have a silky, elastic consistency. Add the lard (or butter) and knead until well incorporated. Let the dough rest about 30 minutes, covered.
In the meantime, prepare the cheese by melting it in a small saucepan over gentle heat. If you find that the cheese is separating when it melts, add a tablespoon of flour to bring it back together. When melted, stir in the lemon zest then pour it out onto a baking sheet lined with baking paper and gently spread out with a soft spatula to form an even layer of cheese, about a third of an inch thick. Let cool. Cut out 12 rounds with a cookie cutter about 3 inches wide.
Roll out the dough to about 1/8 inch thickness and cut out 24 rounds with a pastry cutter (you can follow the circumference of a small bowl or tupperware container, anything that is round and is roughly 4-5 inches wide).
Place one round of cheese in the centre of one round of dough, top with another round of dough and press the edges well with fingers or with the tines of a fork. If you go with fingers, you can also straighten the edges with a frilled pastry cutter for a traditional look.
Fill a wide pan with olive oil until it reaches a depth of one inch. When hot, fry the Sebadas until golden on both sides (some prefer not to flip them but to spoon the hot oil over the top). Remove from pan and place on kitchen paper until they are all ready (keep warm).
Gently warm the honey until liquid then pour over the Sebadas. This is best consumed freshly made and piping hot while the cheese is still oozing.
Recipe from 52 food user Cordelia
Malloreddus alla Campidanese
Sausage meat, saffron and fennel give this Sardinian pasta dish its unique taste. Made with Malloreddus, (special shell-shaped pasta) this rustic dish never fails to impress.
Tip: Agriturismo Marongiu in south-east Sardinia has excellent Malloreddus.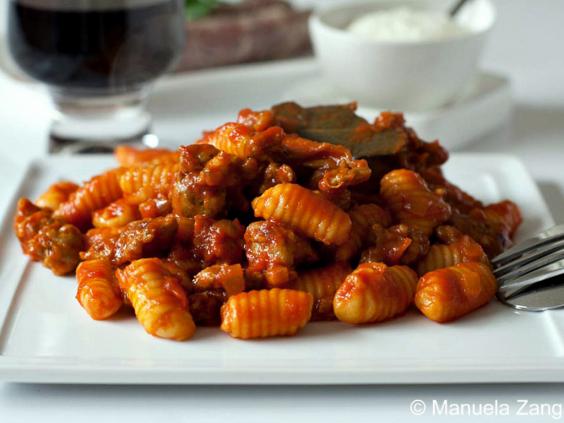 Ingredients (for 6 persons):


200 gms – 7 oz. Italian pork sausage
500 gms – 2 cups tomato purée
50 ml – 1.75 oz. extra virgin olive oil
1 onion, chopped
1 bay leaf
5 basil leaves (optional)
1 pinch saffron
Salt to taste        
Pecorino, thinly grated to serve               
500 gms – 1 lb. malloreddus
Method:
Sauté the chopped onion with the extra virgin olive oil on a low fire until soft and translucent. Remove the skin from the sausage, chop it and add it to the onions.  Brown it well breaking the lumps with a wooden spoon.  Add the tomato purée, the bay leaf and salt and let it cook on a low fire for 20 minutes.
Now add the basil leaves (optional) and the saffron (if you are using saffron threads, melt them in some warm water first), stir well and cook for another 5 minutes.
In the meantime, cook the malloreddus.  This will vary on the thickness of your malloreddus (it should take approximately 5 minutes).  So, the best solution is to taste it!  Remember, it does have to remain firm.
When the pasta is cooked, drain it, put it in the frying pan with the sausage sauce and put the fire on a medium flame.  Stir well making sure the pasta is well coated with the sauce.
Sprinkle some grated Pecorino on the top. 
Recipe from http://www.manusmenu.com/
Bottarga
Bottarga (salted, cured fish roe) is one of Sardinia's finest luxuries. Usually made from grey mullet or tuna, this delicacy can be eaten in many different ways. There is little mullet left in the Mediterranean and mullet from the Gulf of Mexico is becoming much in demand, even for Italians. Below are some of my own suggestions on how to eat this intriguing stuff.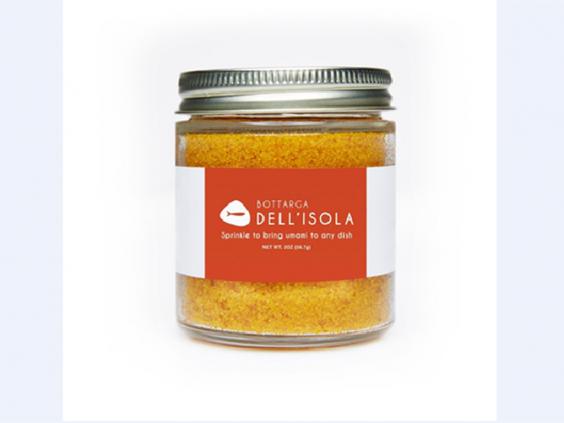 Cream cheese canapé
A simple, quick suggestion for eating Bottarga is eating it sprinkled on crackers with cream/soft cheese. (In Sardinia they would usually do this with classic Sardinian flatbread, but crackers are the easier-to-find option.) Simply prepare your crackers (Carr's will do) with cream cheese and sprinkle half a teaspoon of dried Bottarga on top.
Spaghetti
It is common in Sardinia to eat spaghetti with Bottarga and you will often find that most restaurants serve this dish, sometimes with the addition of clams and it is very simple and quick to make.
Ingredients for Spaghetti with Bottarga: (serves 4) 
400 grams spaghetti
roughly 2 tbsp Bottarga
roughly a tablespoon of oil
a leaf of parsley
Method:
Cook your spaghetti in a pan of salted water for the amount of time written on the packet (should be around 10 minutes). Check it a little before the time to make sure it's al dente (slightly firm when bitten). Drain and transfer to a large serving bowl. Add the oil (you can add more or less depending on how oily you like it) and lastly, sprinkle on the Bottarga. (Again, the amount you put depends on taste). Mix everything together and place a leaf of parsley on the top for a nice finish.
Where to stay:
Catania,Sicily, being a city, has a wide range of places to stay, from hotels and B&B's, to hostels. However, if you're looking to stay in somewhere off the beaten track in Sardinia, I would recommend the recently opened B&B, 'La Casa di Nonna Peppina'. Owned by a welcoming Sardinian couple, Anna and Franco, the house displays traditional Sardinian decor and is less than 10 minutes from a wide range of beautiful beaches.
Reuse content