Fancy dinner in the kitchen? If that evokes thoughts of macaroni cheese on a kitchen table piled high at the other end with unpaid bills and breakfast toast crumbs, think again. We're talking Michelin-starred kitchens here.
The traditional idea of a good dinner out was enjoying food prepared, as if by magic, by an invisible chef closeted behind several layers of swing doors. Now, it seems, we want a slice of the culinary action as well, an "experience" that's more than exquisite dishes. So we're sitting in the kitchens of some of Britain's finest restaurants, learning the secrets behind the gastronomic masterpieces we're about to eat. Instead of flock wallpaper, the new restaurant backdrop is the constantly moving footwork of nimble chefs.
We're also getting to know those chefs, who are emerging like nocturnal animals suddenly facing daylight, with nowhere to hide. Once aloof (and often temperamental) technicians, chefs are now our chums. They, instead of waiters, are bringing us our food.
"Thanks to telly, chefs have celebrity status, so more people are interested in food," says Matt Gillan, Michelin-starred head chef at The Pass, one of a small but growing number of restaurants where diners sit in the kitchen. "Diners realise that there's a place their food comes from and they want to see it. We're all foodies now."
It's been a gradual process, but over the years we've been creeping closer to the professional stoves. We've long been familiar with the open kitchen, where you observe the cheffy goings on from varying distances. Anyone who's eaten downstairs at Ottolenghi's Nopi restaurant will have experienced rubbing elbows with sacks of chickpeas and other ingredients while watching the action in the kitchen a few metres away. There are many others, from Bruno Loubet's Grain Store, to Michael Bremner's 64 Degrees (Brighton and London), even Fera, Simon Rogan's latest venture at Claridge's.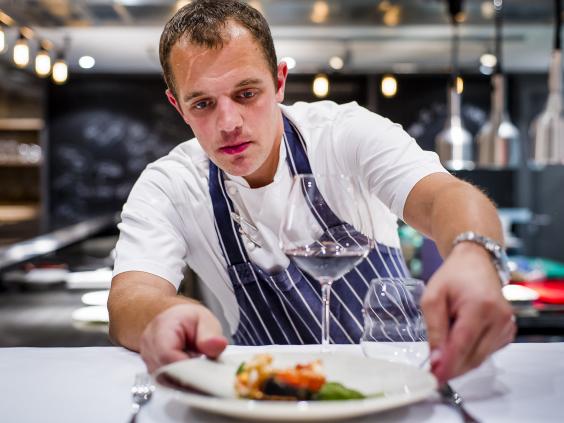 The "chef's table", whereby punters sit at a table near or in the kitchen and eat a menu set by the chef, is also becoming more down-to-earth. Gordon Ramsay, whose restaurant at Claridge's was one of the first to run a chef's table back in 2001, has rebranded it in his restaurants to become Kitchen Table Experiences. At Maze, for instance, for £125 per head you get a balcony seat in the pulsating heart of the busy Michelin-starred kitchen from where, as the blurb puts it, you "absorb the kitchen theatrics" (hopefully not of the Kitchen Nightmares variety) as you eat a seven-course meal.
Chefs from the various sections present their courses, and head chef Alex Thiebaut turns the tables by encouraging diners to roll up their sleeves and have a go, too (aprons provided). If you want to tweak the dishes, feel free. If you're lucky you might be given tips by Gordon, who regularly swings by, and there are prizes for those who show particular talent.
It's theatre, restaurant and cookery school rolled into one, and diners are clearing loving it. According to Stuart Gillies, managing director of the Gordon Ramsay Group, the "kitchening" of the chef's table has prompted a noticeable rise in bookings. "We've seen a real appetite from our diners for an interactive hands-on experience that gets them involved with the entire kitchen brigade."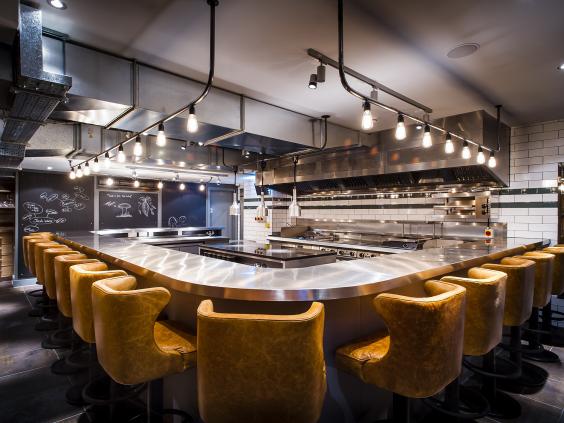 Jason Atherton is also sharing kitchen secrets with a lucky few. Sit at the counter overlooking the kitchen at his Social Eating House and you get your dishes delivered to you by the chefs. Perfect for those who are, in Atherton's words, "bored with the fixed traditions of 'fine dining'."
As its name suggests, The Pass restaurant inside South Lodge Hotel, near Horsham, seats not just a select few, but all of its diners in the kitchen – or to be strictly accurate, the pass. The pass, for anyone unfamiliar with the jargon, is chef-speak for the serving area on to which chefs pass their dishes from kitchen to restaurant under the watchful eye of the head chef. At The Pass, customers sit on a raised platform overlooking the kitchen, and for a closer view they can also watch the chefs on television screens, too.
Unlike in a "normal" restaurant, chefs deliver food to the tables. "Michelin-starred restaurants can be stuffy, so when the chefs took their food to the tables, everyone started to relax," says head chef Matt Gillan. "It's great for customers who want to know more, as there's no one better equipped than the chef to tell you how the dishes were made."
But if you're worried that you and your beloved will have to compete with the clattering of pans and the thundering of Thermomixes, think again. When I visited, the noisier bits of food preparation had clearly been sorted earlier, and a state-of-the-art extraction system ensures that you don't emerge smelling like you've just taken a dip in a deep-fat fryer. Gillan even bans digital timers ("I loathe their pings"). The scene I witnessed was so serene that the chefs could have been surgeons in an operating theatre.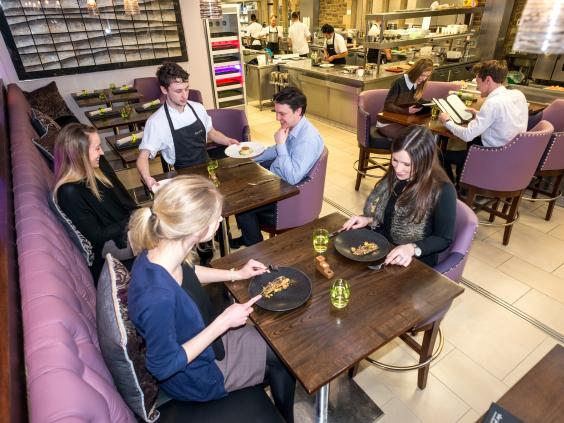 I couldn't help wondering whether we actually want to see such a process, a bit like going backstage in the theatre to discover exactly how the fairy managed to fly. Might seeing Gillan's Michelin-starred dishes deconstructed into components delivered from myriad Tupperware boxes and squeezy bottles detract from their magic? I'm reminded of Walter Bagehot's much-quoted comment about the monarchy: "Its mystery is its life. We must not let in daylight upon magic."
But diners have the choice. To watch or not to watch. "Some diners make it clear they don't want to engage, so we leave them alone," says Gillan. "At other times, we get foodies who want to know all the techniques and request a tour of the kitchen." After appearing on Saturday Kitchen recently, Gillan was in such hot demand by customers wanting to chat that he had to ration his appearances. There's been the odd diner who took the mickey. "We had one who threw bread rolls at my sous chef while he was plating up. Happily, such happenings are rare."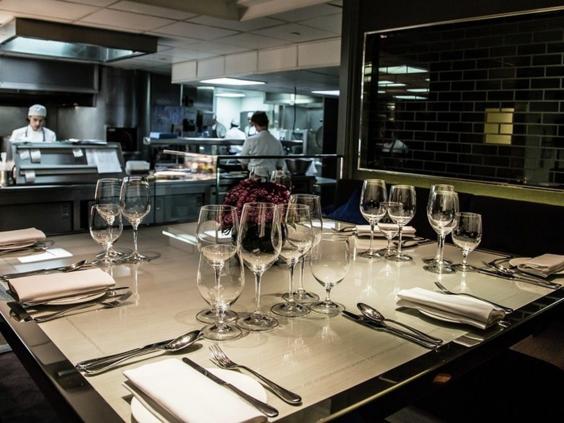 Handling such things takes a certain kind of chef, Gillan admits. "I sometimes see a look of panic when I tell new chefs that they'll have to be on show and interact with customers. I found it daunting at first, but now it's the norm. When I take on chefs I'm not just looking for expertise, but personality and confidence, too."
At Kitchen Table, a 19-seater restaurant at the back of James Knappett's Bubbledogs in London's Fitzrovia, you move still closer to the action. For £88-a-head you can sit inside the kitchen and watch the chef-owner cook you a "kitchen dinner" of 12 to 14 courses. Knappett says that his inspiration was watching sushi masters at work in California, a process he found mesmerising.
The Kitchen Table here is hardly your average kitchen table, though. Punters perch at a horseshoe-shaped stainless steel bar that Knappett equates to a restaurant pass; he dresses it in starched white linen, a tradition borrowed from New York's three-Michelin-starred Per Se, where he did a stint.
Knappett says that his aim is to make diners feel they're being cooked for at home (some home!) with banter to match. Given that both chefs and diners seem to be enjoying this new entente cordiale, the chef predicts more such kitchen tables are on the way. Looking around his pristine kitchen, I can't help a smile as I compare his gastronomic blowout with the offerings produced in my kitchen back home. No piles of unpaid bills or toast crumbs here.
Kitchen Tables
The Pass, South Lodge Hotel, Nr Horsham, West Sussex, southlodgehotel.co.uk
Kitchen Table at Bubbledogs, 70 Charlotte Street, London, kitchentablelondon.co.uk
Kitchen Table Experiences at Gordon Ramsay restaurants, gordonramsay.com/restaurant-experiences-gifts
Maze, Brook Street, Mayfair, London, gordonramsay.com/maze/
Pollen Street Social, 8/10 Pollen Street, Mayfair, socialeatinghouse.com
Reuse content