It was one of those moments that closes a generation gap. Recoiling slightly from a proffered skewer of ox hearts at a reception in a Lima country club – who would want to chow down on this most visceral and recognisable of organs? – I suddenly had a flashback to childhood and the tiny heart served up to me like a precious jewel by my mother in the Friday night chicken soup.
I loved that dense, meaty little chicken heart, so why not ox? I bit into my skewer and became an instant fan, like the thousands of Brits who have embraced Peruvian food at its most essential in these "anticuchos", the national snack. Not to mention the foodies ordering duck hearts from French butchers and the aficionados who buy lambs' hearts from Waitrose and Middle Eastern butchers or order sliced beef hearts from Tesco online.
Hearts, it turns out, are pretty well universally beloved. They are big in Brazil, Japan, Italy, France and Denmark and have made it to the highest echelons of Spanish cuisine, with pigeon heart featuring in a signature dish at El Celler de Can Roca, which reclaimed its crown as number one in The World's 50 Best Restaurants earlier this month.
So what do they actually taste like? Think a milder version of the beast from which they come, with, in most cases, a texture not unlike the flesh. Ox hearts, as the beef variety are more commonly known, could be mistaken for a lean steak when flash-fried, while the same treatment for lamb hearts would make you think you were eating the liver. Chicken and duck hearts are sweet, succulent and firmly textured, like a rich distillation of the essence of the bird.
50 best foods for healthy living
50 best foods for healthy living
1/50 Digestion

Live yoghurt - Many with digestive issues avoid dairy, but live yoghurt may be worth a shot, as it is full of gut-friendly bacteria. Because the lactose in live yoghurt is effectively broken down, it is gentler on the system than milk.

Rex

2/50 Digestion

Chia seeds - Just two tablespoons of chia seeds provide a third of your recommended daily intake of fibre.

notahipster, Flickr

3/50 Digestion

Sauerkraut - Fermented foods like sauerkraut (fermented cabbage) is packed with probiotics, aiding digestion.

Qwerty Binary

4/50 Digestion

Lentils - High in insoluble fibre, lentils are great for digestion, as well as being regarded as beneficial in alleviating irritable bowel syndrome and diverticulosis.

Rex Features

5/50 Digestion

Buckwheat - Despite the name, buckwheat is completely wheat and gluten free and a great, high fibre alternative to anyone with a wheat intolerance.

Getty Images

6/50 Immune system

Oranges - Citrus fruits such as oranges are high in Vitamin C, which helps to prevent colds and infection.

Getty Images

7/50 Immune system

Mushrooms - Shiitake mushrooms have been shown in studies to boost the production of white blood cells, thus improving the body's ability to fight infection.

powerplantop, Flickr

8/50 Immune system

Clams - Contain zinc and selenium, which helps to slow the body's immune response and control inflammation.

9/50 Immune system

Garlic - Packed with antioxidants, garlic was used to fight gangrene in World War I, but more practically can help to keep colds at bay. It is also quite anti-inflammatory and anti-fungal, and used to treat everything from psoriasis to athlete's foot.

10/50 Immune system

Broccoli - One cup of broccoli provides you with almost 100% of your RDA of vitamin C, which is thought to stave off colds and other illnesses. It is also rich in vitamin A, K, folate and potassium. Cruciferous vegetables such as broccoli contain a sulphurous compound that studies show can lower the risk of cancer.

Getty

11/50 Skin, hair and nails

Avocado - The good fats in avocado hydrate the skin, while omega 9 can help reduce redness. Avocado is also rich in vitamin E, which helps guard against sun damage and vitamin C, which helps produce elastin and collagen for skin firmness.

Getty

12/50 Skin, hair and nails

Sunflower seeds - a handful contains more than a third of your daily vitamin E needs.

F Ceragioli via Wikimedia Commons

13/50 Skin, hair and nails

Pumpkin - One of the richest sourcs of Vitamin A, which is essential for the formation of connective tissue, i.e. skin.

Getty Images

14/50 Skin, hair and nails

Olive oil - The monounsaturated fatty acids in olive oil plump the skin for a more youthful look, plus antioxidant polyphenols may curb ageing free-radicals.

SAIF DAHLAH/AFP/Getty Images

15/50 Skin, hair and nails

Green tea - Polyphenols in green tea could help to offset sun damage.

Getty Images

16/50 Weight loss

Cinnamon - This spice is a great additive for breakfasts and bakes if you are trying to cut sugar and sweeteners, and it is also thought to help balance blood sugar.

Getty Images

17/50 Weight loss

Apples - Apples are high in pectin, a soluble fibre that helps to keep you feeling fuller for longer.

Getty Images

18/50 Weight loss

Eggs - One of the best sources of protein, eggs help to keep you energised and prevent unhealthy snacking, while providing a host of vitamins and minerals for general good health.

Getty Images

19/50 Weight loss

Tuna- High in protein, low in saturated fat and rich in omega 3, tuna is a fantastic option for maintained weight loss. The omega 3 in oily fish improves the body's response to insulin, lowering metabolism and helping to prevent the dreaded sugar spikes.

Getty

20/50 Weight loss

Oats - High in fibre for slow-release energy, oats also are thought to lower cholesterol.

Getty Images

21/50 Heart health

Beetroot - This is a good source of iron and folic acid. It is also rich in nitrates, which help to reduce blood pressure.

Raimond Spekking

22/50 Heart health

Garlic - High in manganese, selenium and antioxidants, garlic is thought to help lower blood pressure and reduce cholesterol.

Getty Images

23/50 Heart health

Asparagus - Rich in the amino acid asparagine, which serves as a natural diuretic and helps rid the body of excess salts. This is beneficial for people have high blood pressure or other heart-related diseases.

Getty Images

24/50 Heart health

Salmon - Studies have found that eating oily fish such as salmon can lower blood pressure and reduce cholesterol. Rich in Omega-3 fatty acids,

Getty Images

25/50 Heart health

Pomegranate - Rich in vitamins A, C and E, and high in fibre, pomegranates are thought to help protect against heart disease. A 2004 study showed evidence that daily consumption helped to alleviate narrowed arteries and reduce cholesterol.

Getty Images

26/50 Brain health

Mackerel - Oily fish including mackerel is rich in Omega 3, which studies have suggested is linked to a reduced risk of dementia, schizophrenia and depression, as well as enhanced memory.

Getty Images

27/50 Brain health

Hazelnuts - HIgh in Vitamin E, which studies say can help to prevent cognitive decline in older people.

Getty Images

28/50 Brain health

Blueberries - low in calories and high in antioxidants, blueberries are regarded as a nutritional powerhouse. Some studies have found a link between blueberry consumption and improved spatial learning and memory.

Getty Images

29/50 Brain health

Cacao - Contains phenylethylamine, which acts as a mild mood enhancer, and a 2009 study shows signs that it can help to reduce stress. However, adding sugar and milk to cacao to make your favourite chocolatey treat offsets any health benefits - try to keep it as close to its natural state as possible.

Keith Welle via Wikimedia Commons

30/50 Brain health

Pumpkin seeds - Just a handful of pumpkin seeds a day provide your total RDA of zinc, which is important for enhancing your memory.

31/50 Energy

Sweet potatoes - Starchy veg like sweet potatoes are a great source of low-GI carbohydrates for slow-burn, long-lasting energy. Sweet potatoes are also rich in soluble fibre and vitamins A, C and B6.

Getty Images

32/50 Energy

Beef - Low energy levels are often a sign of iron deficiency or anaemia. Lean cuts of beef are a good source of iron, as well as being a protein powerhouse to aid muscle development and stamina.

Getty Images

33/50 Energy

Brown Rice - Complex carbohydrates like brown rice break down into energy-boosting sugars more slowly than white rice, meaning more energy for longer, and more balanced blood sugar levels - i.e. no nasty sugar crash within hours of eating.

Arria Belli, Flickr

34/50 Energy

Bananas - A great source of energy that keep sugar levels balanced, plus the sweet taste will help to satisfy cravings.

Getty Images

35/50 Energy

Quinoa - This supergrain contains more protein than rice or any other grain, ideal for building muscle, along with being a nutrient-rich source of carbohydrates.

AFP/ Getty Images

36/50 Bone health

Sardines - Sunshine is the best source of bone-building Vitamin D, but if a British summer doesn't allow for that, sardines are a surprising source, as well as being rich in calcium.

Getty Images

37/50 Bone health

Brussel sprouts - Just three-quarters of a cup of this divisive winter vegetable provides your RDA of vitamin K, which is essential in helping the absorption of calcium for healthy bones.

Getty Images

38/50 Bone health

Chickpeas - High in protein and fibre, chickpeas are also packed with iron, phosphate, calcium, magnesium, manganese, zinc and vitamin K, which contribute to building and maintaining strong bones.

Scott Teresi, Flickr

39/50 Bone health

Spinach - If dairy isn't your thing, spinach could be your saviour - a cup of cooked spinach contains a quarter of your calcium needs.

Getty Images

40/50 Bone health

Almonds - Rich in potassium, which prevents the excretion of calcium in urine, as well as being rich in protein and other nutrients for maintaining bone health.

M.Verkerk/J.J.G.Claessens/Creative Commons

41/50 Men's Health

Prawns - Rich in zinc, which is essential for sperm quality and fertility.

Getty Images

42/50 Men's Health

Tomatoes - high in lycopene, an antioxidant which, according to the World Cancer Research Fund, can help reduce the risk of prostate cancer. Strangely, cooked and tinned tomatoes are recommended, as the lycopene is more readily absorbed.

PIERRE ANDRIEU/AFP/Getty Images

43/50 Men's Health

Brazil nuts - High in selenium, which boosts the immune system and strengthens the thyroid gland.

Quadell

44/50 Men's Health

Cauliflower - Rich in vitamin C, potassium and boron, which is said to aid in increasing testosterone levels and muscle-building.

Getty Images

45/50 Men's Health

Turkey - With obesity an escalating problem for men, turkey is a great swap for your morning bacon. HIgh in lean protein, it is full of B vitamins, which can aid in lowering cholesterol.

Getty Images

46/50 Women's Health

Walnuts - These nuts contain antioxidants and phytosterols that may help reduce the risk of breast cancer.

Getty Images

47/50 Women's Health

Green beans - Low in fat, bean are a great source of protein and fibre and can also help to guard against breast cancer and heart disease. Isoflavones in beans, chickpeas and lentils help with the regulation of hormones, easing PMS and menopause symptoms.

Getty Images

48/50 Women's Health

Flax - One of the oldest sources of fibre in the world, flaxseed can ease digestion as well as providing omega 3 fatty acids. It is also thought to be of help with menopause, but some experts say it should be avoided if pregnant.

Sanjay Acharya via Wikimedia Commons

49/50 Women's Health

Cranberries - Rich in anthocyans, red berries such as cranberries help to play a role in cell repair and are thus thought to reduce cancer risk. Also high in vitamin C and folic acid, essential for women of childbearing age, and cranberry juice is a fantastic way to get rid of cystitis.

Getty Images

50/50 Women's Health

Tofu - A great source of phytoestrogens, which can help with the symptoms of menopause and polycystic ovarian syndrome (PCOS).

Getty Images
In London, ox hearts are a menu staple at Ceviche, where founder and Peruvian food champion Martin Morales says that, in spite of their origins as the food of African slaves, they are enjoyed by every echelon of society: "We cut them into cubes and marinate with vinegar, cumin and smoked panca chilli, then grill them. I use a recipe inspired by La Tia Grimanesa, an old lady and anticucho 'master' who used to sell them off a cart in Lima."
And they are also a hot seller off the Tongue'N Cheek truck, which rolls around London serving Heartbreakers, made with half-and-half minced rare breed beef and ox heart served on an artisan bun with cheddar and chimichurri: "So juicy it will spray you with your first bite!" says owner Cristiano Meneghin, who was inspired by the nose-to-tail ethos of his native Italy. But it's not just a London thing – all over Scotland hearts are consumed minced in haggis, and Tom Kitchin showcases many different kinds at his Michelin-starred restaurant in Edinburgh: "I've used roe deer, rabbit, lamb and duck and I'm currently using the heart of a Scottish-reared wagyu cow, which is so rich and delicious."
The fact that hearts are cheap – Tesco charges £3.50 a kilo for beef hearts, Waitrose less than £6 a kilo for lamb hearts – has not prevented them from turning up on high-class menus in London: at Clerkenwell restaurant St John, but also at Nobu and at Wild Honey and Arbutus, where chef-owner Anthony Demetre just can't get enough of the dish he grew up with. "My father is Greek, and we would have lamb hearts stuffed with a traditional dolmades-type filling of onions, rice and tomatoes." He serves not only lamb hearts, but ox, which he is dishes up with grilled asparagus, baby leeks and anchovy vinaigrette, and duck, which he likes to spear with chorizo on a skewer of crisp spaghetti.
Dale Osborne, who recently moved from the fashionable Chiltern Firehouse to Terroirs in Covent Garden, has been chowing down on anticuchos regularly since marrying a Peruvian: "I became a sucker for them – they're the best." Although he didn't serve them at the Firehouse, he did get involved with duck "umbles" at Dinner by Heston, and has been inspired by trips to France to experiment with hearts for the French-inspired menu at Terroirs.
"They were eating them all over the place," says Osborne, who has been serving duck hearts sautéed with mousseron mushrooms and wild dandelions and a fry-up of chicken hearts and chicken livers, another French favourite. "In Paris, I had duck hearts on skewers with pickled shallots, and in Beaune it was quail hearts. I'm sure I've had pigeon hearts in France, too."
Yet although Osborne insists hearts are not "offally", over in London's Shoreditch, hipsters are clearly not persuaded, as Louis Solley of Jago has had to take them off the menu. "They're the chefs' choice, but I think customers have a real problem with eating hearts and brains – they seem to think those are parts that shouldn't be consumed."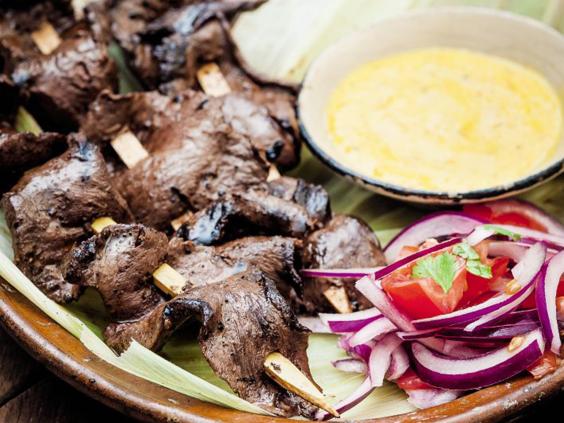 However, Ben Tish of the Salt Yard group says that while he would have struggled to get clients eating hearts a couple of years ago, now they embrace them: "People are surprised at how much like a lean steak they taste, but they can only be cooked very quickly or slow-braised – there's no in-between. We'll grill duck hearts rare and serve on a rosemary skewer with red chile aioli at Opera Tavern and marinate goat's hearts before cooking over charcoal at Ember Yard. "
So how should the bold among us prepare hearts for the pot at home? Carefully, is the answer from Max Clark of Leiths, who feels the slow treatment is safest for novices approaching the organs of the larger beasts. "I grew up with lambs' hearts as a weekly treat, when it was Paxo that went into my mother's stuffing. Now I sweat chopped onions with brioche crumbs and sage to make a farce and fill the cavity after cleaning out the heart strings and the top bit of aorta. You can rinse them, but I prefer the gutsier taste you get by leaving the blood in. After cleaning and stuffing, I brown and braise them in wine and water on a bed of vegetables for at least two hours. The only thing you have to remember is never to let the hearts come to the boil in the braising liquid – if you do, they will toughen up into tight little fists."
While Clark likes to sauté duck hearts simply with a splash of balsamic vinegar, Drogo Montagu of supplier Fine Food Specialist prefers to melt them into a risotto – "they are so creamy" – or briefly pan-fry to serve rare on crostini.
And much, much more: "Anything you can do to an oyster, you can do to a duck heart," he enthuses. "Try coating them in panko breadcrumbs, deep-frying them and serving them with a beurre blanc – delicious."
It may be unlikely that hearts in breadcrumbs will ever join the rest of the deep-fried menu that seems to hold a special place in so many Britons' affections, but who knows? Perhaps KFC should take note.
Reuse content