I'm basking in the sun, lying on gravel, too lazy even to sit up straight on a nearby railway sleeper bench. If I listen carefully, I can hear the gentle hum of bees. Scrunching up my eyes to look at the bowl of blue sky above, I can see white seagulls drift in from the river on eddies of afternoon air. It is deliciously hot in this little round garden.
Contained within its circular fence, low beds brim with nigella, nasturtium, baby poppies and scented geranium. And over the top of them, and the hum of the bees, I can hear the professional clink of glass and metal. That's because, to perfect my sense of drowsy pleasure on this summer's afternoon, Lottie Muir is making me a wild cocktail.
I'm meant to be helping, but to be honest, I'm already a tiny bit drunk. Since 2012, under the moniker of the Midnight Apothecary, Muir has been making fêted cocktails here at her garden base in Rotherhithe, south-east London, and there is something very special about what she does – as I have been learning.
Her drinks have featured in Vogue and the FT's luxury guide How To Spend It, combining metropolitan sophistication in taste with wild ingredients foraged among London's most built-up areas. Walthamstow Marshes, about nine miles north of here, is a favourite: "I was there for the whole day the day before yesterday," she says cheerfully. "Going back and forth, I covered about seven miles."
The Midnight Apothecary's wild cocktails
The Midnight Apothecary's wild cocktails
1/8 Wild cocktails

Emma, left, and Lottie foraging for wild cherries

Laura Hynd

2/8 Wild cocktails

The raspberry and lemon verbena syrup

Laura Hynd

3/8 Wild cocktails

Foraged elderflowers for the Chelsea Fringe Collins

Laura Hynd

4/8 Wild cocktails

A Mighty Meadowsweet cocktail is made by topping the syrup with cognac, Grand Marnier and orange bitters

Laura Hynd

5/8 Wild cocktails

A Honeysuckle cocktail made with Grand Marnier and orange bitters

Laura Hynd

6/8 Wild cocktails

Foraged rose petals and honeysuckle

Laura Hynd

7/8 Wild cocktails

Elderflower liqueur is perfect for a Chelsea Fringe Collins

Laura Hynd

8/8 Wild cocktails

Emma, left, with a Woodland Martini, made with Douglas Fir vodka and a charred-sage syrup, and Lottie Muir with a raspberry and scented geranium sour

Laura Hynd
Proof is in her rows of bottles with homemade labels, containing pale liquids in pastel colours, each a different wild flavour. They run across the top of her hand-built outdoor wooden bar, which overlooks the garden.
This morning, I walked the scant 100 yards here from Rotherhithe Overground station and, with the water of the Thames in sight, climbed the ironwork stairs to the circular gravelled k garden. Here, high above the street, on the roof of a Victorian tunnelling shaft that forms part of London's Brunel Museum, Muir grows many herbs to add to the mix.
Right now, she is making a Chelsea Fringe Collins, a drink she created in 2013 for the opening of the Chelsea Fringe garden festival. The base is Jensen Old Tom Gin – "distilled here in Bermondsey", she says, pointing half a mile downriver. She adds elderflower liqueur (see below), made from Walthamstow elderflowers and rose-petal syrup made from local wild roses, along with lemon juice and a couple of other cocktail staples. To make from scratch, it's quite the endeavour. (For the full recipe, see Muir's book, Wild Cocktails). "I love balancing the acid and the sweet," says Muir. "It's very delicate; each lemon, for example, is different, depending on how much time it's spent in the sun." The result tastes both refined and of wild English countryside at the same time.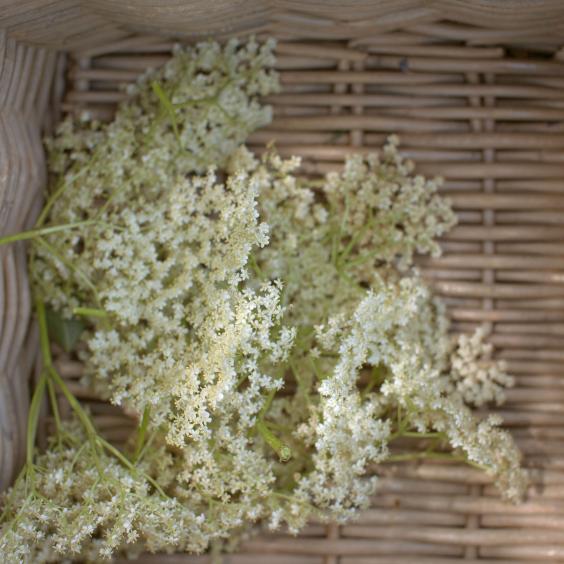 Muir is meticulous about measurement, materials and flavour: she is also particular about a drink's looks. The Collins is served in a tall glass, filled with flowers, and with a single, perfect stem of lavender rising from the ice, placed there with bartender's tweezers. "I grew up in a gardening family, and I loved the plants. When you put something like mint in front of someone, and they really look at it, the plant becomes as exotic as an orchid. I want to show how wonderful they are. Let people see them in the glass, smell them, taste them."
To that end, she has a serious collection of glass and metalware on the cocktail-bar counter. "I like the idea of old-fashioned apothecaries; I like the little old-fashioned glass bottles."
She is also an expert on her urban local area, with the kind of knowledge of alleyways and cut-throughs you'd more usually expect only from a 10-year-old with a bike and sense of adventure. For Muir, these days the finding of the plants is a central part of the pleasure: "To me, foraging is really about slowing down, being in a place, allowing yourself to experience it."
Wandering out from the Brunel Museum, she slips us through a redbrick housing estate to a small park by the river, where wild cherries are red and ripe, hanging from the branches; many wary but hungry pigeons are weighing down the laden fruit twigs. While we pick, a city church bell strikes two, somewhere invisible but close by. "Wild cherry whiskey," she announces, joyfully, snapping the top on a Kilner jar.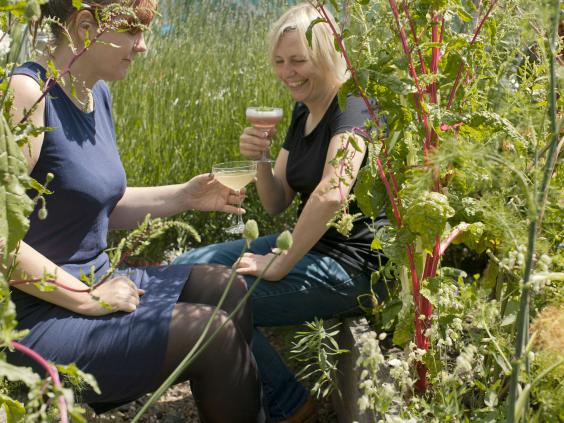 Back at the garden, white alliums twist their heads up to the sun, among the silvery cardoons, starry structures of gin-flavoured angelica, and feathery strands of aniseedy fennel. Muir grows lavender and dianthus, borage and wild strawberries, too (though the day we visit there are none to be had, for a school party have had them all the previous day), all of which go to garnish that Chelsea Fringe Collins glass.
Somewhere I can hear a grasshopper; lavender attracts bees which land then lazily fly away. There's the gentle scrape and chink of someone doing an afternoon's repointing; the occasional car edges down the narrow neighbouring street. It's peaceful, by any standards.
Yet come opening time for the Midnight Apothecary cocktail nights, held every Saturday evening through the summer months, the garden buzzes with life and voices. "It's a real community project: every Saturday we have about 200 people; it's often sold out; our busiest nights of the year are Halloween and Bonfire Night, when we might serve 350 people. When everyone has drinks, we light the fire, get the hurricane lamps on, and toast marshmallows." Braver drinkers can head underground to inspect Brunel's shaft, dug straight down into the Rotherhithe marshland.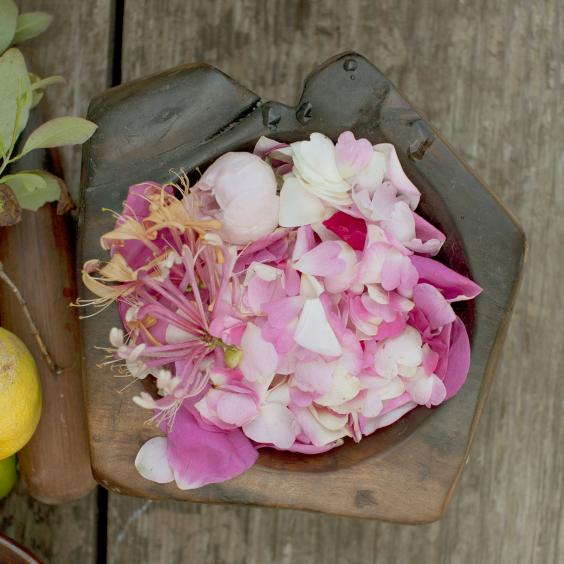 Before I leave, Claire Godwin, the events co-ordinator at the Brunel Museum, takes out her phone to show me images of happy evenings spent around the firepit. "We've had couples all dressed up, on their way out for a night at the opera, and we get people who've lived here for years. But the most fun is people running past in gym gear, who stop and ask, 'What are you doing?' When we explain, they go home, have a shower, change, and come straight back."
The syrups here are edited extracts from 'Wild Cocktails' by Lottie Muir (£16.99, Cico Books). The Brunel Museum is open daily, 10am-5pm, £3 entry. The Midnight Apothecary bar is open Saturdays, 5.30pm-11pm (last orders 10pm), to the end of September, and for a number of events later in the year (brunel-museum.org.uk)
Lemon verbena and raspberry syrup
Lemon verbena is just about my favourite herb. It's nothing to look at – although the tiny, lavender-white flowers on this tall, leggy shrub are quite cute – but the smell and taste of those little leaves pack such an aromatic, sweet punch. It's a natural bedfellow for raspberries, and this syrup forms the sweet component in a raspberry and scented geranium sour, but can also be topped with soda and poured over ice for a non-alcoholic alternative.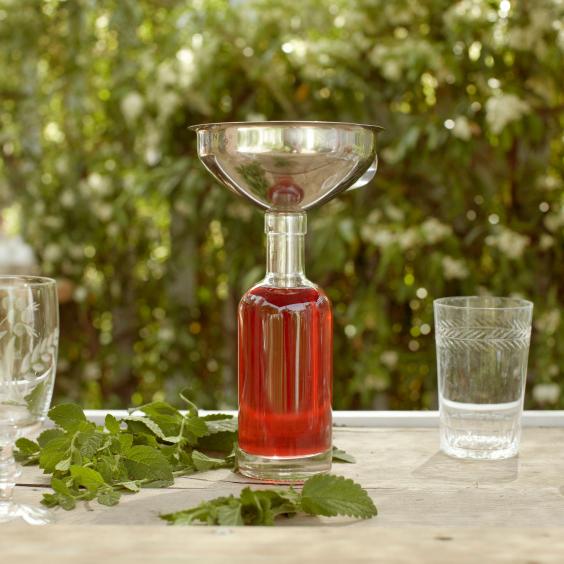 Makes 1 pint
500ml water
400g caster sugar
125g raspberries
4 lemon verbena leaves
Stir the water and sugar together in a pan over a low heat to make a simple syrup. Once it has reached boiling point, add the raspberries and lemon verbena leaves, stir, and allow to simmer until the raspberries have collapsed (this takes about 10 minutes). Strain while still piping hot, but not boiling, into a wide-mouthed pitcher— you really don't want raspberry pips in this syrup - then funnel into a bottle. Seal and store in the refrigerator for up to 2 weeks.
Elderflower liqueur
Elderflowers signal the start of summer and produce a very floral, elegant liqueur, perfect for a Chelsea Fringe Collins (pictured below), or added to soda and ice for a cool treat.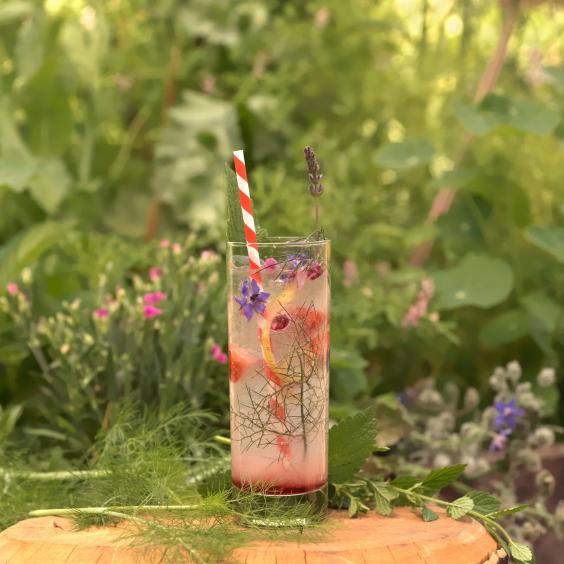 Makes 1 litre
20 large elderflower heads
100g caster sugar
1 litre bottle of vodka,
1 unwaxed lemon, thinly sliced
Shake the elderflower heads free of unwanted wildlife. Remove all the leaves and as many stalks as you can, as these are slightly toxic. Place the flowers in a jar and compress slightly with your hand. Add the sugar, followed by the vodka – adding the sugar at this stage helps to draw out the flavour of the elderflowers.
Place the lemon slices on top of the flowers to weigh them down – you don't want the flowers to oxidize by rising above the surface of the alcohol. If the lemon slices don't do the trick, add a small lid that fits snugly in the jar. Seal the jar and store in a cool, dark place for a month. Upend it gently a couple of times during the month, to make sure the sugar dissolves.
After 1 month, strain the liquid twice, first through a fine-mesh strainer to remove the flower debris, then through a coffee filter or several layers of cheesecloth to catch the minute particles, so that the liqueur is not cloudy. Store somewhere cool and dark. Once opened, keep in the fridge and consume within 6 months.
Meadowsweet syrup
Clouds of creamy, fluffy meadowsweet blossom appear on Walthamstow Marshes in east London during early and mid-summer. They are a beautiful sight, and the heady, almond, vanilla and honey scent is easily transferred to an exquisite syrup, which I actually prefer to elderflower cordial, and can be simply topped with soda. One of our most popular cocktails in the summer, topping the syrup with cognac, Grand Marnier and orange bitters, is the Mighty Meadowsweet.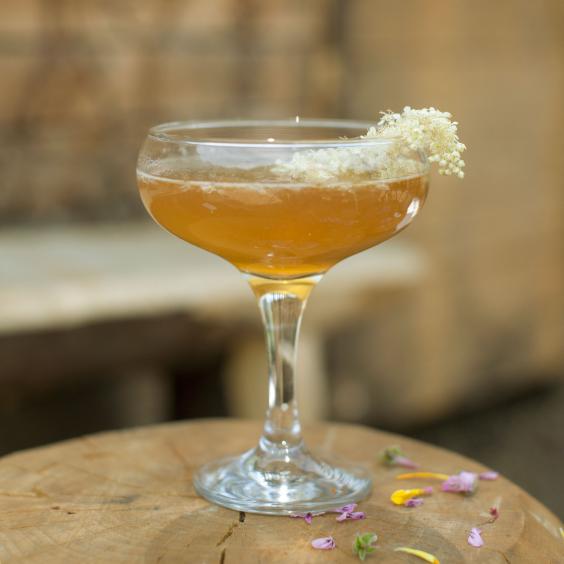 Makes 1 litre
15 heads of meadowsweet blossom, fully opened
1 litre water
1kg caster sugar
Zest and juice 1 unwaxed lemon
Strip the meadowsweet blossom from the stems and stalks, and put to one side to give the wildlife plenty of time to evacuate. Make a simple syrup by heating the sugar and water in a pan over a low heat, stirring to dissolve the sugar. Once it reaches boiling point, remove from the heat. Add the lemon zest and flowers.
Submerge the flowers in the syrup, cover, and leave overnight to infuse. Add the lemon juice, stir, then strain to remove the flowers and zest. Reheat the syrup gently in a pan and funnel into a bottle while still piping hot. Seal the bottle. Store somewhere cool and dark. Once open, keep in the fridge for 2 to 3 months.
Honeysuckle syrup
Sweet and delicious honeysuckle can be found scrambling over gardens, walls and wasteland. It has the strongest scent at night, so try to harvest unopened and newly opened flowers during the evening or early morning. Use the syrup with a soda or combine with Grand Marnier and orange bitters for a Honeysuckle cocktail.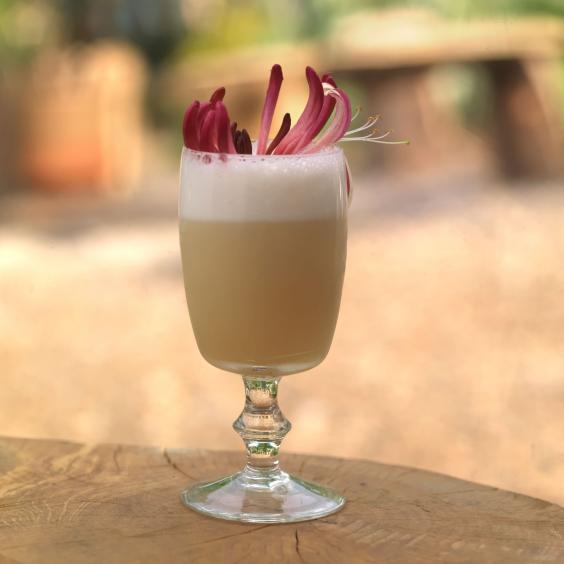 Makes 1 pint
8 large handfuls honeysuckle flowers, leaves and stems removed
400g caster sugar
Juice ½ lemon
Place the flowers in a bowl and cover with cold water, then leave to steep for 12 hours, or at least overnight, at room temperature. Strain into a measuring cup, discarding the flowers. Pour the liquid into a pan. Measure an equal amount of sugar to the liquid and add to the pan.
Bring to a boil, and simmer for 5 minutes. Feel free to replace half the sugar with a handful of chopped sweet cicely leaves, but bear in mind that this will adjust the colour. Remove from the heat, allow to cool, add the lemon juice, and funnel into a bottle.
Reuse content