It's not so long ago that you would only be able to buy "proper" bread if you were lucky enough to have a high-end deli or a wholefoods shop on your local high street. Now, such is our hunger for the real thing that supermarkets are catching on, and multiple artisan bakers are as sure a sign of gentrification on city streets as rows of estate agents once were.
Meanwhile, more of us are making our daily bread for ourselves. Liberating and empowering, sculpting beautiful loaves of artisanal bread is becoming a way of life for many people. As the world renowned bread guru Éric Kayser says: "People today are seeking authenticity in all kinds of things. And what could be better than bread, when it is made honestly, with no trickery or artifice, to convey this feeling of authenticity?"
I'm in my element working alongside Kayser at a rare London workshop. As I knead dough for a sourdough baguette, enjoying the sensuality and satisfaction of feeling it become smooth and elastic, I appreciate quite why interest in real bread is rising faster than ever. We're learning to love our sourdough 'starters', the fermented goo made from flour and water that gives sourdough its rise, demanding and high-maintenance though they are. (A devoted baking friend takes his starter to the cinema with him to 'feed'.)
Eric Kayser's tips for the perfect loaf
Eric Kayser's tips for the perfect loaf
1/6 How to bake bread

Kayser uses softeners to purify water for his bread, and admits that in an ideal world we'd use mineral water

Massimo Pessina

2/6 How to bake bread

Kayser insists kneading the bread by hand is one element every home baker needs to get right, "as the hands receive essential information on the progress of the dough's development"

Massimo Pessina

3/6 How to bake bread

"Use pesticide-free wheat, flour freshly stone-milled ("steel removes all the trace elements"), water that is pure, and unrefined salt – the kind that comes in flakes or crystals"

Massimo Pessina

4/6 How to bake bread

"You need 10 hours to ferment, although I've noticed it is a little quicker if you have good water, without many chemicals."

Massimo Pessina

5/6 How to bake bread

Use Culture Raisonnée Controlée flours – they are more strongly pigmented and "provide exceptional nutritional value as well as pleasing colours and flavours of both crumb and crust"

Massimo Pessina

6/6 How to bake bread

Try ancient wheat varieties to avoid the bland, mass-produced feel

Massimo Pessina
Creating something so fundamental using just four ingredients (flour, salt, starter and water) is immensely rewarding. Kayser is author of the just published The Larousse Book of Bread, whose timeliness acknowledges the hunger to understand real bread better. The book contains incredibly useful step-by-step photography of everything from the first stages of fermentation to shaping and making a Kamut loaf and classic brioche.
There seems to be a growing need to understand what makes artisan bread unique and to appreciate how sourdough works. Sourdough, the real buzz now, is defined by being made with wild yeast and bacteria and long fermented, giving it a distinctive, almost nutty taste and extra long-lasting qualities. Of course, it's primarily about taste and flavour. But long-fermented breads are also better digested than conventionally made ones. Numerous studies have shown how wild yeast can reduce symptoms of IBS and lower blood sugar levels.
In London, artisan bakeries are advancing so fast they may soon eclipse coffee shops. As Chris Young of the Real Bread Campaign confirms: "While sales of white sliced breads continue to decline [according to The Grocer, the combined sales of the UK's three biggest brands have dropped by £120m in a year], Real Bread is on the rise. Since 2008, more than 650 Real Bread bakeries have added their loaves to the Real Bread campaign map."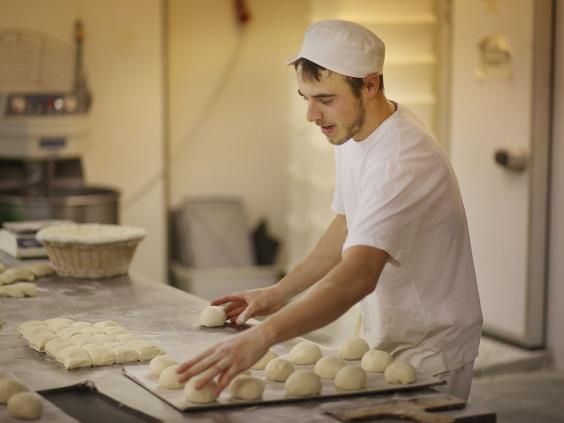 However, as big businesses have caught on to the trend – with most supermarkets now purporting to offer artisanal, freshly-baked loaves –questions have arisen about what should qualify as true artisan bread. There is no legal protection of the term "artisan". And as Joanna Blythman makes clear in her new book, Swallow This (Fourth Estate), "freshly baked" in-store products don't legally need to display their ingredients (including additives), only their nutritional content. Indeed, a baker friend reports she saw sachets of "sourdough flavour" at a large yeast manufacturer.
The Real Bread Campaign, run by Sustain, the campaign for better food and farming, confirms: "While independent bakers may employ people locally [and] train them up using the best quality ingredients, others may simply offer cheaply produced, rustic-looking, additive-laden loaves, re-baked at point of sale regardless of taste." Chris Young of Real Bread puts it succinctly: many merely offer a "tanning salon" service, which amounts to a Great British fake-off.
What's needed is an Honest Crust Act, something the Real Bread Campaign is proposing. Its minimum definition is merely of bread free from additives (though "artisan" should surely be defined by skill, time and quality of ingredients). But usefully, on its directory of more than 2,000 independent bakeries encompassing the whole UK, there's a key to which ones fulfil more exacting criteria, such as slower fermentation and using a proper sourdough starter. Quality and type of flour is also taken into account: whether it's locally grown, wholemeal or stoneground, certified organic, or prepared by traditional mill.
Chris Young says the rise in home baking has been staggering. "Most interesting for us are the people who, sick of only being able to find industrial loaves, are taking matters into their own hands and saying, 'I'll be the local baker'. From lone risers setting up micro bakeries in converted garages to community-supported bakeries, they are meeting the need for flavourful, additive-free bread."
Lucie Steel of Birch Cottage, Berkshire (breadangels.com), exemplifies the new breed of micro-bakeries, running her growing business from a sea container in her garden. She gave up her job as a practice manager at a vet's surgery to spend more time with her son when he started primary school.
Lucie took courses run by Jane Mason of Virtuous Bread, who teaches how to set up home bakeries. At first, she was merely giving bread away in the playground, alongside doing cleaning and book-keeping jobs, but gradually bread took over. Now she bakes commercially two days a week and is at capacity, unable to accept further orders. She supplies a cafe, a community shop and several markets each month, and also teaches sell-out courses. "I am now addicted ,and feel more a part of my community," she says. "Bread crosses every divide."
Proliferating, too, are community bakeries such as not-for-profit BreadShare (breadshare.co.uk) in Portobello, Edinburgh. Locals can get involved through "loaf loans" – investing in return for a free supply – or by becoming "bread baskets": buying several loaves for selling at work, or to family and friends, and getting a free loaf for every 10 sold.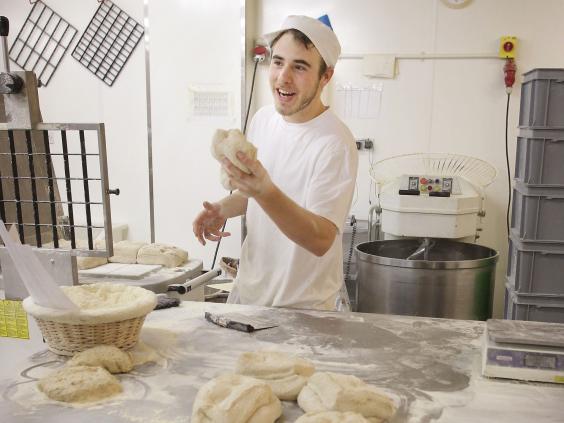 Part of BreadShare's ethos is a relatively new movement of seeking out locally grown and milled historical British wheat varieties. These are embraced, too, by well-known independent bakers such as Ben Mackinnon of London's E5 Bakehouse (who runs incredibly popular courses) and Vanessa Kimbell, owner of The Sourdough School in Northamptonshire. Already, a favourite is Gilchester Organic, from two miles North of Hadrian's Wall, which grows many heritage wheat grains with distinctive flavours: rye, spelt and older cereals such as Einkorn, too. Their stoneground flours are milled on site, a process that is gentler and slower on the grain and keeps a higher concentration of the minerals and vitamins intact.
More experienced domestic bakers are keenly experimenting with historic flours, too. Patrick Thornbury of Bakery Bits online bakery equipment and ingredients company, which has seen turnover grow by more than 50 per cent each year, is exclusive stockist of Lammas Fayre flour by John Letts, farmed in Buckinghamshire and Wiltshire, with blends including Bronze Age Emmer wheat flour and Medieval Blend Maslin (wheat and rye).
Tellingly, however, the bestseller at Bakery Bits is Vanessa Kimbell's sourdough starter (originating from the 200-year-old French bakery where she first learnt to bake) complete with no-fuss details on how to refresh. Vanessa explains: "The single most important thing you need to make sourdough bread is healthy, reliable sourdough starter. An established culture means that you can get going because it already contains active yeasts that have been populating the dough over a long period of time, so you can expect a starter that is stable, active and resilient, and you can confidently bake with wild yeast that gives your sourdough bread a great rise and pleasant sour flavour."
If you're not lucky enough to live somewhere benefiting from the bread boom, clearly it is time to make it yourself. You never know, you could become an artisan baker in your own right.
The Larousse Book of Bread by Éric Kayser (Phaidon £24.95) is out now
The Real Bread Campaign, sustainweb.org/realbread
Reuse content