When I arranged to lunch with Otto Tepasse, the old-school restaurateur and founder of Otto's on London's Gray's Inn Road, I knew better than to make plans for the afternoon. This is the man who brought duck-pressing – a 19th-century art started in Rouen and championed by the Duke of Chartres – back to the table. Involving lots of brandy and a special silver contraption, it is one of those gastronomic rituals that could originate only in France (like breathing the condensed fumes of a cooked songbird from under a napkin – a delicacy that's now illegal – as François Mitterand did on his deathbed).
Tepasse had promised to do me the full squashed canard, so I knew this was to be no in-and-out. What I didn't foresee was that I would be crawling out at 6pm, begging not to be fed another morsel. Nor that Tepasse would bring me "one last glass of champagne" on the street, to see me right as I waited for my taxi. This was, after all, only Monday.
That is the kind of host Tepasse is. His lifelong mission has been to bring back the glamour and theatre of 1970s Parisian haute cuisine, which he witnessed as a trainee chef at La Tour D'Argent. Back then, with its three Michelin stars, elaborate rich menus and eye-watering wine lists, it was the grandest joint in Paris. It was a time of fawning maître d's and tent-sized silver cloches flourished to reveal a tiny medallion of meat in a brandy-soaked sauce. France had pressed duck, we had baked beans.
All that has changed, of course, but for Tepasse, the glory days live on – and he's determined to put the scoff back into Escoffier. "I hope you haven't had breakfast," he smiles ominously as I arrive, showing me to a round corner table. The banquettes are deep and red and velvet, the tablecloths starched bright white. There are trolleys and silverware and professional older waiters, who scurry with a look of intent. In short, it looks just like the restaurant in which John Cleese lures Mr Creosote to explode after a "waffer-thin mint" in The Meaning Of Life. 
Centre stage is the duck press, recently joined by a lobster press. The whole place is a triumph of nostalgia over progress – but to Tepasse, it makes perfect sense. Born in Bavaria in 1956, he trained as a chef in Paris before coming to London, aged 20, to learn English. He worked in some of the best London restaurants of the late 1970s and early 1980s, such as Mirabelle in Mayfair and Inigo Jones in Covent Garden. Notably, at all the restaurants where he worked, table-side service was practised, and he resolved that whenever he opened his own restaurant, as he knew one day he would, he'd bring it back. In the intervening years, he got married and had children, but now he has done it.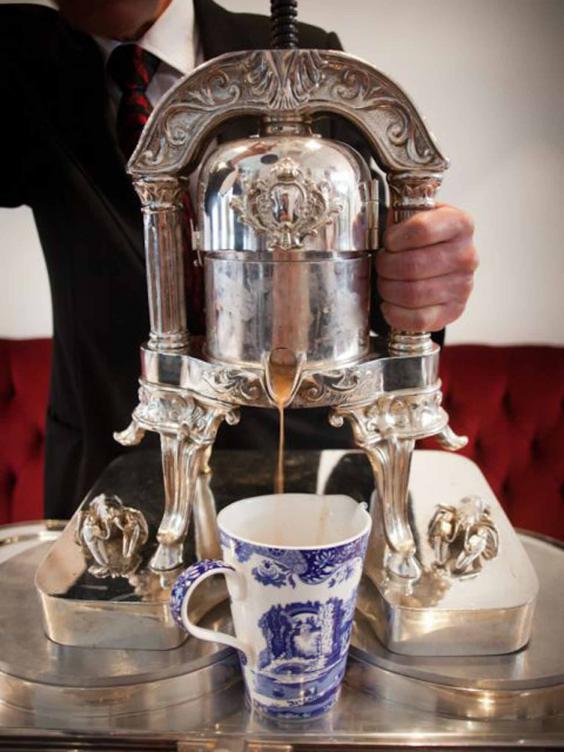 Otto's opened in November 2011, and is thriving. He is so busy that Monday lunchtime is the only moment he can spare for an interview. The rest of the time he is the sort of host who rushes around, engaging with every customer. He offers only one sitting at lunch and one at dinner, to encourage long, lazy sessions. "I don't want people to feel they are a number and being pushed out," he explains.
To look at, Tepasse is not as you might expect. He is slim, and the accent is German, not French. He is not, to begin with, particularly gregarious – but then, what West End performer ever is on a Monday morning? So what, I ask, prompted him to open possibly the most old-fashioned French restaurant in London. Quite brave, no? "I don't think so, actually," he retorts. "You know, everything goes back. Life is a cycle. I've had so many people here say, 'This is the way forward.' All the old things are starting to come back. As long as people don't feel they are stifled by a certain formula, then it's relaxing. I can't see what's wrong with steak au poivre."
Before I can ask about duck, he announces that first we shall have lobster. "Not many people have both!" No wonder: the lobster costs £140 for two people, the duck £120; both have to be pre-ordered. Tepasse was inspired by Jacques Divellec, founder of Le Divellec in Paris, who developed his own silver lobster press in the 1980s. He is now dead – perhaps from a surfeit of rich food – but Tepasse was thrilled to find a 1910 lobster press at auction last year, and has introduced "Homard à la presse" to the menu, his homage to the homard.
A giant blue lobster emerges on a plate from nowhere (from Scotland, in fact). Its little eyes twitch and it seems to nod in acknowledgment. It returns a few minutes later, boiled and blush-pink. Tepasse places it on a board and quickly wrenches its body into two pieces. Juices splash everywhere, and he scoops the black innards out into a silver bucket, along with the claws. "We use this to make the roux," he says, by now totally consumed by his work. 
More butchery ensues, and I can't help wondering how often Tepasse dry-cleans his suits. The process is certainly not for the squeamish: the bucket is placed in the press, and while Tepasse holds the base, a young assistant spins the two-handled wheel, driving the press deep into the bucket. A dark trickle of juice eventually emerges from a silver spout.
Suddenly Tepasse rushes to a hob and, whoosh, a gas fire rages. He tips the extract of lobster into a pan and adds brandy, Noilly Prat vermouth, and champagne, grabbing each bottle with a rough, Keith Floyd-style flourish. As that simmers he serves me the lobster claw, smearing a tin of caviar all over it. Scrambled eggs come in a shallow mother-of-pearl oyster dish. A bottle of flinty Meursault has been opened, and suddenly everything seems right with the world.
"The important thing in this business is to connect with people," says Tepasse when I next pin him down. "My father was an extremely good chef and ran hotels, and really he gave me an idea of what was possible in life. He smoked his own sausages and eels – we had our own smokery in the house. Then I worked at some extremely good restaurants where everything was done table-side, which I wanted to carry on."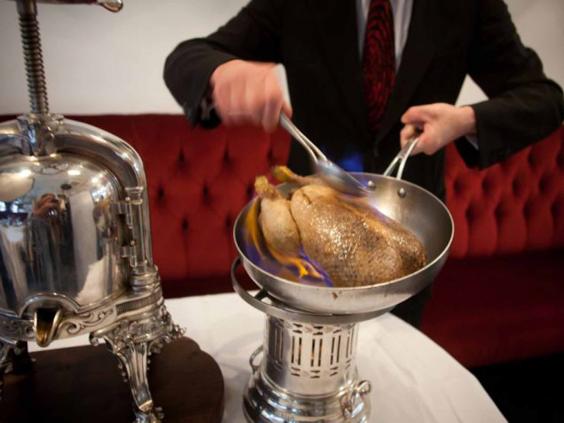 With that, he goes off and fetches the duck, a beautiful plucked bird on a plate, its white feathered head resting on its breast. He sources them from the same farmer in Challans who supplies the Tour d'Argent, where pressed duck is such a speciality that they number each one and give the diner a certificate (they have now done more than a million). It disappears to be roasted, and comes back sizzling and brown, its juices running freely. The two giant breasts are removed and carved into thin pink slices, while the carcass is crammed into the silver screw press. I am invited to press it, a brutal and literally bone-crunching process. But it's worth it to see those juices. Tepasse thickens them into a sauce, adding the liver and liberal splashes of Cognac and wine. He saves some of the liver to be chopped and served on toasted brioche. It's dark, sweet and gamey, the perfect partner to a sweet Château Filhot Sauternes that Tepasse produces. The pink slices of breast are fresh and springy, as red meat should be. It is sublime, served with fresh spring vegetables and a bottle of 2011 Chambolle-Musigny.
Our lunch is obscene. Greedy, heady, ludicrous. Normally, the legs of the duck would be removed and grilled, and served as yet another course. But even Tepasse can see we have had enough. So he make us crêpes suzette instead, and pours us each a large brandy. 
Does he worry, I wonder, about serving such rich food to a modern audience? "You know," he says, as if to summarise his philosophy, "my mother switched from using butter to margarine, because it was thought a healthy thing to do. But it's not really. Butter is much better for you than margarine. Definitely!" Perhaps that last glass of champagne is to blame, but suddenly I find it hard to disagree.
Otto's is at 182 Gray's Inn Road, London WC1 (020 7713 0107, ottos-restaurant.com)