What would madam like to order? How about a throat tickler, a wriggling delicacy that occupies "the grey area between a sea anemone and a sex toy"? Too extreme? Why not try a test tube oyster washed down with a bone marrow cocktail? And don't forget to sample our steak knitted into a shape of your choice.
Welcome to Bistro in Vitro, the world's first lab-grown meat restaurant and the future of fine dining. Its dishes may sound like the stuff of macabre fantasy, but according to the Dutch scientist and philosopher Koert van Mensvoort, we can expect to be eating meals like this in the not too distant future.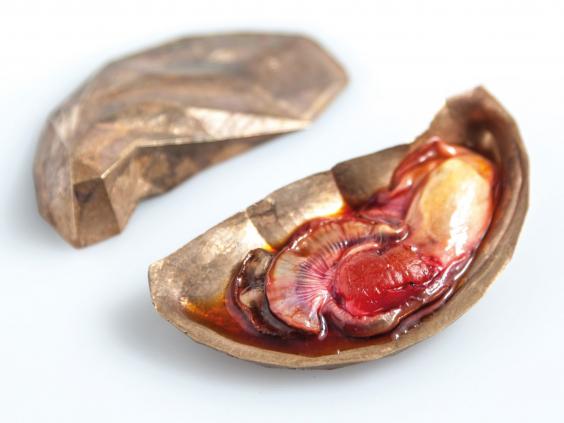 In 2028, says Mr van Mensvoort, restaurant food will be ethical, sustainable and cruelty-free. Much of it will be grown in laboratories, enabling chefs to devise playful fare such as brightly coloured magic meatballs or a meat-berry tart.
At present, Bistro in Vitro exists only online. But its concepts are based on real science; the object of the exercise is to encourage chefs and scientists to be creative in planning the future of gastronomy.
Wild foods: where to find and how to cook them
Wild foods: where to find and how to cook them
1/10 Wild garlic

Look out for a lush green carpet of foliage in woodland and a garlicky smell. This can be harvested all year round, but the best time is from July to December when the bulbs are dormant. You can use this in the same way as normal garlic – in stews, stir-fries, or rubbed into roasted meat.

Ninian Reid

2/10 Wood sorrel

Wood sorrel, which is often mistaken for clover, grows in shady woodlands. Its leaves and stems have a lemony flavour, making them ideal for salads or as a garnish in sandwiches. Or, if you are feeling adventurous, blend the leaves with honey for a refreshing iced tea.

Richard Adams

3/10 Dandelion

This scourge of gardeners is a gift to foragers. Dig out the roots, clean them, then grind and roast to make dandelion coffee. This is a caffeine free alternative that bears a resemblance to normal coffee in appearance and taste.

Neil Bradshaw

4/10 Rosehips

The fruit of the rose plant has been used by children for generations to make an itching powder, which is extracted from the fine hairs inside the hip. Don't let that put you off though – you can blend dried berries with hibiscus to make a delicious herbal tea.

Rebecca Siegel

5/10 Chestnuts

The smell of roasted chestnuts is synonymous with Christmas, but there is no need to go to the supermarket to get yours this year. The nuts are inside the prickly outer layer, and usually drop to the ground underneath the tree. Collect them now, and have them in storage ready for the festive season.

6/10 Gorse

This evergreen shrub grows in all kinds of habitats, from windswept moors and coastal paths to urban commons and building sites. As each gorse variety flowers at a different time of the year, you can generally pick the vivid yellow blooms all year round. They can be added raw to salads, or used to make fruit tea.

John Haslam

7/10 Rowan

Though sometimes known as the "Mountain Ash", this deciduous tree grows in all sorts of places, such as parks, waste grounds and hedgerows. Rowan berries are very bitter, but can be used to make jelly, which goes especially well with game.

8/10 Hawthorn berries

These red fruits are surprisingly versatile in the kitchen, and can be used to make jellies, jams and even an alcoholic Schnapps! Just make sure you do not eat the seeds, as they contain cyanide.

9/10 Crab apple

This early relative of the commercial apple is perfect for making jams and jellies as it is fulll of pectin, a setting agent. Combine crab apples with a low pectin fruit such as rose hips or rowan berries.

Hans Kylberg

10/10 Chickweed

You will find this hardy herb sprawled across forest floors all year round. To harvest, cut off the new growth at the top of the plant. It is highly nutritious, and has a mild flavour suitable for sandwiches, soups and salads.
Mr van Mensvoort, who has a background in both engineering and design, initiated the project after hearing about the world's first lab-grown burger, created by scientists two years ago at Maastricht University.
"Immediately I knew this was an interesting field with room for creativity," he said, "but the scientists who have been working on it so far have been concentrating on making the same food products that we already know – replacement chicken, beef, sausages. Our tastes will evolve, and as new technology becomes available so will come with it new food cultures, which is what I wanted to explore."
The first lab-grown beef burger – created from a calf's foetal fluids – was cooked at a demonstration in London in 2013. The dish offered a glimpse of guilt-free, sustainable meat consumption, but with a price tag of £215,000 it was not a dish for the masses. The team responsible for Bistro in Vitro predicts that the price of cultured meat will fall to €50 per kilo within the next six years.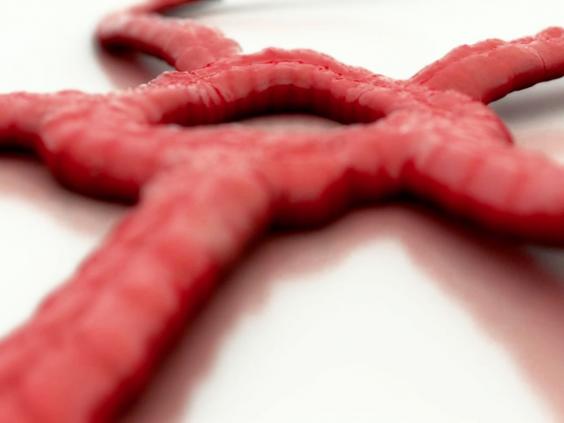 "That's still a lot when you compare it with quality animal meat prices today," said Mr van Mensvoort. But once environmental costs are added to the price of producing conventional meat, the lab-grown alternative starts to look viable.
Geert van de Wetering, who helped create the Bistro in Vitro site, said the challenge for chefs is to evolve new tastes and textures.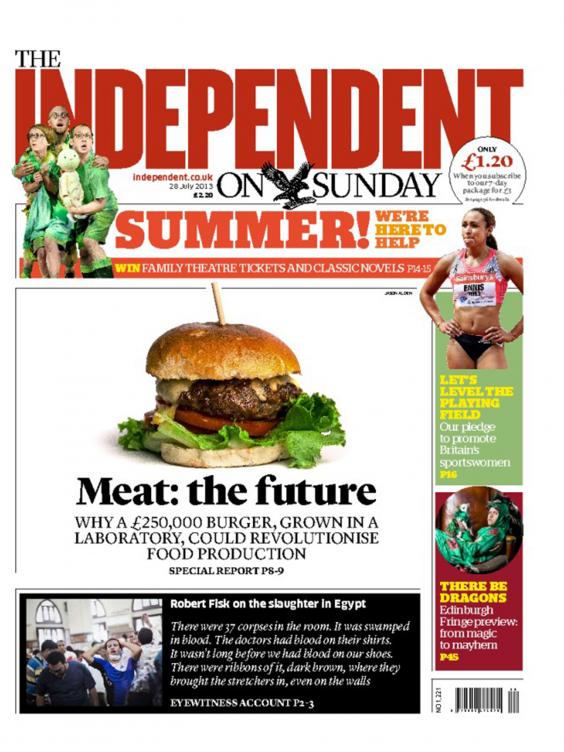 "Everyone who has been involved in the project is fascinated by the idea of creating new dishes with these malleable food substances," he said. "For instance, the texture of tuna with the red meat taste of deer could soon be a possibility."
In vitro meat also frees chefs from some of the ethical dilemmas posed by food production. "At the moment, in vitro meat is not strictly vegetarian because it is grown from animal matter," said Mr van de Wetering. "But every chef I have spoken to is very excited by the idea that by cooking in vitro they can be as creative as they like without the worry of whether this fish was sustainable, or whether this pig was organically reared."
Mr van Mensvoort admitted that not all the wacky dishes on the Bistro's menu are likely to be available in 2028. But he hopes to take the project further by creating a mobile bar to demonstrate in vitro food.
"It's impossible to say exactly how technology will have progressed by the time a restaurant like this can open," he said. "But the important thing is to open people's minds about the future of meat."
* Bistro In Vitro is a co-production between Submarine Channel and Next Nature Network
Reuse content