Prosecco, the world's favourite sparkling wine, may be in short supply this summer due to a poor grape harvest in Italy – but in England the grape is going from strength to strength, with makers heralding a new era.
And although English sparkling wine has enjoyed a burgeoning reputation for several years, their still counterparts have also come out of the shadows – a Sussex white wine has become the first of its kind to win a gold medal at the International Wine and Spirits Competition (IWSC).
The "unique and ideal" terroir at the 26-acre, Nutbourne Vineyards, near Pulborough in West Sussex, with a warm microclimate protected by the South Downs, gentle, south-facing slopes "and the same, fertile, green-sand soil as Champagne in France", was credited for the Nutbourne Sussex Reserve 2013 scooping the top spot in its category.
The judges credited the "superb wine" with its fragrant nose, which was "delicate and floral, packed with green fruits and nettles, very English, a hint of custard".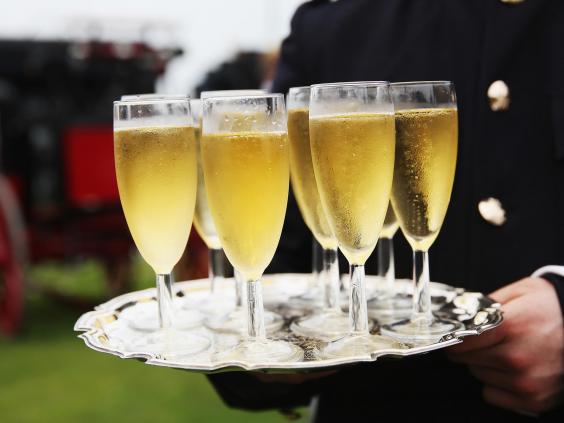 Peter Gladwin, the owner, said: "We are absolutely delighted. English wine is developing in quality and reputation year on year, and it is fantastic to have a still wine doing as well as some of the English sparkling. Nutbourne was pleased to win one of only two gold medals last year for our Nutty Brut 2011 Sparkling and now to have a similar achievement for one of our still wines is a great honour." 
English wines took a record-breaking 80 medals among the northern hemisphere winners in the IWSC, among them Kent vineyard Gusbourne Estate, which took two gold outstanding medals, the competition's highest distinction.
The vineyards of Surrey, Sussex and Kent are reaping the benefits of the hotter weather. Geologist and wine expert Richard Selley has long claimed that the forecasted rise in temperatures will hugely benefit English wines over this decade and the next.
Not to be outdone, the opposite corner of the country is also producing award-winning wine. Cornwall's Camel Valley Vineyard near Bodmin won gold in this year's International Wine Challenge, a separate, British-based event, for its 2013 Pinot Noir Rose sparkling and silvers for its 2013 "Annie's Anniversary" Brut and "Cornwall" Brut.
Charles Metcalfe, co-chairman of the IWC, said: "Each year our English wine-makers are going from strength to strength, and these medal winners are fantastic. The conditions in England's southern counties are perfect for creating excellent, sparkling wines."
However, some experts have criticised the number of medals dished out at award ceremonies. Almost 10,000 were given an award at the IWSC, which refuses to say how many entries it receives, leading critic, Victoria Moore, to ask if there was any wine that failed to get a prize.
She said the IWSC's results "are so erratic" she did not bother to discuss them in an article about wine awards.