Eating out is one of life's greatest luxuries, but it can be hard to enjoy the experience without feeling guilty about how some element of your meal made it to your plate. Was the bacon from a happy pig? Does cod fished from the Irish Sea get a green tick or a red cross, or should it have come from the eastern Baltic? Did a wonky carrot get binned in favour of the pretty one? 
But being lectured by a restaurant menu while you're trying to order isn't much fun: it's hard to get excited about choosing something just because it's sustainable. 
Thank goodness, then, for the Food Made Good Awards, the new name for the Sustainable Restaurant Association's annual celebration of dining establishments across the UK that serve environmentally and socially ethical meals. The initiative, which saw The Captain's Galley, in Scrabster, Caithness, co-owned by chef Jim Cowie, share the top accolade of Sustainable Restaurant of 2015 with farm-to-café operator Daylesford, is in its fifth year, and the 2016 awards will be dished out on 22 March at a lunch at the Royal Horticultural Society in London. 
The SRA launched its Food Made Good campaign last autumn to make it easier for its 5,000-plus members to get their message across to customers. This followed research by Dundee's Abertay University that found ethically produced food tasted better in a blind test. Raymond Blanc, one of the UK's most respected chefs – and SRA president – wants diners to "put pressure on restaurants to produce and serve ethical food". He added: "It is you, the consumer, who has the power. I want you to ask my waiters where the food comes from."
As media partner for the Food Made Good Awards, The Independent on Sunday is delighted to invite our readers to open the nominations for one of last year's most popular categories: the People's Favourite Award (see box, right.)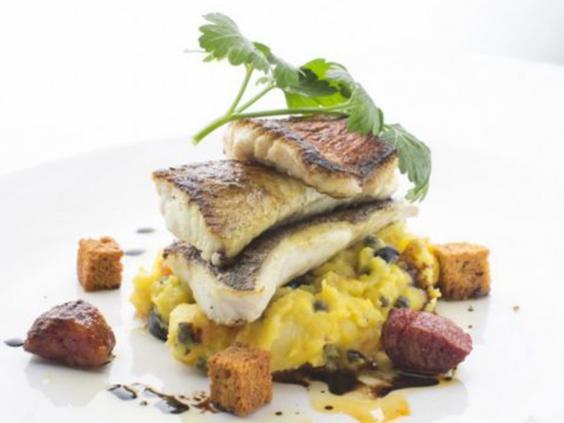 From 800 nominations last year, the Star Bistro in Cheltenham, Gloucestershire, received more than 10,000 votes to be crowned the inaugural winner. The restaurant, which operates from two sites, is staffed by students from the National Star College, who all have disabilities.
Mark Linehan, the SRA's managing director, added: "Recent years have witnessed a transformation in diners' attitudes; a public recognition that there's a host of ingredients that go together to make a genuinely good meal. The Food Made Good Awards recognise and reward those restaurants, cafés and caterers which are at the forefront of this revolution. 
"With the People's Favourite Award we hope to unearth those restaurants that are not only serving fabulous food but are also the unsung heroes of hospitality and using the power of food to make a positive difference."
The award for the business with the best strategy to tackle food waste is likely to be hotly contested too. Just last week it emerged that recent initiatives to reduce the amount of food thrown away have seen upmarket restaurants ditch à la carte dining in favour of limited set menus. 
Food trends in 2016
Food trends in 2016
1/11 Celeriac root

We had a kale obsession in 2015, but 2016's vegetable sine qua non is predicted to be the knobbly celeriac root. Celeriac milk (Tom Hunt at Poco in Bristol serves it with winter mussels and wild water celery), celeriac cooked in Galician beef fat (from Adam Rawson of Pachamama, hot new chef in the capital) and salt-baked celeriac (to be found in Matthew and Iain Pennington's kitchens at The Ethicurean in the West Country) are just a few examples.

Getty Images

2/11 Middle Eastern food

The Middle Eastern Vegetarian Cookbook (£24.95, Phaidon) by grand-dame Salma Hage, author of the bestseller The Lebanese Kitchen (whose halva is pictured here), is out in April

© Liz & Max Haarala Hamilton

3/11 Non-alcoholic cocktails

Grain Store mixologist Tony Conigliaro has created Roman Redhead, a riot of red grape juice, beetroot, pale ale and verjus, and Rose Iced Tea (black tea, rose petals, anise essence, pictured here)

4/11 Gin

The discerning will be slurping Hepple gin – from chef Valentine Warner and cocktail guru Nick Strangeway – which is punctuated with bog-myrtle nuances

5/11 Argyll and Bute

Restaurant followers are getting in a froth about Pam Brunton in Scotland, who opened the Inver restaurant in Argyll and Bute to acclaim last year

6/11 Andy Oliver's Som Saa

One of the most eagerly awaited restaurants of 2016 will be the permanent incarnation of Andy Oliver's remarkable pop-up Som Saa opening very soon in east London. Oliver, who worked at Thai god David Thompson's Nahm in Bangkok, raised a whopping £700,000 through crowdfunding, and is renowned for his piquant Thai flavours and obsessive attention to detail, including in his home ferments and DIY coconut cream

© Adam Weatherley

7/11 Venison

Another ruminant in vogue is venison, with Sainsbury's doubling its line for 2016. It provides a protein-packed punch, with B vitamins and iron, and it's low in fat. Its entry into the mainstream is in part thanks to the Scottish restaurant Mac and Wild, just opened in London, whose Celtic head chef Andy Waugh (who also runs the Wild Game Co) has been touting it as street food for years (his venison burger pictured here)

8/11 Goat

From Brett Graham's The Ledbury to Angela Hartnett's kitchens at Lime Wood Hotel in the New Forest, Cabrito is the go-to goat supplier among the chef cognoscenti (roasted loin of kid pictured here) – but this year, domestic cooks can get in on the action, as Sushila Moles and James Whetlor of Cabrito offer their meat through Ocado

Mike Lusmore / mikelusmore.com

9/11 Coffee

Coffee sage George Crawford is launching the much-anticipated Cupsmith with his partner, Emma. Crawford believes that 2016 is the year purist coffee will finally meet the masses; Cupsmith's mission will be to make craft coffee as popular as craft beer on the high street. The company roasts Arabica beans in small batches, improving its quality – but sells it online, at cupsmith.com, in an approachable way: expect cheerful packaging and names such as Afternoon Reviver Coffee (designed for drinking with milk – no matter how uncouth, most of us want milk) and Glorious Espresso

Julia Conway

10/11 120-day-old steak

Hanging meat for extremely long lengths of time has become an art. In Cumbria, Lake Road Kitchen's James Cross is plating up 120-day-old steak (pictured here). The beef is from influential "ager" Dan Austin of Lake District Farmers, who is currently investigating the individual bacterial cultures that go into this maturing process

11/11 Lotus root

Diners can expect root-to-stem dining - cue the full lotus deployed by the Michelin-starred Indian Benares in its kamal kakdi aur paneer korma

Getty Images
One previous Best Food Waste Strategy award winner, The Belfry, in Yarcombe, Devon, goes one step further, requiring diners to order their food at least 24 hours in advance. Sarah-Jayne Martin, the co-owner, says the strategy means they don't have to keep vast quantities of food in the fridge. "Customers can think it's quirky, but they really enjoy their dinner, which tastes as fresh as it possibly can," she said. Last night's orders included roast quail with fig, shallot, thyme and honey, and a clementine tiramisu, she added.  
Most of the event's 15 categories are judged over the previous 12 months by SRA inspectors, who visit members to assess how well they source food, treat  staff, engage with the community, and minimises environmental impact. Members, who receive a one, two, or three-star rating, range from huge groups such as PizzaExpress to the Michelin-starred Belmond Le Manoir aux Quat'Saisons in Great Milton, Oxfordshire – and several contract caterers. 
The categories also include a Sustainability Hero, chosen by Raymond Blanc. Last year, Hugh Fearnley-Whittingstall, the campaigning chef who runs the River Cottage Cookery School in Dorset, took the title.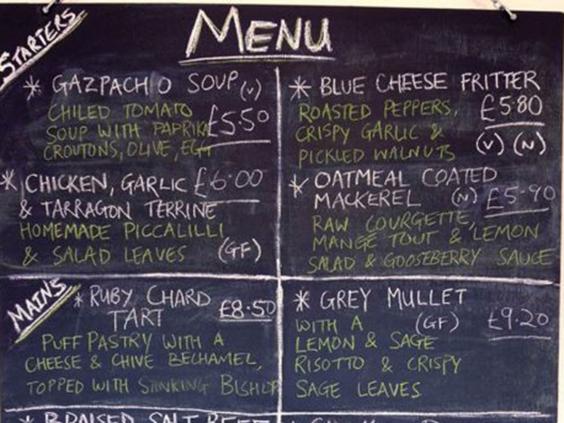 Nominate a 'people's favourite' ... and win!
This is your chance to use your influence in the Food Made Good Awards 2016, in partnership with The Independent on Sunday.
Readers are invited to nominate for, and then judge, the People's Favourite category. The Sustainable Restaurant Association and The IoS want you to tell us about the restaurant that leaves you with a full stomach, a happy heart and a great taste in your mouth. "This could be any UK restaurant that has demonstrated its sustainable credentials, be it via highlighting regional specialities, ...  concern for the environment or their community initiatives," said an SRA spokesman. 
By nominating, you'll have a chance to win dinner, bed and breakfast at one of eight fabulous boutique Red Carnation hotels, such as the Acorn Inn in Evershot, Dorset (right). The winner, chosen at random, can pick the hotel they prefer. Red Carnation won the Eco Hotel Group of the Year Award at the AA Hospitality Awards 2014; you can see its full list of hotels here: http://www.redcarnationhotels.com/.
The shortlist will be published on 21 February; T&Cs apply. For more details and to make a nomination, visit foodmadegood.org/awards/peoples-awards/.