Are you a chef whose skills extend beyond a tuna mayo sandwich, and who doesn't mind working for "sh*t" pay in a "kitchen the size of a closet" alongside a hilariously frank boss? If so, your dream job awaits you near Glasgow.
In a relentlessly sarcastic GumTree ad, chef and soon-to-be restaurateur Justin explains that he needs a cook who can work unsupervised in the off-chance "I break my foot or get third-degree burns on my face."
Justin, who tries to whittle down candidates with brutally honest job requirements, warns readers not to apply "if your idea of a good sandwich is a tuna mayo like your gran makes."
"Seriously. Last time I was hiring for a place I got over 400 CVs. You know how long it takes to read 400 CVs? Too damned long. So don't waste anyone's time.
"I need a second in command to bang out a ton of semi-fancy food in a kitchen the size of a closet," he said.
In pictures: Britain's favourite comfort food
In pictures: Britain's favourite comfort food
1/9 Roast dinner

Rex

2/9 Steak and chips

Rex

3/9 Apple crumble

Rex

4/9 Pizza

Getty

5/9 Classic lasagne

Creative Commons

6/9 Spaghetti bolognese

Creative Commons

7/9 Chocolate brownie

Creative Commons

8/9 Strawberry cheesecake

Creative Commons

9/9 Victoria sponge

Creative Commons
Lowering expectations further, he goes on to admit that "the money is sh*t" at £7 an hour including tips.
"Don't ask for more because I don't have it. You'll literally be making more than me because I am essentially working for free until the place is paid off."
And while the pay could be better, a creative cook might be attracted by the fact the food "is a free-for-all".
"I'm calling it an "American Diner" because I'm American and it's a diner, but there's sumac, harissa, n'duja, compotes, mooli, shakshuka, mussels, haggis, Greek yogurt, Vietnamese coffee, hoisin, fish sauce, a dehydrator, labneh, kimchi, etc.
"You have no idea what I'm talking about? Then please, PLEASE, don't apply for this job. I have way too much sh*t to do in the next six weeks to be interviewing people I'm never going to hire."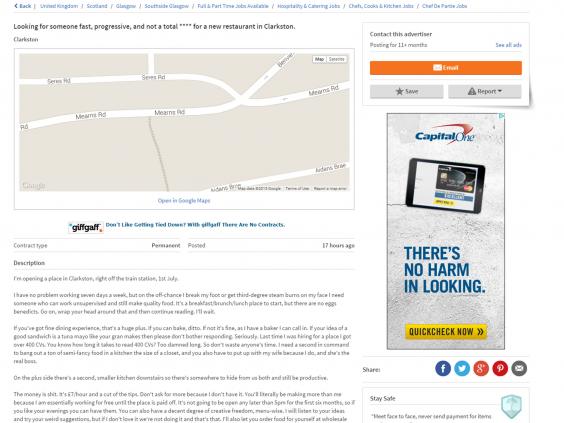 But he warns: "I will listen to your ideas and try your weird suggestions, but if I don't love it we're not doing it and that's that."
"There are no eggs benedicts," he stresses.
Wrapping up the ad he says: "If you think I sound like an obnoxious d*ckhead, congratulations. You are observant and will go far in life."
However, we don't quite buy his steely persona, as he writes: "Come be part of a family and make better breakfasts than Glasgow knows what to do with."
"If you're awesome and you have actual cooking skills, you'll probably be my best friend and you'll work 55 hours a week and I'll let you put whatever horrible music you enjoy on the stereo and buy you beer."
Reuse content