At Leiths even we understand that cooking every night can be a challenge. I designed our Simple Suppers evening course to provide skills and inspiration so that a quick dinner need not seem onerous. This dish makes use of some store cupboard standbys that can transform chicken, onions and garlic into something Mediterranean and wonderful.
Good quality tinned beans make a welcome change from endless rice and pasta, and some good olives or piquillo peppers can brighten up many a simple dish. Try making a simple antipasti by slicing piquillo peppers, scatter with olives and some chopped parsley, a little garlic and olive oil. 
It sounds like a cliché but having some home made stock in the freezer really boosts a simple dish, be it a soup, risotto or stew. There is a balance in a good stock that brings out the best flavours in a dish and adds depth. Follow our simple guide to making stock here, then reduce it down so that it can be stored in small containers (or even ice cube trays) in the freezer.
A very reduced stock which is known as a 'glace' can be brought back to normal concentration by adding water to it. In this simple recipe, store cupboard ingredients and good chicken or vegetable  stock combine to make something quite special, even when you don't have time to cook.
Chicken, piquillo pepper and borlotti bean stew
This Mediterranean dish is half way between a soup and a stew. Serve with bread and green salad.
Serves 4
2 tbsps olive  oil
1 large onion
1 x 230g jar piquillo  peppers
2 cloves of garlic
​800g (approx) skinned and boned chicken thighs 
1  tsp Spanish sweet smoked paprika 
2 tbsp tomato puree 
​175ml white wine 
​500ml chicken or vegetable stock
Fresh or dried oregano
75g pitted black olives
2 x 400g tins borlotti or cannellini beans, drained and rinsed
Zest of ½ lemon
Salt and freshly ground black pepper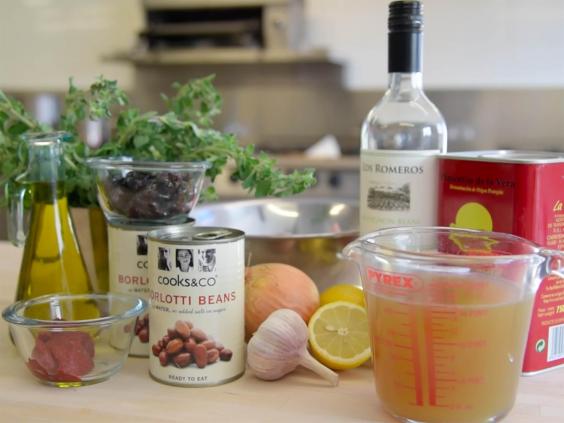 1.    Peel, halve and finely slice the onion. Remove the peppers from the jar, discard the liquid and cut them into strips, removing seeds if necessary (there's no need to be too pedantic about this). Peel and crush the garlic. Cut each chicken thigh into about 4 pieces.
2.    Heat 2 tbsp of oil in a lidded sauté pan, or casserole dish, over a medium heat. Add the sliced onions and cook over a medium heat for about 5 minutes, until starting to soften, then add the garlic and sauté for a minute or two before adding the smoked paprika, the piquillo peppers and the tomato puree. Cook for a further two minutes. 
3.    Add the chicken and stir to coat it in the mixture before adding the wine.  Bring to a simmer and let the wine bubble for a minute to drive off the alcohol, then add the stock and a couple of sprigs of fresh oregano, or 1tsp dried. 
4.    Turn the heat down to medium, cover with a lid and simmer gently for approximately 20 minutes, until the chicken is cooked through. 
5.    Add the olives and the drained beans and continue to simmer for 5-10 minutes without the lid, until the sauce has thickened a little. 
6.    Finally add the grated lemon zest, a little more fresh oregano if you have some, and season well with sea salt and pepper.
7.    Serve in shallow bowls, with good bread and a green salad. 
Note: 
This base recipe can be adapted to suit your store cupboard and fridge:
•    Jars of piquillo peppers are available in many supermarkets but a jar of roasted red peppers can be used instead, or use a fresh red pepper but add them soon after the onions to ensure that they're soft enough.
•    Chickpeas could be used instead of borlotti beans.
•    Substitute fresh or dried thyme for the oregano.
•    If you prefer a more soupy version, use only one tin of beans.
•    To make quick croutons, toast slices of sourdough bread, cut into rough pieces and drizzle liberally with extra virgin olive oil before serving.
Camilla Schneideman is the managing director of Leiths School of Food and Wine. To book the Simple Suppers course, visit leiths.com/courses/simple-suppers 
Reuse content