Cream infused with herbs is my personal catnip. Combine heavy cream with a generous handful of herbs, warm gently, and breathe deeply – the mixture is heady. The choice of herb is a personal one, like much that goes on in the kitchen. 
Rosemary, sage or thyme are all contenders but I'd like to cast a personal vote for tarragon. 
Tarragon has tender leaves that pack a deep aniseed punch. It's an ideal partner for fish or chicken and is used far too little in cooking, I think.
Picture tarragon and you'll probably conjure up the classic French sauce, Béarnaise – a reduction of vinegar, with butter, shallots, egg yolks and tarragon. Serve dolloped on a fillet of beef and you'll want to weep with joy. This sauce is something simpler and perfect for in-season British asparagus. I added a bit of saffron for the colour as much as the taste so leave it out if you will.
This would also be at home with a poached piece of fish or, with a jot of white wine vinegar, as a dressing for lettuce or other crispy greens. I've been known to eat it by the spoonful too but that's simply my own greediness.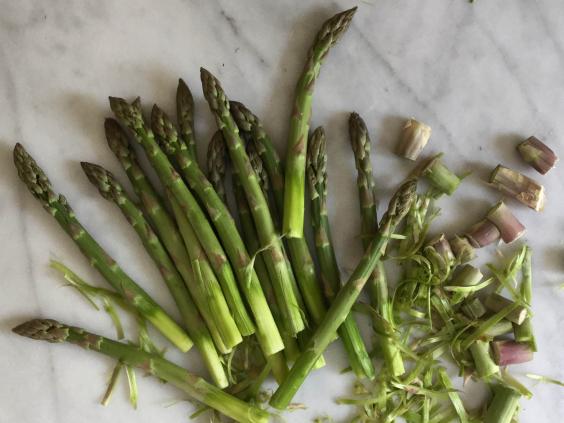 Asparagus with tarragon and saffron cream
Saffron may be the most expensive spice in the world but you only need a bit for this recipe so I promise it won't break the bank. 
Serves 3-4
Two bunches asparagus, about 500g
​225ml heavy cream
20g fresh tarragon
Large pinch of saffron
Salt
Pepper
Remove some of the tarragon leaves and chop finely to make 1 tablespoon and set aside. Place the rest of the tarragon (on the stem) into a small saucepan and cover with the heavy cream. Place on medium heat and warm until you can see small bubbles forming on the surface but before it comes to a boil. Remove from the heat and let the herbs steep in the cream for about 10 minutes. Place the saffron in a small ramekin and pour a bit of hot water on top to release the gorgeous yellow-y orange colour. 
Cut off the bottom 2cm or so from the woody base of the asparagus. Take a vegetable peeler and shave the lower part of the asparagus. Place the asparagus in a pan of boiling, salted water. Cook until a knife can be easily inserted into the thickest part of the asparagus – about 4-5 minutes.
Drain the asparagus and place on a serving dish. Remove the the tarragon branches from the cream and stir in the saffron and chopped tarragon. Taste and add salt and pepper to taste. Drizzle some of the tarragon and saffron cream mixture over the asparagus. Garnish with additional tarragon leaves and serve warm with more of the cream on the side. 
@juliapleonard
Reuse content