Pears, like apples, are a truly versatile fruit – equally at home in savoury dishes and sweet ones. There are loads of great British varieties on the market, so there's no need to buy foreign imports. Try to select ripe ones if you are going to eat them as they are, but go for firmer, slightly underripe ones, for poaching. If you are a pear freak and want to know about more old and new varieties, then get yourself down to the Brogdale orchards in Kent – they have hundreds of varieties of forgotten fruits.
Roast mallard with pears cooked in Porter
Serves 4
Like apples, pears go well with duck. You could use those tiny wild pears or baby pears, or simply cut larger ones in half. I've used my own oyster ale for this but you could use stout, porter or Guinness.
2 plump wild ducks (or farmed ducks)
Butter for roasting
4 small pears, peeled
500ml porter, oyster ale or Guinness
Salt and freshly ground black pepper
The day before, put the pears in a pan with the porter, bring to the boil and simmer gently for about 15-20 minutes or until they are tender; depending on their ripeness, some pears may take a little longer to cook. Then leave them in the liquid until required.
Preheat the oven to 230C/gas mark 8. Put the ducks into a roasting tray. Brush them with about 20g of softened butter and season well. Cook for 30 minutes, basting every so often, then remove from the roasting tray and leave on a plate to rest and catch the juices. Remove the pears from the porter and place in the roasting tray and return to the oven for about 10 minutes, basting every so often.
You can serve the ducks whole and carve them up at the table, or cut them in half or quarters. Serve on a warmed serving plate or board, alongside the pears.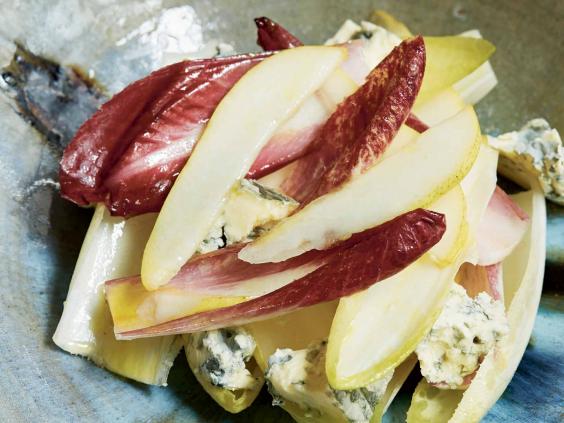 Chicory, conference pear and cashel blue salad
Serves 4
Chicory, also known as Belgian endive, or witloof, is a rather under-used vegetable – except by the Belgians, of course. It's surprisingly multi-talented though – it can be a salad one minute, and a braised vegetable the next. Or the leaves can be caramelised in a pan with some butter and sugar. The combination of blue cheese, pears and chicory is great: you get the bitter, sweet and savoury all in one hit. >
5 medium heads of chicory (include some red endive if you can get it)
50g Cashel Blue or another blue cheese, broken into small pieces
1 ripe conference pear, peeled, cored and thinly sliced
For the dressing
60ml rapeseed or extra-virgin olive oil mixed with 60ml vegetable oil
1tbsp white wine vinegar
1tsp Dijon mustard
½tsp caster sugar
20g Cashel Blue or another blue cheese
Salt and freshly ground black pepper
With a knife, trim the roots from the chicory and separate the leaves, removing any that are discoloured (the really big ones can be halved lengthways). Wash and dry them in a salad spinner or colander and transfer to a bowl.
To make the dressing, blend all the ingredients in a liquidiser until smooth, season with a little salt and pepper if necessary. If it seems too thick, add a little water.
Arrange the endive leaves on a plate with the slices of pear and spoon the dressing over the top. Scatter the pieces of blue cheese on top.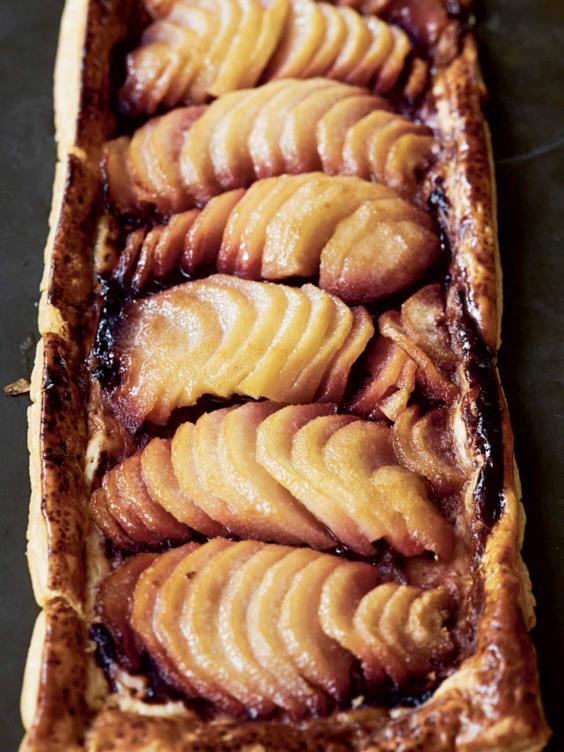 Pear tart
Serves 4
This is a pretty straightforward dessert to prepare for a dinner party but make sure you use ripe pears not rock-hard ones. You can prepare this up to an hour or so ahead of cooking so you are not assembling it at the last minute.
250-300g butter puff pastry, rolled to about 2mm thick and left to rest for at least an hour
6 medium-sized ripe pears, peeled and cored
30g butter, melted
Caster sugar, to sprinkle
2-3tbsp homemade or bought blackberry jam
Clotted cream or crème fraîche to serve
Preheat the oven to 200C/gas mark 6. Cut the puff pastry into four 12-14cm x 10cm rectangles or discs and prick all over with a fork. (The trimmings can be folded together, wrapped in clingfilm and kept for another recipe.) >
Put the pastry on to a baking tray lined with siliconised or greaseproof paper. Spread the jam thinly over the pastry but not quite to the edges.
Slice the pears as thinly as you can with a sharp knife or a mandolin and lay them on the pastry, making sure that the slices overlap, with the last slice tucked under the first to form an even pattern.
Brush the pears with butter and scatter generously with caster sugar. Bake for about 30 minutes or until the pears begin to caramelise. Serve immediately with a spoonful of cream on top, or on the side.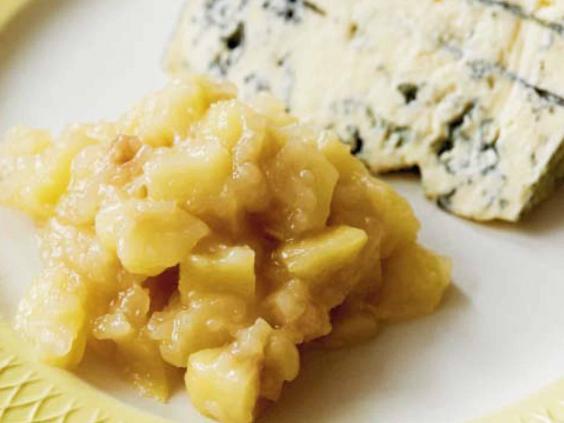 Pear and cardamom chutney
Makes about 1 litre
Use this with cheese or cured meats, or even just on toast as a snack. Underripe pears are ideal for this. You can buy the black seeds from cardamom pods in Indian and Asian supermarkets, or you can just remove the outer pod from green cardamoms.
3tbsp rapeseed oil
2 large onions, peeled, halved and finely chopped
2tsp black cardamom seeds
250ml cider vinegar
150g sugar
500ml pear juice
12 underripe pears, peeled and cored
Heat the rapeseed oil in a medium-sized saucepan and gently cook the onion and cardamom seeds for 3-4 minutes on a low heat, stirring every so often.
Add the vinegar and sugar, bring to the boil and simmer until the vinegar has reduced by two-thirds. Add the pear juice and continue simmering until it has reduced by half.
Meanwhile, cut the pears into rough 1cm chunks, add to the liquid and continue cooking on a medium heat for about 15-20 minutes, or until the pears are beginning to soften and the liquid has thickened and just coats the pears.
Remove from the heat and transfer the hot chutney to sterilised preserving jars and close the lids while hot to seal them. Store in a cool place or in a fridge for up to 12 months µ
Reuse content