I don't think I'm alone in thinking of rhubarb as a fruit. Maybe that's because I eat it like I would other fruits: in crumbles, pies, tarts and poached. But it's actually – botanically – a vegetable. It's a perennial so it merrily pops up every year without much coaxing. 
And we shouldn't forget that it is a vegetable because it's lovely served on the dinner plate with some roast pork, duck or an oily piece of fish – something that yearns for a bit of sharpness to cut through the fattiness.
Of course you can sweeten it and we do when we're using it in puddings but I always think a judicious hand is called for with the sugar scoop – too much and you take away that sharpness that makes rhubarb so welcome and refreshing. 
Now that British rhubarb is back in season, the price is lower and of course it hasn't been picked, packed and shipped from far away. Forced rhubarb makes it to store shelves first, followed by field grown.
All it needs is a rinse and a trim (the leaves are poisonous) then a bit of cooking to make it tender. But gentle is the watchword – mushy rhubarb takes all the joy out of this springtime guest.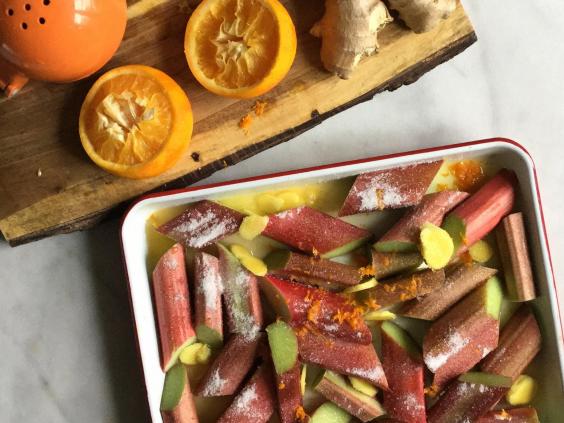 Orange and ginger poached rhubarb with almond brittle 
Makes 4 servings
Rhubarb
6 spears of rhubarb, about 700g untrimmed
1 orange, zest & juice
1 small knob of ginger, about 15g
30g caster sugar
Nuts
50g sliced almonds
1 tsp ground ginger
60g caster sugar
15g unsalted butter
Sea salt 
Heavy cream for serving (optional)
Pre-heat oven to 160ºC. Trim the rhubarb and cut it into pieces, about 4-5cm long. Peel the ginger and slice into thin discs. Place the rhubarb slices into a baking pan and toss with the sliced ginger, orange juice, zest and sugar.
Place in the oven and bake for about 10 minutes then gently turn in the liquid. Cook for another 10 minutes or until you can insert a skewer in easily but the pieces still retain their shape. Don't overcook or you'll have rhubarb mush. 
While the rhubarb is cooking, make the brittle. Place the butter, sugar, and ground ginger in a frying pan. Melt the mixture over medium heat until it has a nutty brown colour. Add the sliced almonds and a generous sprinkling of sea sale and turn to coat evenly.
Keep on the heat until the nuts take on a toasted colour. Remove and pour onto a piece of silicone baking sheet. Let cool then break into shards.
Place some rhubarb into a bowl. Garnish with the nuts and pour a bit of the cooking liquid (minus the ginger slices) on top and a drizzle of cream, if using. 
Reuse content