With influences from southern India, north Africa, Malaysia, Portugal, the Netherlands and England it's a mixed bag of flavour, which remains a constant (if only small) reminder of its colonial past. 
But you would be mistaken for thinking it cannot be defined as its own. It's heavily influenced by its geography, sitting in the Indian Ocean between east and west meaning they are big on seafood. And the tropical climes also account for its plethora of coconuts. The food can be intensely hot as spice is something that is definitely not used sparingly. Curries and rice are staple, and are often eaten with roti style bread, while coconut, chillies, curry leaves cinnamon and garlic also feature heavily. 
But one of their best dishes is hoppers. They look like fine crepes that have been moulded into an open bowl shape (by swirling the mixture around a bowl-shape pan) which are made from fermented rice, flour and coconut milk, coconut water and a little sugar. 
Although most people in Sri Lanka will traditionally eat at home and restaurants are mainly confined to the capital of Colombo and tourists will mostly need to rely on their guesthouse or hotel for food, it has not stopped the love of Sri Lankan food spreading.
Eat it
Moonstone, Brighton
Over the past 10 years this family-run restaurant has developed something of a cult following, with local fans including Nick Cave. But regulars also include England-based Sri Lankan cricket internationals who travel miles for an authentic taste of home. And authentic it is: spices are still grown and dried in the Sri Lankan village that owner Dimuthu Mendis grew up in, and the menu offers a beguiling mix of traditional Ceylon favourites and his family's own recipes.
Flavours embrace warmth more than heat, with coriander, curry leaf, fennel, cumin and cinnamon all taking turns. Waiters seem happy to talk through the menu – for which think high-street Indian, but lighter, fresher and probably more interesting to anyone weary of interchangeable ghee-laden jalfrezis.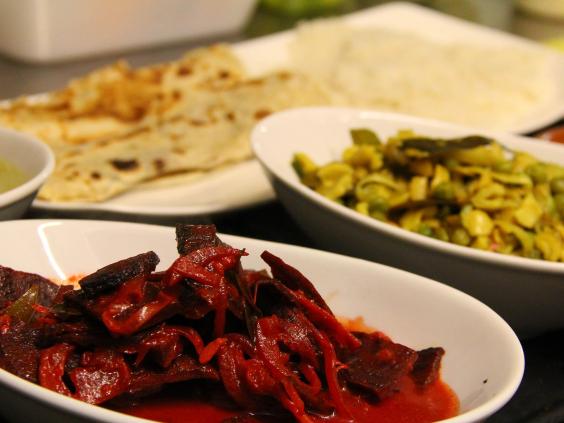 Fish balls with pineapple chutney; and fresh mango salad with tomato and lime; make for moreish and marvellously uncloying starters, while lentil dumplings are a touch plain but lifted by yoghurt and lightly spiced dhal.
Seafood curry finds prawns and squid – too often overcooked and chewy – delicately sweet and tender to the bite, bobbing in aromatic creamy coconut (coconut makes regular and welcome appearances in all three courses). Devilled lamb is a winner, the meat as tender as the seafood before it and sizzled in umami-rich tomato, onion, garlic and ginger. Non-meat eaters are well catered for, cashew nut, pea and garlic curry being a standout.
Vegetable sides are the nicest surprise. Particularly good is sweet potato, popping with colour and infused with mustard, garlic and herbs, and even something as humdrum-sounding as tomato and onion salad is juicy, fragrant and refreshing. Coconut (of course) sambal and sweet cinnamon and chilli caramelised onion round things off handsomely.
In common with most UK Asian restaurants, dessert, while perfectly pleasant, is the least interesting part of the menu. However, watalappan – traditional coconut custard pudding with hints of cardamom – hits the spot
Hoppers, Soho, London
In traditional Soho style, it's small, noisy and you can't book, but the food is excellent. And that's why, when you get there, you'll need to add your name to the virtual booking tables list (essentially a man with an iPad and a text notification system which means you won't have to physically queue) and wait for up to an hour and a half. But anything that busy is surely worth the wait.  Inside its pretty tight and is decorated with mosaic tiles on the floors, tables and walls with framed old film posters. There's no real starter or mains – a method of eating starkly upheld by the west and we're often thrown when there's no order to our meals.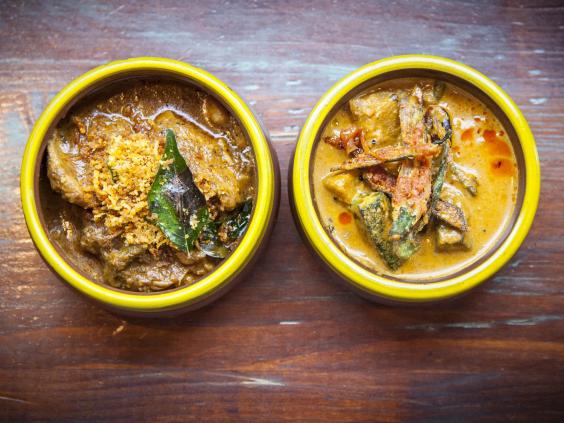 Everything comes when it's ready – and it will come quick. And it comes quick. You're warned about it and then all idea of starters go out the window.  Dishes come in small plates and are perfect for sharing.  Instead choose from "short eats" (if you can't let it go, think of as a type of starter) that range from £5 -8.5. The mutton rolls are the most popular item – encased in a thick battered, the finger size rolls are filled with tender minced meat.
As it's named after the famed fermented rice pancake, a hopper is a must here. As is a dosa (south Indian crepe that's folded) – both come with chutneys and sambol – a coconut accompaniment. They're bigger than your hand and will be crisp on the edges and a little softer in the middle. Karis (Tamil for curry) are either £6 or £7. They're small, but still sharable and the black pork is the best and named so for the spices its coated in. Thankfully there is a glossary on the back to explain the many dishes that you might not be familiar with – but the staff (who must be more than used to it) reel it all off for you in terms you'll know.
Learn it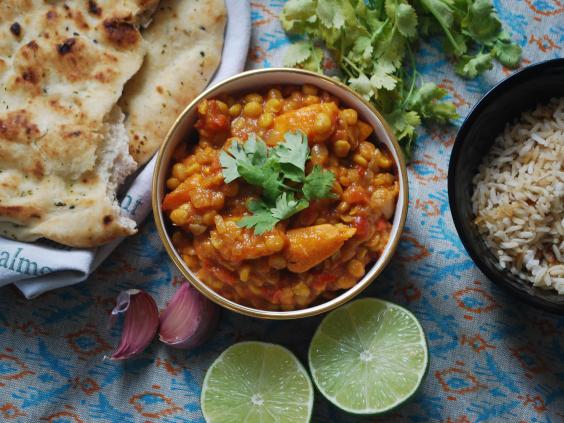 Leiths Sri Lankan street food day course, £155 leiths.com/classes/sri-lankan-street-food
As one of the top cookery schools in the country, Leiths Sri Lankan street food course teach you to learn how to make authentic dishes and learn the techniques of the style to. Led by teacher, caterer and blogger, Georgie Soskin, you'd learn how to make coconut milk from fresh coconuts and what to do with Maldivian fish flakes by making dishes like brinjol mojo – a sweet aubergine relish – and spiced pumpkin cake. You'll be able to eat – or take home – what you make and everything is provided and you'll go home with a recipe booklet too. The next course is 17 June and runs 10am-2.30am. 
Cook it
Some of the less well-known ingredients of Sri Lankan cuisine can be harder to get. Try Asian food stores or spicesofindia.co.uk or theasiancookshop.co.uk
Banana leaves  are used for steaming, which gives a subtle sweet taste or wrapping food to keep it warm, but they're not actually eaten and can be bought from Asian shops.
Brown mustard seeds are hotter than yellow seeds and have a slightly nutty flavour and used in a lot of dishes.
Gram flour is made from ground chickpeas and you'll use it to make flatbreads.
Jaggery is made from cane sugar and is unrefined and is used for heigtenig the flavour of dishes.
Maldive fish is cured tuna which has been smoked and dried and made in the Maldives. It has a strong flavour, but if you can't get it, shrimp paste or fish sauce are good alternative.
Tamarind is a tart fruti used  so much of Asian cooking – especially curries – and looks like a long chunky brown bean. 
Reuse content