As someone who spends his evenings watching dry historical documentaries about trains, I'm finding the garish colours and sensory bombardment of Moshi Monsters: The Movie to be a bit overwhelming. As the six Moshi heroes overcome various manifestations of child-friendly peril in pursuit of a missing and highly valuable Moshling egg, subsisting on Wobble-Ade and Microwaveable Oobla-Doobla as they go, I try to suppress my weary cynicism but find it replaced by bafflement. In the back of my mind, however, is the knowledge that Moshi Monsters is a huge phenomenon, albeit one that's largely invisible to adults.
The Moshi Monsters website is used by 70 million children around the world – probably their first taste of something akin to social media. Half of all British children have adopted a Moshi online, be it Katsuma (the crazy one) Poppet (the cute one), Furi (the quiet one), Luvli (the sensible one), Diavlo (the naughty one) or Zommer (the zombie). Moshi may not speak to me on any level, but it speaks to kids under the age of 11 in a very powerful way.
"Do you not remember what it was like being a child?" says Moshi creator Michael Acton Smith, laughing as I confess my confusion. "I loved playing games, chatting and communicating, going on adventures," he continues, "and it's the same now – we're just creating an online experience for that, learning as we go."
We're sitting in the offices of Acton Smith's company, Mind Candy, which is an eye-popping extension of the Moshi world, all coloured plastic, fake trees, fake grass and a life-size version of Poppet wandering about. Does he ever walk in here and think, oh god, what have I done? "Occasionally, yes. The last five years have certainly been a crazy adventure, and sometimes I have to pinch myself. It all started in a coffee shop scribbling on a notepad, and suddenly we've got a movie out... I got an OBE the other day... it's been amazing."
Acton Smith's long journey to success has been haphazard. His childhood was suffused with the joyous spirit of The Muppet Show and the studious geekery of ZX Spectrum programming, both of which were hugely influential in his development. "I was one of those annoying kids who was always coming up with hair-brained business ideas," he recalls, "but instead of telling me to stop it, my parents encouraged me."
Out of university, he founded Firebox, an online retailer specialising in quirky and unusual items, hitting paydirt with the idea of a shotglass chess set. An alternate-reality, treasure hunt-style game called Perplex City followed, which won awards, but failed commercially. "It was a very creative venture, but was just too complex to go mass market… we took a big lesson from that which helped to inform Moshi: keep things a little more fun and simple."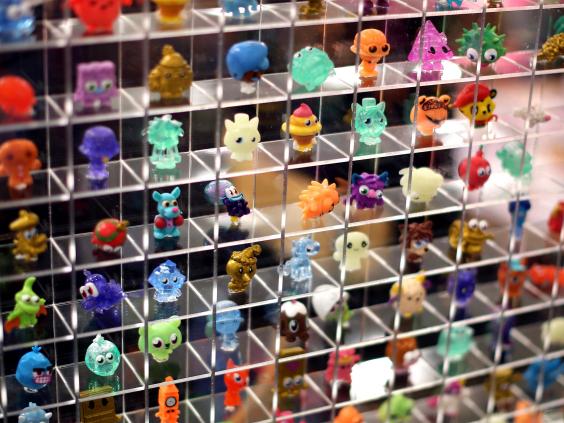 Even Moshi Monsters took time to catch on, however. "For the first year and a half it didn't take off," he says. "We ran out of money and had to go back to our investors – it was probably the darkest time for me. But I felt [Moshi] was something magical and special that was worth persevering with." It was the social aspect of Moshi that ended up being the key to its success, by allowing children to communicate with each other within a safe, "walled garden" environment. "There were murmurs of disapproval when people first heard that we were creating an online community for children," he says, "but we take that responsibility very seriously. Spending time online is an important part of a 21st-century childhood, as long as it's not to the exclusion of everything else. They should still be out there building dens."
With his infectious enthusiasm and idiosyncratic wardrobe choices, Acton Smith looks like the kind of man who probably still enjoys building dens. "I have two nieces, and it's amazing watching them grow up, how they view the world with eyes of wonder. Tapping into that is important, and I like to think like a child as often as I can. It means that when you encounter problems, you don't deal with them in the same way as everyone else does."
Transforming Moshi Monsters from an online experience into a feature film was one such problem. "There are many examples of games that haven't made the leap successfully," he says, "like Super Mario Bros, or Streetfighter, so it was a big challenge – not least because kids have their specific relationship with the monster that they adopt, their own ideas about its character, how it might speak and behave."
Despite the American accents of the onscreen monsters, the film was financed and produced almost entirely in the UK. "We're very proud of that. It's been built like a patchwork quilt of all the things we used to love when we were younger," says Acton Smith. Cornish animation studio Spider Eye took care of the visuals, while writer Steve Cleverley wrote the dialogue and the songs that drive the film. "It's created specifically for kids," says Acton Smith.
Film critic Mark Kermode gave the film a pasting, saying that it would leave adults "bored, stupefied, revolted and appalled". Again, Acton Smith laughs, knowing that the people he was trying to appeal to feel very differently. "He looked at it through the lens of a 50-year-old man! I'd much rather keep the millions of kids who love Moshi happy than Mark Kermode."
Those millions of kids, combined with pester power and parental purchases, have now made him a wealthy man; how does he feel about that? "The money has certainly been a nice by-product of the success," he says, "but the point of Moshi is to give kids the tools to create their own entertainment, to give them the building blocks to spark their imaginations and create animations, stories, artwork. It's a fascinating, wonderful thing."
And if it's not for the money, what does he get out of it? "I just love creating and making things. I always have. The audiences may have changed over the years, but that sense of making something happen, taking an idea from my head and putting it out there to see if it connects – that's remained the same. I love the fact that we've created a pop culture phenomenon, and I hope that in decades to come, adults will think about Moshi in the way I now think about the Smurfs, or Back to the Future, or any of the other things I loved when I was a child."
Moshi Monsters: The Movie is available on Blu-ray™ and DVD now
Reuse content