Rockstar has announced a barrage of new GTA V Online features coming through updates this spring including the highly-anticipated heists, a 'High Life' pack consisting of new guns, cars and motorbikes, the option to own multiple apartments and garages and a racing rule change that will level the field.
Here's what you'll get in the High Life Update:
- Bullpup Rifle
- New wardrobe items
- Dinka Thrust motorcycle
- Three new lavish cars including the Super class Pegassi Zentorn
- Multi-property ownership (meaning you'll be able to store a lot more vehicles)
- New jobs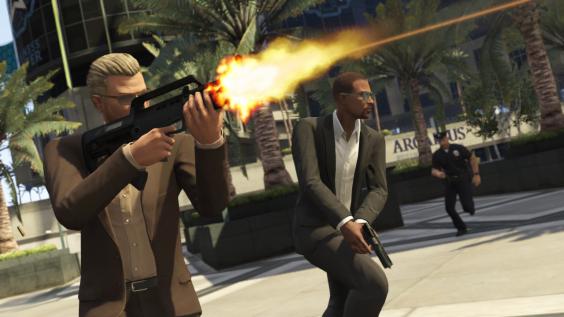 Heists:
Having previously kept quiet on their arrival date, Rockstar has now confirmed heists will arrive "this spring", allowing players to "team up with their most trusted Crew members or with random other mercenaries in Grand Theft Auto Online to pull off cooperative Heist Missions for glory and profit."
Capture creator:
The creator mode expands to include Capture jobs, letting players "strategically place pick-ups, define weaponry, set location, and tweak tons of other variables" to create jobs for others to take on.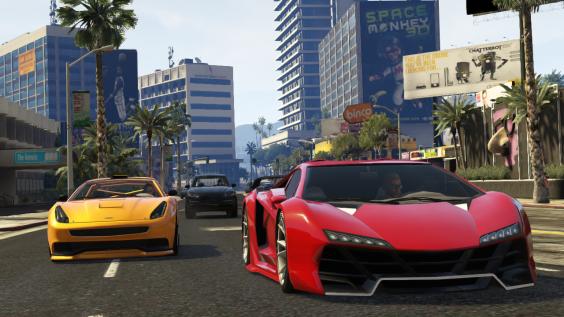 Tweaks addressing feedback from the GTA community:
- A 'Mental State' player statistic - designed to let players see just how passive or psychotically unhinged fellow players in their session really are, and a slew of new Jobs.
- 'Non-Contact' option for races - This will allow you to play standard races with collisions disabled between player vehicles.
According to Rockstar, "Other players will appear as semi-transparent,  you'll still be able to collide with non-player traffic, structures and other scenery, but this mode - for those who want to play it - will eliminate the "rubbing is racing" mentality that some wish to avoid."
This follows the option to turn off catch-up and slip-streaming and should make the playing field completely level.
- New call Lester option that will see him throw the cops off your trailer for a fee.
- Bonus RP for players who leave feeback (likes or dislikes) on jobs, races etc.
- Increased GTA$ payouts for Parachute, Races, Deathmatches and LTS Jobs with less than 4 players.
- And finally, if you cheated with your RP count, you're going to pay...
Rockstar: "As part of our ongoing commitment to target cheaters and keep the game as fair as possible, we are closing RP exploits and will be adjusting the RP totals of players who we know for certain to have gained illegitimate RP by cheating. Your RP will only be adjusted if you participated in mods, hacks, DNS redirects, manipulation of cloud files, or other similarly nefarious behavior. If you grinded short legitimate missions or otherwise gained a small amount of RP without modding, your RP should not be affected by this correction."
Reuse content