To the untrained eye, Minecraft is as a headache-inducing video game for children. But to the 10,000 fans descending on London for the game's official convention, it's worth a lot of their time and money.
Often described as a virtual Lego, the game enables players to create unique worlds by breaking and placing blocks, and protect these realms against nocturnal baddies after nightfall.
Initially released as a game for adults in 2009, Minecraft has since sold over 70 million copies; merchandise is easy to find on the high street; and it has earned almost 12 million 'likes' on Facebook.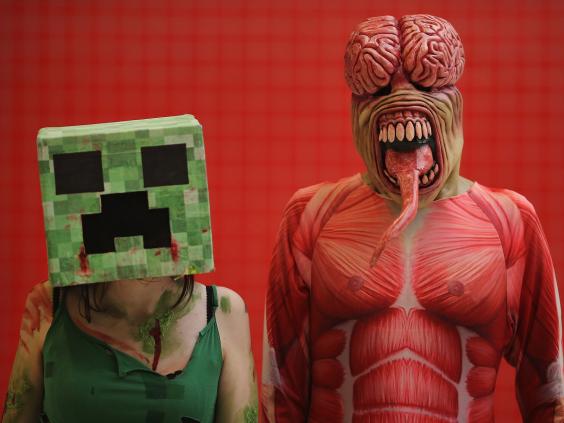 For £129 a ticket, thousands of members of the Minecraft community will be able to take part in a US-style convention at the ExCeL Centre in London, which will feature panels with developers, contests, tournaments, and a party on Saturday night.
YouTubers who have used them game to make themselves into internet celebrities, including Stampy, The Diamond Minecart and Captain Sparklez, are among the game's stars to be appearing at the convention.
Fans will also be given a first-look at a new "story mode" which will add a narrative dimension to the game, Wharf has reported.
The convention will be the first since Microsoft bought up Mojang, the game's developer, for $2.5billion (£1.6billion) in November 2014.
Minecraft creations
Minecraft creations
1/5 Taj Mahal

The original Taj Mahal may have taken almost two decades to complete, but this is a worthy tribute

2/5 Hyperscale

Minecraft players have taken inspiration from some of Europe's most beautiful cities, complete with canals and elaborate architecture.

3/5 Ancient Metropolis

Users have created "The Golden City", with extremely ornate architecture, similar to Cambodia's Angkor Wat complex

4/5 Desert island

An ornate island created by one user

5/5 Rocket launch pad

Prepare for take off with this Minecraft rocket
Mojang's chief operating officer, Vu Bui, told The Guardian: "It's impossible for us to have an event big enough that our entire community can attend, but even to have 10,000 people who really care what we're about, and to meet and talk to them in real life, is really special,"
"We want Minecon to feel like a world where the real world and Minecraft co-exist," said Bui. "I think people will be blown away by a couple of things we've created this year."
Reuse content