Clara Rockmore was a master of the Theremin, the instrument that inspired much of the best electronic music in the world and led to the first synthesiser.
On what would have been her 105th birthday, today's Google Doodle is an interactive game to encourage learning to play the Theremin by hovering the mouse over different notes to play a melody.
What is a Theremin?
A Theremin is a musical instrument played without actually touching any part of the device and was one of the first electronic instruments.
It was created by Leon Theremin, a Russian inventor in 1928. At aged just 23, the inventor stumbled across the idea.
He was working on a gas meter to measure gas and realised as he brought his hand closer to the meter, he heard a higher squeal and as he moved it away, it be became slower.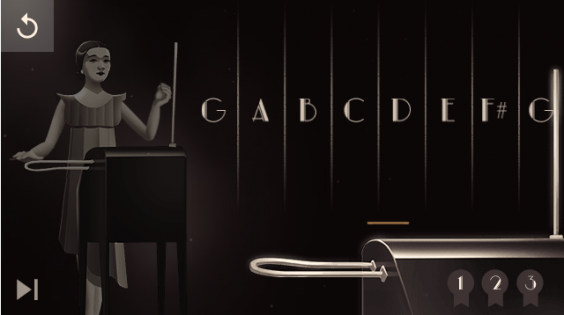 How does it work?
Made up of a small wooden cabinet, with glass tube oscillators, the instrument works by producing two high frequency sounds.
It only produces one sound at a time and the performer controls the sounds by moving their hand over the instrument.
Google Doodles
Google Doodles
1/42 Google Doodle celebrating St. David's Day

Google Doodle celebrating St. David's Day

Google

2/42 Abdul Sattar Edhi

Google Doodle of Abdul Sattar Edhi on February 28 2017

Google

3/42 Seven earth-sized exoplanets discovered

Google Doodle celebrates Nasa's discovery of seven earth-sized exoplanets in new solar system

Google

4/42 Bessie Coleman

Google Doodle honours the first African American woman to get an international pilot licence on her 125th birthday

Google

5/42 Caroling

Google Doodle celebrates Christmas caroling

Google

6/42

Today's Google Doodle features activist Steve Biko

Google

7/42 Walter Cronkite

Google celebrates Walter Cronkite's 100th birthday

8/42 Ladislao José Biro

Google celebrates Ladislao José Biro 117th birthday

9/42 Google

Google celebrates its 18th birthday

10/42 The history of tea in Britain

Google celebrates the 385th anniversary of tea in the UK

11/42 Autumnal equinox 2016

Google marks the start of fall

12/42 Paralympics 2016

Google marks the start of the Paralympic Games 2016

13/42 Nettie Stevens

Google celebrates Nettie Stevens 155th birthday

14/42 Father's Day 2016

Google celebrates Father's Day

15/42 Elizabeth Garrett Anderson

Google celebrates Elizabeth Garrett Anderson 180th birthday

16/42 Earth Day 2016

Google celebrates Earth Day

17/42 Ravi Shankar

Google marks Pandit Ravi Shankar's 96th birthday

18/42 Olympic Games in 1896

Google are celebrates the 120th anniversary of the modern Olympic Games in 1896

19/42 World Twenty20 final

Google celebrates the 2016 World Twenty20 cricket final between the West Indies and England with a doodle

Google

20/42 William Morris

Google celebrates William Morris' 182 birthday with a doodle showcasing his most famous designs

Google

21/42 St Patrick's Day 2016

Googlle celebrates St Patrick's Day on 17 March

22/42 Caroline Herschel

Google marks Caroline Herschel's 266th birthday

Google

23/42 Clara Rockmore

Google celebrates Clara Rockmore's 105th birthday

24/42 International Women's Day 2016

#OneDayIWill video marks International Woman's Day on 8 March

25/42 St David's Day 2016

Google marks St David's Day

Google

26/42 Leap Year 2016

Google celebrates Leap Day on 28 February 2

Google

27/42 Lantern Festival 2016

Google celebrates the last day of the Chinese New Year celebrations with a doodle of the Lantern Festival

Google

28/42 Stethoscope Inventor, René Laennec

Google celebrate's René Laennec's 235th birthday

29/42 Valentine's Day 2016

Google celebrates Valentine's Day with a romantic Doodle

30/42 Dmitri Mendeleev

Google celebrate Dmitri Mendeleev's 182nd birthday

31/42 "The televisor" demonstartion

Google Doodle celebrates 90 years since the first demonstration of television or "the televisor" to the public

32/42 Professor Scoville

Google marks Professor Scoville's 151st birthday

33/42 Sophie Taeuber-Arp

Google marks Sophie Taeuber-Arp's 127th birthday

34/42 Charles Perrault

Google celebrates author Charles Perrault's 388th birthday

35/42 Mountain of Butterflies discovery

Google celebrates the 41st anniversary of the discovery of the Mountain of Butterflies

36/42 Winter Solstice 2015

Google celebrate the Winter Solstice

37/42 St Andrew's Day 2015

Google marks St Andrew's Day with doodle featuring Scotland's flag and Loch Ness monster

38/42 41st anniversary of the discovery of 'Lucy'

Google marks the 41st anniversary of the discovery of 'Lucy', the name given to a collection of fossilised bones that once made up the skeleton of a hominid from the Australopithecus afarensis species, who lived in Ethiopia 3.2 million years ago

39/42 George Boole

Google marks George Boole's 200th birthday

40/42 Halloween 2015

Google celebrates Halloween using an interactive doodle game "Global Candy Cup"

41/42 Prague Astronomical Clock

Google celebrates the 605th anniversary of the Prague Astronomical Clock, one of the oldest functioning timepieces in the world

42/42 Autumnal Equinox 2015

Google marks the autumnal equinox on 23 September
Performers are effectively moving their hands through two electromagnetic fields around two antennas to created different pitched sounds.
One antenna is a vertical rod on the right-hand-side, which controls pitch, while the other is a horizontal loop, usually on the left, which controls volume.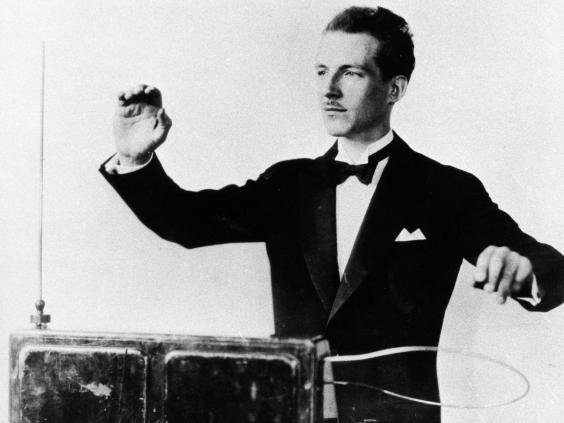 Moving the hand closer to the vertical rod raises the pitch of the sound, and moving the hand closer to the volume side decreases the sound.
The instrument takes skill to perfect due to its complicated nature of moving around the antennae at the right height.
And how was it made famous?
After a meeting at the Kremlin with Lenin, who was highly impressed, Mr Theremin was sent off around Russia and the rest of the world to showcase his musical technology.
He performed at Carnegie Hall in New York City, where the Radio Corporation of America offered him a contract to manufacture the instrument. It was in America that Mr Theremin met Ms Rockmore, where she apparently took to it immediately and from then on used it as her primary instrument in her musical performances.
The rather strange device has since laid the way for modern electronic music.
The Beach Boys used a variation of the original Theremin in their hit song "Good Vibrations" in 1966. The sound is the same, producing an almost eerie "sci-fi" electronic wave, but the Elector-Theremin, as creator Paul Tanner named it, is much easier to play.
In subculture, the Theremin is used on hit US comedy, The Big Bang Theory. Sheldon Cooper plays the Theremin, although very badly, which he attributes to loving after hearing it in the original Star Trek theme tune.
Reuse content