Swim like a Dane
Granted, the intemperate waters around Denmark might not make it the most obvious choice for a dip, but winter swimming is quite the thing, whatever the temperature. There are queues for spots at the country's 80-plus winter swimming clubs, which boast more  than 20,000 members. Those who brave the UK's waters for a chilly Boxing Day dip might understand the appeal – or perhaps not, given that it tends to be an annual event at best.  But winter bathing is said to reduce pain and discomfort among arthritis sufferers and to boost the body's antioxidative protection, which could make it more resilient to environmental stress, disease and ageing. As luck would have it, there's a winter swimming  gala next weekend at Lake Windermere to whet your appetite…
Get hygge like a Dane
You might not be able to pronounce hygge (I  hear "huggy" but it's actually "hue-gah"), but that doesn't mean you can't embrace it. Think candles, cushions, funky fabrics, fresh-brewed coffee and getting cosy with your friends, or  even just yourself. No one can narrow it down to an exact definition, but that's part of the beauty: it's partly a state of mind.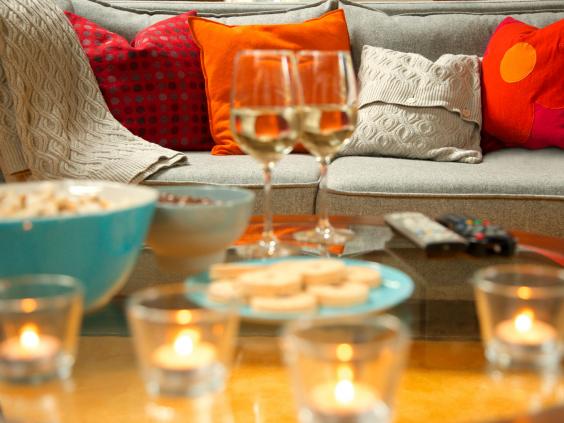 The Danish author Dorthe Nors explains the appeal: "During the dark months, Danes become introverted and start living in the comfort zones of their homes. This is why hygge is quite a phenomenon here.  I read a lot and I enjoy the fireplace and the intimate conversations you get in the wake of all that hygge." Not that Danes have a monopoly on the feeling: Norwegians get koselig; the Swedes mysig, especially on a Friday or Saturday, where hunkering down with some popcorn and a few good DVDs becomes Fredagsmys or Lordagsmys, which sounds a lot more stylish than slobbing  in front of the telly. 
Get crafty like a Swede
OK, so Saga – the fictional hero of The Bridge TV crime drama – may not yet have got out her knitting needles mid-case, but she's the exception: Swedes need something to do during all that time indoors, and they enjoy nothing  better than getting stuck into some crafting. In snowy Jamtland, even the cool ski boys and girls are into their knitting, and elsewhere, evening classes appeal to all ages.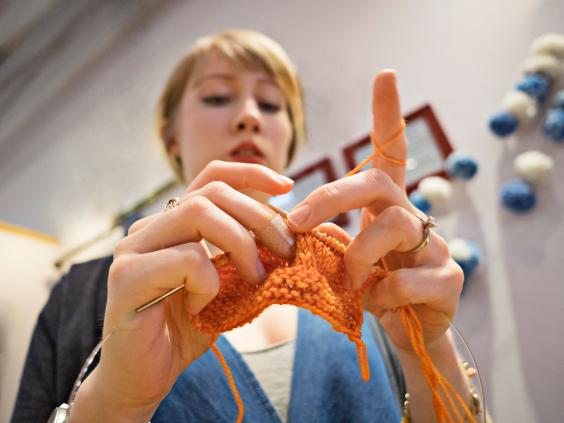 Activities range from pottery and sewing to rifle-shooting and traditional naversom – a needlework craft dating back to the 1600s, using linen stretched over a piece of birch bark (naver). And for those who are no good with their hands, there are always board games, which are perennially popular, and not in an ironic way. 
Light a fire like a Norwegian
Nothing soothes the soul quite like a fire, something the sunlight-deprived Norwegians know only too well. How else could the country's national broadcaster have turned 12 hours'  television footage of a well-stoked hearth into  a national hit? Or the novelist Lars Mytting have transformed a book about chopping wood into a global bestseller?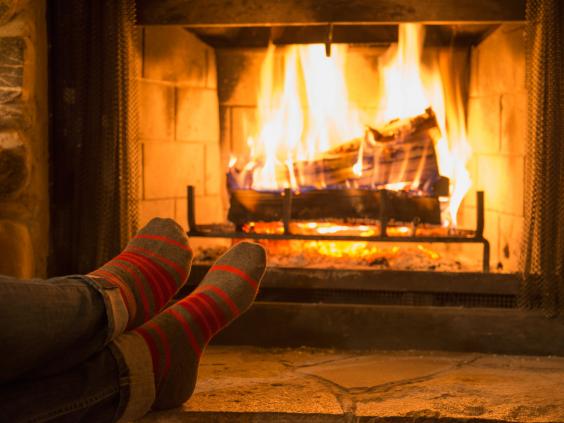 Mytting claims that getting close to the flames is the very best antidote to darkness: "The rays of a flame have about the same bandwidth as the rays from the sun, and they heat deeper than electric heat – because the heat appears when the rays hit the skin." For the full authentic vibe, you need to chop the wood yourself. "Then you can actually look forward to winter," he says. One for next winter, maybe. 
Dose yourself up like a Latvian
They aren't called "Baltic" temperatures for nothing, which means that those living on the edge of the Baltic Sea itself are well versed  in ways to survive weeks of chilly weather.  The key, according to residents of the capital, Riga, is to self-medicate – with Vitamin D  drops and zinc tablets, yes, but the real trick is getting your hands on a bottle of legendary Riga Black Balsam. Lelde Benke, who blogs at Life in Riga, swears by the herbal liqueur, which "is said to have magical or at least  healing properties, plus it warms you very nicely from the inside when mixed with  heated blackcurrant juice or coffee". 
Sweat like a Finn
The Finns know there is only one way to cope with serious cold, and that's to get seriously sweaty. Saunas are an institution in Finland: there are thought to be about three million  across the country, with space enough for its  5.4 million inhabitants to bake themselves simultaneously. You might need to visit a leisure centre to find one on these shores, but plenty exist.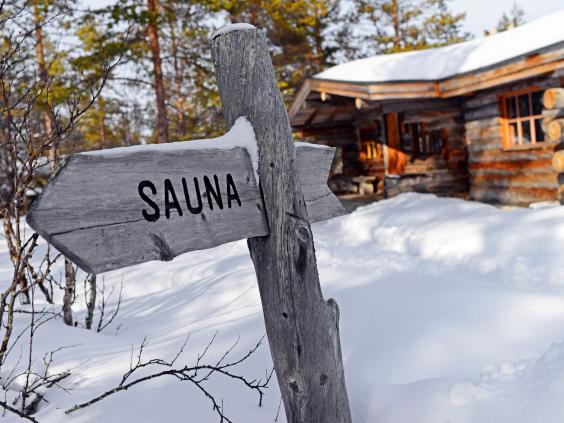 Failing that, crank up the heating, pile on the woollens and do some jumping jacks and you'll soon be wiping your brow. Decent home insulation also helps: Skype a Finn in the winter and it's likely you'll catch them in their underwear even when the snow is piled high outside, because their houses are so warm. 
Feast like an Icelander
Because winter really isn't the time to stint on the eating and drinking, especially given that  all those "Dryuary" bores can finally crack open a bottle this week, make like the Icelanders  and find an ancient feast to mark. For them, it's Thorrablot, named after the month of Thorri  – February to you and me – on the old Icelandic calendar, otherwise known as the hardest month. A traditional Thorrafood menu  includes whale, shark and soured rams' testicles, but a mixed platter of seafood should do the trick. Icelandic author Audur Olafsdottir, who wrote Butterflies in November, cites "celebrations" as the second-most important tip for surviving a polar winter (after electricity). "Especially the celebrating of the light coming back – two minutes more daylight per day from  22 December," she adds. 
Skate like the Dutch
There's no escaping that it's harder for us Brits to get as high on winter exercise as some of our northern European cousins; all that ice makes it much more fun to get moving and, recent chill aside, we're never going to get much of the white stuff.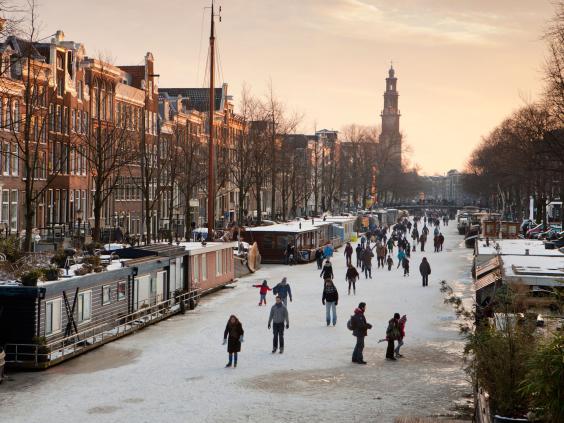 But there are other ways to slide down the street. You might think roller skates are for children, and rollerblades for show-off LA types, but when did you last don a pair? They're fun, and if you find the right path through a park, you can (almost) imagine you're skating down one of Amsterdam's frozen canals. It's no wonder the Dutch are the world's best speed-skaters.
Fika like a Swede
Our national response to a crisis might be to  put on a brew and ask, "One sugar or two?"  but when the weather constitutes a constant crisis, the casual cuppa won't suffice. Enter fika, the phenomenon that revolves around coffee, cake (cinnamon buns are quasi- obligatory) and chat – and plenty of it. Fia Gulliksson, who runs the Jazzkoket restaurant in Ostersund, Jamtland, prefers her fika taken in the open air, coffee pot balanced on a grill over a makeshift fire, but promises it tastes (nearly) as good inside. 
Light up like a Greenlander
We might be lucky enough not to live in actual polar darkness, but when it's been weeks since the sun broke through the grey murk, it can  feel as though we do. So why not follow the Greenlanders' example and celebrate any break in the grey.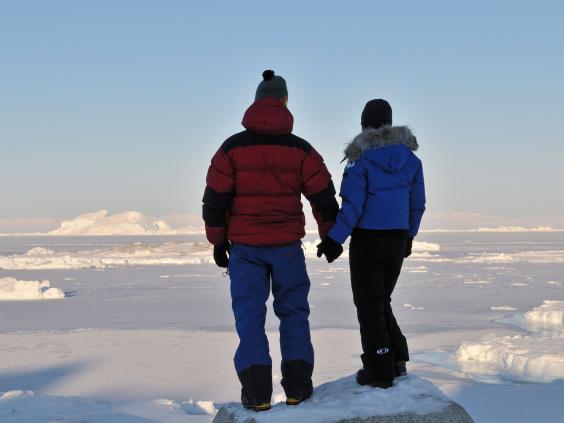 In Ilulissat, which lies on the region's most westerly point, on 13 January  at 13:13, townsfolk make for a local hill to  welcome the sun back after several weeks of polar nights. Who's up for a "period of high pressure" party? Failing that, look out for  a town that is hosting a light festival. Or get imaginative with your own torches.
Reuse content