Alongside the gender pay gap and the "glass ceiling", health is one of the biggest issues facing women the world over.
A recent study stressed that while progress has been made to improve women's health "critical gaps" remain which must be tackled.
The study, involving the World Health Organisation and the UN and published in the BMJ journal, highlighted areas that need to be addressed including mental health and cancer.
To mark International Women's Day, here are six health issues affecting women that need to be addressed. 
Cancer
Breast and cervical cancer affect more women than any other forms of the disease. Each year, both of these diseases kill around half a million women each. Most of the women who die live in low and middle income countries where prevention methods are hard to find, and awareness levels are low. 
Earlier this year, The Independent spoke to Dr Hania Morsi Fadl, who opened up the Khartoum Breast Cancer Care Centre in the Sudanese capital. The facility is the only breast cancer clinic in the Horn of Africa. 
"For developing countries especially, with our customs and traditions, and even more so in the countryside, cancer is a taboo and it is seen as a death sentence." 
"I realised there is really urgent need to help, to do something," she said.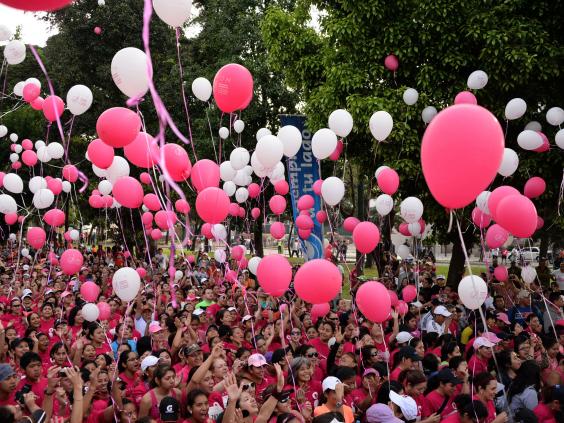 Mental health
The study published in the BMJ found that suicide is a leading cause of death between women aged 20 to 59-years-old across the world. Women are also more likely to experience depression and anxiety, due to biological differences but also the pressure of gender roles and responsibilities. For example, women who are abused by their partners are four times more likely to commit suicide than women who don't. A lack of mental health services, particularly in low income countries, exacerbates the situation. 
Cardiovascular disease
Heart disease is one of the leading causes of death of women in the world.
Women are three times more likely to die of heart disease than breast cancer, according to the NHS. Women in low and middle-income countries are most at risk. 
And despite the worrying rates, women are less likely to be prescribed aspirin to prevent a second attack, receive sophisticated pacemakers or be receive potentially life-saving surgery, according to the Word Heart Federation. 
Most women develop heart disease because of preventable factors such as smoking, high cholesterol, diet, obesity or diabetes. 
Feminist quotes from the icons to inspire you
Feminist quotes from the icons to inspire you
1/35 Katharine Hepburn

"I have not lived as a woman. I have lived as a man. I've just done what I damn well wanted to, and I've made enough money to support myself, and ain't afraid of being alone"

Getty Images

2/35 Madonna

"Girls can wear jeans and cut their hair short, wear shirts and boots cause it's okay to be a boy. But for a boy to look like a girl is degrading cause you think being a girl is degrading"

Getty Images

3/35 Kurt Cobain

"Rape is one of the most terrible crimes on earth and it happens every few minutes. The problem with groups who deal with rape is that they try to educate women about how to defend themselves. What really needs to be done is teaching men not to rape. Go to the source and start there"

Getty Images

4/35 Betty Friedan

"No woman gets an orgasm from shining the kitchen floor"

Getty Images

5/35 Maya Angelou

"I want to be representative of my race - the human race. I have a chance to show how kind we can be, how intelligent and generous we can be…"

Getty Images

6/35 Emma Watson

"I am from Britain and think it is right that as a woman I am paid the same as my male counterparts. I think it is right that I should be able to make decisions about my own body. I think it is right that women be involved on my behalf in the policies and decision-making of my country. I think it is right that socially I am afforded the same respect as men."

Getty Images

7/35 Emmeline Pankhurst

"I want to say to you who think women cannot succeed, we have brought the government of England to this position, that it has to face this alternative: either women are to be killed or women are to have the vote"

Creative Commons

8/35 Patricia Arquette

"To every woman who gave birth, to every taxpayer and citizen of this nation, we have fought for everybody else's equal rights, it's our time to have wage equality once and for all, and equal rights for women in the United States of America."

AFP PHOTO / Robyn BECKROBYN BECK/AFP/Getty Images

9/35 Nawal El Saadawi

"They said, "You are a savage and dangerous woman. I am speaking the truth. And the truth is savage and dangerous"

Getty Images

10/35 Margaret Fuller

"It is a vulgar error that love, a love, to woman is her whole existence; she is born for Truth and Love in their universal energy"

Creative Commons

11/35 Germaine Greer

"All societies on the verge of death are masculine. A society can survive with only one man; no society will survive a shortage of women"

Getty Images

12/35 Naomi Wolf

"A cultural fixation on female thinness is not an obsession about female beauty but an obsession about female obedience"

Getty Images

13/35 Rebecca West

"I myself have never able to find out precisely what a feminist is. I only know that people call me a feminist whenever I express sentiments that differentiate me from a doormat"

Creative Commons

14/35 Aung San Suu Kyi

"In societies where men are truly confident of their own worth, women are not merely tolerated but valued"

Getty Images

15/35 Margaret Atwood

"Does feminist mean large unpleasant person who'll shout at you or someone who believes women are human beings. To me it's the latter, so I sign up"

Getty Images

16/35 Julie Burchill

"A good part - and definitely the most fun part - of being a feminist is about frightening men"

Getty Images

17/35 Scarlett Johansson

"Why do [male co-stars] get the really interesting, existential questions and I get the, like, rabbit food question?"

Getty Images

18/35 Susan B. Anthony

"I declare to you that woman must not depend upon the protection of man, but must be taught to protect herself, and there I take my stand"

Creative Commons

19/35 Margaret Sanger

"No woman can call herself free who does not own and control her body. No woman can call herself free until she can choose consciously whether she will or will not be a mother"

Getty Images

20/35 Sylvia Plath

"Apparently, the most difficult feat for a Cambridge male is to accept a woman not merely as feeling, not merely as thinking, but as managing a complex, vital interweaving of both"

Creative Commons

21/35 Hillary Clinton

"I suppose I could have stayed home and baked cookies and had teas, but what I decided to do was to fulfill my profession, which I entered before my husband was in public life"

Getty Images

22/35 Lena Dunham

"The idea of being a feminist—so many women have come to this idea of it being anti-male and not able to connect with the opposite sex—but what feminism is about is equality and human rights. For me that is just an essential part of my identity. I hope [Girls] contributes to a continuance of feminist dialogue"

Getty Images

23/35 Bette Davis

"When a man gives his opinion, he's a man. When a woman gives her opinion, she's a bitch"

Creative Commons

24/35 John Legend

"All men should be feminists. If men cared about women's rights, the world would be a better place"

Getty Images

25/35 Mae West

"Every man I meet wants to protect me. I can't figure out what from"

Creative Commons

26/35 Jane Austen

"I hate to hear you talk about all women as if they were fine ladies instead of rational creatures. None of us want to be in calm waters all our lives"

Creative Commons

27/35 Gloria Steinem

"A woman without a man is like a fish without a bicycle"

Getty Images

28/35 Sheng Wang

"Why do people say "grow some balls"? Balls are weak and sensitive. If you wanna be tough, grow a vagina. Those things can take a pounding"

Getty Images

29/35 Anais Nin

"I hate men who are afraid of women's strength"

Creative Commons

30/35 Barack Obama

"We stand with women by fighting for economic security, protecting access to health care and supporting women's leadership across the country"

Getty Images

31/35 Elizabeth Warren

"I have a daughter and I have granddaughters and I will never vote to let a group of backward-looking ideologues cut women's access to birth control. We have lived in that world, and we are not going back, not ever"

Getty Images

32/35 Malala Yousafzai

"In Pakistan, when we were stopped from going to school, at that time I realized that education … Is the power for women, and that's why the terrorists are afraid of education"

Getty Images

33/35 Janis Joplin

"Don't compromise yourself. You are all you've got"

Getty Images

34/35 Lupita Nyong'o

"I hope that my presence on your screens and in magazines may lead you, young girl, on a similar journey. That you will feel the validation of your external beauty but also get to the deeper business of being beautiful inside. There is no shade in that beauty."

Getty Images

35/35 Virginia Woolf

"As a woman I have no country. As a woman my country is the whole world"

Getty Images
Reproductive and maternal health
Many women across the world struggle to protect themselves against STIs, die in childbirth, and are unable to gain access to safe, legal abortions
The latest statistics WHO from 2013 showed that almost 300,000 women died from pregnancy and childbirth that year. And 99 per cent of maternal deaths occur in developing countries. 
Most of these deaths could have been prevented if the women had had access to basic family planning services. 
A WHO report assessing women's health between 1990 and 2008 found that one in 10 pregnancies worldwide end in an unsafe abortion. Almost all of these take place in developing countries, where safe and legal abortions are not widely available. 
The highest rates of unsafe abortion are in Latin America, a predominantly Catholic region where the procedures are highly restricted or banned entirely, including in El Salvador where abortion is illegal in all circumstances. And as the Zika virus - linked to brain damage in newborns - spreads across the region, experts fear women may be be forced to use back-street abortionists. 
HIV/AIDs
In 2014, the United Nation's UNAIDS said it hoped to end the AIDs epidemic as a global threat by 2030. This will mean helping women to prevent catching the virus.
For women aged between 15 to 44-years-old, HIV/Aids is the leading cause of death, according to the WHO.
Unsafe sex is the main culprit for spreading the disease, and a lack of education and access to health services, as well as having less power in sexual relationships, also expose women to the condition. 
Violence against women
One in three women under the age of 50 has experienced physical or sexual violence from a partner, or someone who they were not with, according to the World Health Organisation. 
As many as 38 per cent of women who are murdered are killed by their partner. 
Survivors of such violence are more likely to have mental health illnesses - doubling the rate of depression - unplanned pregnancies, seek abortions and experience miscarriages that those who are not abused. 
Sexual violence is also used as a weapon of war. 
Reuse content