The boss of a protein powder company, who is facing a backlash over a controversial poster featuring a bikini-clad woman, has labelled campaigners as terrorists.
The advert for meal replacement supplements featured on London Underground billboards shows a blonde woman in a yellow bikini, beside the tagline: "Are you beach body ready"?
Feminist campaigners, who have launched a Change.Org petition to see the adverts removed, have slammed them for "targeting individuals, aiming to make them feel physically inferior to the unrealistic body image of the bronzed model, in order to sell their product."
The Most Controversial Fashion Adverts

The Most Controversial Fashion Adverts

1/9 YSL, 2000

The infamous Yves Saint Laurent Opium perfume advert featuring a naked Sophie Dahl was removed from billboards as it was deemed "sexually suggestive and unsuitable to be seen by children", although was allowed to run in certain fashion magazines. It is the eighth most complained about advert, receiving 948 complaints.

2/9 Agent Provocateur, 2001

The lingerie ad saw Kylie Minogue writhe on a rodeo bull and was only permitted to be shown in cinemas. The campaign was banned from all UK television channels, except BBC1.

3/9 Wonderbra, 1994

Eva Herzigova's Wonderbra campaign was thought to have caused car accidents, such was its provocative appeal.

4/9 Dolce & Gabbana, 2007

The label's 2007 advert was banned in Spain after it was thought to "glorify rape". Designer Stefano Gabbana stated that the image was intended to show "an erotic dream, a sexual game".

5/9 Miu Miu, 2011

Miu Miu's campaign starring Hailee Steinfeld, sitting crying on a train track, was banned in Britain, after it was decided that the image depicted a child in an unsafe location.

6/9 Marc Jacobs, 2009

Dakota Fanning was 17 when Juergen Teller shot her for Marc Jacobs. The picture was thought to "sexualise children" and was banned.

7/9 Tom Ford, 2007

A not-so-subtle message from Tom Ford, photographed by Terry Richardson. The campaign was banned in several countries.

8/9 Sisley

Shot by the controversial photography Terry Richardson, this advert made a play on the word 'fashion junkie'.

9/9 Calvin Klein, 1995

Calvin Klein are known for a string of controversial campaigns (including a picture of 17-year-old Kate Moss straddling Mark Wahlberg), but this 1995 image shot by Steven Meisel provoked negative response from child welfare authorities and the consequently brand withdrew it.


Read more: Protein World revels in sexist backlash
Thousands sign petition calling for removal of 'body shaming' ads
Petitioners added that "everyone has an individual body shape", and asked the firm: "what is 'Beach Body Ready'? And who would not be?"
Meanwhile, others have taken a stand against the poster by tweeting their thoughts alongside #everybodysready, or by scrawling words including "f*** off" across the image.
Wow some people... I do not object to the body type of the woman in the advert. It's the MESSAGE the advert is conveying! #everybodysready

— Emma H (@ThatStarGirl) April 27, 2015
Loved seeing this earlier. I love london! #everybodysready pic.twitter.com/EUknYR55lW

— Roxy Watson (@Roxy_Watson) April 25, 2015
The protein world ad should taken down. It promotes unrealistic standards of beauty for women. #EveryBodysReady

— Snehaaa♥ (@xoxinnocencexox) April 24, 2015
Feeling Objectified Yet? #EveryBodysReady pic.twitter.com/ywR4Iyuqvi

— Matt (@revoltmatt) April 23, 2015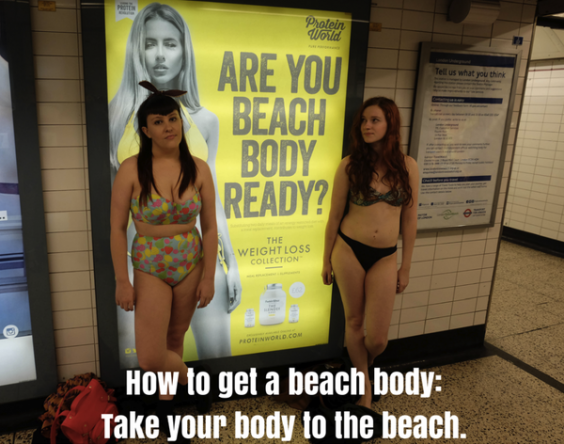 But Arjun Seth, the chief executive of Protein World, continued to defend the poster, and told Channel 4 that the people complaining online and destroying adverts were a minority and "terrorists".
He added that the people campaigning against the ads were: "extremist, they shout a lot, these people are irrational and extremist," and said that "vandalising adverts" amounted to criminal activity.
Defending the adverts as "aspirational", he said that he would only pay attention to the petition if it garnered 1,000,000 signatures.
The Advertising Standards Authority (ASA) has received 216 complaints about the ad, and a spokeswoman said the general nature of the complaints is that the ad is "offensive, irresponsible and harmful because it promotes an unhealthy body image".
An investigation has not been launched but the ASA said they are "carefully assessing" the complaints to "establish if there are grounds for further action".
Additional reporting by PA