Health experts have created a new online tool which can predict a person's risk of developing a common form of skin cancer.
The tool uses the results of a 10-question-quiz to estimate the chance of a person aged 40 or over of having non-melanoma skin cancers within three years.
Factors including the age, gender, smoking status, skin colour, tanning ability, freckling tendency, and other aspects of medical history are covered by the quiz. 
Scientists at Australia's QIMR Berghofer research institute created the tool by using data from almost 39,000 people aged between 40 and 70-years-old.
However, Professor David Whiteman, who lead the team which created the tool, stressed: "Members of the public need to be aware that this tool is not a substitute for visiting a doctor or skin cancer clinic."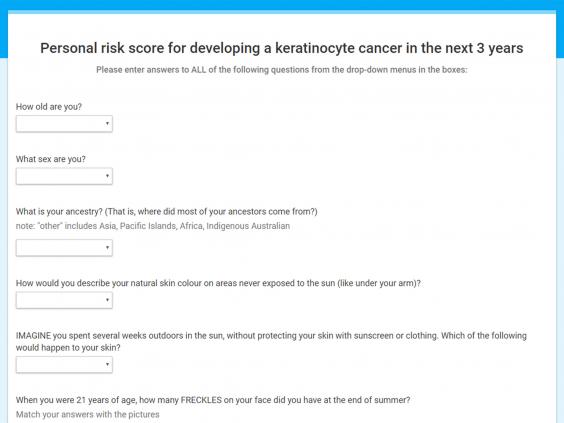 He added that it should be used as a general guide. 
"If the tool indicates that you have a high risk of skin cancer, we strongly encourage you to visit your doctor," he said. 
He went on to advise users to take precautions to avoid skin cancer by keeping out of the sun during the hottest part of the day, wearing a hat and protective clothing, and using SPF sunblock.  
The test can identify the risk of developing basal cell carcinomas (BCCs) and squamous cell carcinomas (SCCs), which are the most common cancers in humans.
13 ways to help prevent cancer
13 ways to help prevent cancer
1/13

Stopping smoking. This notoriously difficult habit to break sees tar build-up in the lungs and DNA alteration and causes 15,558 cancer deaths a year

2/13

Avoiding the sun, and the melanoma that comes with overexposure to harmful UV rays, could help conscientious shade-lovers dodge being one of the 7,220 people who die from it

3/13

A diet that is low in red meat can help to prevent bowel cancer, according to the research - with 30 grams a day recommended for men, and 25 a day recommended for women

4/13

Foods high in fibre, meanwhile, can further make for healthier bowels. Processed foods in developed countries appear to be causing higher rates of colon cancer than diets in continents such as Africa, which have high bean and pulse intakes

5/13

Two servings of fruit and three servings of vegetables a day were given as the magic number for good diet in the research. Overall, diet causes only slightly fewer cancer deaths than sun exposure in Australia, at 7,000 a year

6/13

Obesity and being overweight, linked to poor diet and lack of exercise, causes 3,917 deaths by cancer a year on its own

Getty

7/13

Dying of a cancer caused by infection also comes in highly, linked to 3,421 cancer deaths a year. Infections such as human papilloma virus - which can cause cervical cancer in women - and hepatitis - can be prevented by vaccinations and having regular check-ups

8/13

Cutting back on drinks could reduce the risk of cancers caused by alcohol - such as liver cancer, bowel cancer, breast cancer and mouth cancer - that are leading to 3,208 deaths a year

2014 Getty Images

9/13

Sitting around and not getting the heart pumping - less than one hour's exercise a day - is directly leading to about 1,800 people having lower immune functions and higher hormone levels, among other factors, that cause cancers

2011 Getty Images

10/13

Hormone replacement therapy, which is used to relieve symptoms of the menopause in women, caused 539 deaths from (mainly breast) cancer in Australia last year. It did, however, prevent 52 cases of colorectal cancers

2003 Getty Images

11/13

Insufficient breastfeeding, bizarrely, makes the top 10. Breastfeeding for 12 months could prevent 235 cancer cases a year, said the research

AFP/Getty Images

12/13

Oral contraceptives, like the Pill, caused about 105 breast cancers and 52 cervical cancers - but it also prevented about 1,440 ovarian and uterine (womb) cases of cancer last year

2006 Getty Images

13/13

Taking aspirin also prevented 232 cases in the Queensland research of colorectal and oesophagal cancers - but as it can also cause strokes, is not yet recommended as a formal treatment against the risk of cancer
However, it cannot pick up the risk of melanoma: a highly aggressive cancer that can spread to other parts of the body. 
The research behind the test has been published in the 'Journal of Investigative Dermatology.' 
The test follows a similar tool developed to predict if a person has an STI. 
Researchers at John Hopkins University created the test to combat the embarrassment surrounding getting tested for STIs. 
Reuse content